Pregnancy
Third Trimester Pregnancy Must Haves
Helloooooo 3rd trimester! Ah! I cannot believe I have finally made it. Now that I am in the home stretch of my second pregnancy, there's a few things that I couldn't possibly make it through the rest of the remaining time without.
Here are my must haves for the 3rd trimester of pregnancy:
1.Belly Bandit BDA Leggings: I live in these pregnancy leggings, you guys! They are the most comfortable pair I have ever owned in any brand. They are breathable and lightweight (a must) and can be worn before, during, and after pregnancy (so none of your money goes to waste)! You can grab you a pair here.
2. TUMS: Helloooo heartburn. As you near the last few weeks of your pregnancy, there's a good chance that your baby is growing lots of beautiful hair on top of his or her head which is known to contribute to heartburn-not to mention your organs being entirely squished up. TUMS will help relieve any of those gassy feelings you are probably having as well!
3. Water Bottle: To help prevent constipation in the last few weeks of your pregnancy, you have got to focus on HYDRATION. Choose a water bottle that you really like-I love the S'well bottles-and load up. You also want to stay hydrated for labor as you will need your body in tip top shape for its biggest day.
4. Belly Bandit Upsie Belly: As your belly grows and your weight increases, you will need something to help support that extra weight. This belly band is the most sturdy, durable band I have ever tried-not to mention it is so comfortable. I wear it to sleep, when I go shopping at the grocery store, and while I workout for extra support. It helps keep my belly off of my bladder while I am running so I do not have any accidents! It also helps to ease round ligament and lower back pains. You can grab yours here!
5. Belly Bandit BDA Bra: I wore this bra throughout my last pregnancy and I am wearing it again! It allows for the growing of your boobs during pregnancy and as a lot of your probably already know, your breasts double in size during those last few weeks. It is also a very nursing friendly bra and comfy to sleep in. You can wear it before, after, and during your pregnancy. How cool is that? Grab your bra now!
6. Fitness Ball: Though I use my ball daily for my workouts, having a fitness ball on hand is great for when you are getting ready to pop! They recommend bouncing on a ball as a way to help ease labor and to get baby down into the right position. Not only that, there are numerous of labor exercises that you can perform-yes, while in labor-to help ease the pain. You can easily grab one here for cheap!
7. Prunes: I order mine in bulk off here for cheap!
8. Ju-Ju-Bee First Lady Convertible Bag: I just received this diaper bag recently and I have to say that I am HIGHLY impressed! You will need to get your diaper bag packed and ready (along with your hospital bag) for when you give birth. This is something that a lot of ladies either wait until the last minute to do or wait until after baby-then they're stressed out trying to get things together! My advice? Get your diaper bag together in the 3rd trimester 🙂
9. Belabumbum Tallulah Robe: A comfy robe is not only essential for the third trimester, but you will also want it for the recovery room after you give birth at the hospital. I love my Belabumbum robes as they are high quality and oh so soft! So make sure you invest in a nice one to pack in your hospital bag-and to enjoy at home while in your 3rd trimester. Because lets face it-you are going to be relaxing as much as possible and probably not wanting to wear anything too restrictive!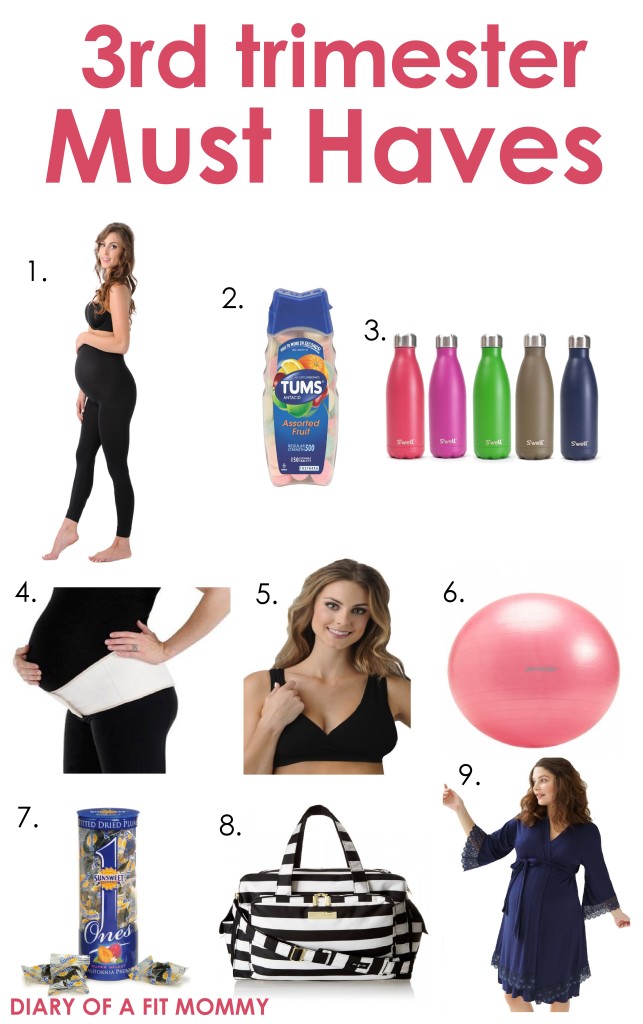 Be sure to check out:
Your trainer and friend,