Diet
11 Low Carb Freezer Meals for Postpartum Weightloss {Keto Friendly}
I have been eating a low carb diet for almost two months now and I am down 15 pounds!
Sometimes, having to plan out my meals while doing the keto diet can be a lot of work so I decided to make a batch of freezer meals so that I could always have a meal ready to go for the whole family. Let's face it-life can be unpredictable and in order to stay on track, making freezer meals is the best thing to do! If you recall, I made 15 of them while I was pregnant, right before my daughter was due.
SO I AM BAAAAAACK WITH 11 NEW FREEZER MEALS!!!!
A lot of you out there eat low carb and/or fascinated with the ketogenic diet so I decided to share my list of go-to freezer meals with you guys. All of these are super delicious and are soooo easy to prep to freeze. For my kiddos, I usually will make pasta, rice, or bread as a side with some of these meals because, after all, they arent low carb! So this is perfect for the entire family. I would love to share with you what I made and how you can do the exact same thing! Whether or not you are newly postpartum and trying to lose some baby weight OR you simply just want to watch your carb intake, you have come to the right place.
To make these 11 meals, I spent about $137 roughly-$12 per meal for the entire family to split. All in all, these meals took exact 6 hours to prep and I did it all by myself. I find cooking in general to be my biggest therapy so this was actually a fun time as I popped in my favorite true crime podcast and got to work. Now I would not label these meals as organic or healthy, but they are low-carb which will suit you if keto, gluten-free, grain-free, or low carb eating is your goal.
I shopped at Walmart for all of my goodies. I chose this place because everyone has a Walmart nearby usually and prices are usually best, though my favorite place to shop is our local Publix. I feel shopping at Walmart helps to give the grocery list a more realistic approach as well, but to each their own!
In this post, I will share with you my top 5 tips to freezer meal cooking and each meal that I made, but most importantly, how you can make it too.
HERE ARE MY 5 STEPS TO PREPARING LOW CARB OR KETO FREEZER MEALS:
STEP ONE: SELECT YOUR RECIPES.
The very first step in freezer meal prepping and cooking is to make your meal list! You first need to decide what meals you are going to make. Some meals and foods in general freeze better than others so you will want to pick and choose wisely. My freezer meal choices are either crockpot friendly or ready to bake which keeps things simple. I found a lot of my recipes on Pinterest, but added my own little spin on a few of them. Then some are just simply family favorites that have been passed down to me! If you are eating low carb or keto, make sure your recipes are 100% low carb or keto friendly!!!
Low Carb/Keto Freezer Meal List:
Keto Pizza Casserole
Keto Chili
Keto Breakfast Sandwiches
Keto Chicken Tortilla Soup
Keto Philly Cheesesteak Casserole
Keto Cheesy Meatballs Casserole
Keto Crack Chicken Casserole
Keto Crockpot Lemon Garlic Butter Chicken Thighs
Keto Sausage Stuffed Mini Sweet Peppers
Keto Jalapeno Pepper Casserole
STEP TWO: MAKE A GROCERY LIST.
The second step in creating low carb freezer meals is to make your grocery list. I basically took all of my recipes from my notepad and made a list of all the ingredients separately. To do this, I roughly estimated how much of each ingredient I would need to prepare everything and I even took it a step further to make it easier on myself and split everything up into categories such as produce, meats, and dairy for example to make shopping a breeze.
Low Carb/Keto Freezer Meal Grocery List:
Now that your list is made, you can go shop! To purchase everything on my list, it costed me roughly $150. That is about $10 per meal for my entire family.
I do not know how much it will cost you to make these meals because it is all dependent on where you shop, if you are using coupons, sales, etc.
All in all, it rook me around 45 minutes to an hour to do my shopping for this.
When you get home, pack your groceries away and plan out a good meal prep day for your freezer meals OR simply just right on in if you are ready.
STEP FOUR: GET YOUR SUPPLIES & RECIPES READY & PREP.
Once you have all of your groceries and supplies together, you can officially do the damn thing! Oh wait… supplies..
Here's what you will need to make these meals:
When you have these items, you are ready to get started to making your low carb keto freezer meals! Grab your recipes, meals list, and lets get started!
STEP FIVE: COOK!
Preparing all 10 meals took a few hours to do, but as I got started, it was soooo easy to complete them all.
Before I share with you the recipes in depth along with pictures of them, let me give you a few freezer cooking tips:
LABELING: Do not forget to label. You will forget what it is, how to cook it, and more vital info so have your Sharpie ready at all times.
SEALING: Seal everything WELL. If you dont seal or wrap your foods well, you will end up with freezer burned food and that is just gross.
PATIENCE: Be patient. It will go faster than you realize. Throw on your favorite podcast and get to work!
Are you ready?? Let's go!
Here are the recipes that I used to make my freezer meals and how you can make them too:
Keto Sausage Egg and Cheese Sandwiches
Ingredients
• 12 Eggs
• 1/2 c Milk
• Salt and Pepper, to taste
• 6 Sausage Patties
• 3 Slice of American Cheese, halved (or use the cheese of your choice)
Directions
Preheat oven to 375°F
Very lightly spray the slots being used on a muffin pan.
Add the milk to a liquid measuring cup then crack in the eggs. Beat together.
Evenly pour the egg mixture into 12 slots of the muffin pan and place into the oven. Bake 7-8 minutes until firm.
While the eggs bake, cook the sausage patties in the oven or a skillet.
Use two of the egg muffins as the "bread" and assemble the breakfast sandwiches by placing a sausage patty and half slice of cheese between egg muffins.
Crockpot Sausage-Stuffed Mini Sweet Peppers:
Ingredients
• 1 pound mini sweet peppers
• 1 pound ground Italian sausage (sweet or spicy)
• 24oz jar spaghetti sauce )
• 8oz shredded mozzarella cheese

Directions
Label a gallon-sized plastic freezer bag with the name of the recipe, cooking instructions, and "use-by" date (three months from when you prepped the meal).
Cut tops off peppers and remove seeds. (It's OK if you don't get every single seed out.)
Stuff the peppers with sausage.
Add stuffed peppers and spaghetti sauce to your freezer bag. Remove as much air as possible, seal, and freeze for up to three months. If you have leftover sausage, just add to the bag.
Toss in the mozzarella and freeze.
When ready to cook, cover with sauce and cook on "low" setting for 6-8 hours.
Chicken Tortilla Soup
Ingredients:
• 1 tbsp Olive oil
• 2 cloves Garlic (minced)
• 1/2 medium White onion (diced)
• 1/2 cup Bell peppers (diced)
• 1/4 cup Jalapeno (diced)
• 6 cups Low-sodium chicken broth
• 1 14.5-oz can Fire roasted diced tomatoes (with liquid)
• 1 lb Chicken breast
• 1 tsp Sea salt
• 1/2 tsp Black pepper
• 1 tsp Cumin
• 1/8 tsp Chili powder

Directions:
Place all ingredients into a gallon freezer bag and mark the bag with the date and with directions to cook.
You do not have to pre-cook the chicken-just throw everything in the bag!
When ready to cook, defrost the bag in the fridge overnight and when ready, place into a crockpot and cook on low for 6-8 hours.
Remove chicken and use two forks to shred. Place chickem back into crockpot and serve with cheese, sour cream, or guac.
Lemon Garlic Butter Chicken Thighs
Ingredients:
• 6-8 boneless chicken thighs, skinless or with skin
• Salt and pepper, to taste
• 1 teaspoon garlic powder
• 1 teaspoon onion powder
• 1/2 teaspoon crushed red chili pepper flakes, or Cayenne (optional)
• 1/2 teaspoon paprika
• 4 garlic cloves, sliced or minced
• 1 teaspoon Italian seasoning
• 1/2 stick butter, diced
• Zest of half a lemon
• Juice of one lemon
• 1/3 cup low sodium chicken broth
• Chopped fresh parsley and lemon slices, for garnish
Directions
Place all ingredients in a gallon freezer bag. Mark with date and directions to make.
When ready to cook, defrost the bag in the fridge overnight and let thaw.
Place in a crockpot and cook on low for 6-8 hours.
Jalapeno Popper Casserole
Ingredients:
• 2 lbs (900g) boneless, skinless, chicken breast cooked and shredded (about 3-4 chicken breasts)
• 1/2 teaspoon garlic powder
• 8 oz (225g) cream cheese, softened
• 1/2 cup (125ml) heavy cream or milk
• 1/4 cup (60ml) chicken stock
• 1/2 pound (125g) jalapeño peppers (about 5-6 peppers)
• 4 oz (125g) sharp cheddar cheese, grated
• 1/2 teaspoon paprika
• 1/2 cup crumbled crispy bacon

Directions
To cook this jalapeño popper chicken casserole recipe: Preheat your oven to 375˚F (190ºC). Lay shredded cooked chicken in a casserole dish. Season with garlic powder, paprika, and pepper.
Whisk together heavy cream, cream cheese, and chicken stock. Spread the mixture evenly over shredded chicken.
Wash the jalapeño peppers and cut the tops off. Remove the seeds and stems if you want it milder, or leave some if you want more spicy. Cut the peppers into strips and lay them on top of the cream cheese. Sprinkle the cheddar cheese on top.
Bake the chicken casserole for 20 minutes or until bubbly and hot. Remove from oven 5 minutes before cooking is complete and sprinkle with bacon; then return for the remaining cooking time. Garnish the jalapeño chicken casserole with fresh chopped parsley.
Freeze and eat within 3 months.
Chili Cheese Dog Casserole
Ingredients
• 2 pounds ground beef
• 2 onions, diced
• 2 green peppers, seeded and diced
• 4 garlic cloves, minced
• 2 tablespoons chili powder
• 1 teaspoon cumin
• 1 teaspoon salt
• ½ teaspoon black pepper
• 1 tablespoon worcestershire sauce
• 1 (15 ounce) can tomato sauce
• 2 tablespoons tomato paste
• 1 cup beef broth
• 1 (16 ounce) packages hot dogs
• 3 cups shredded sharp cheddar cheese
Directions:
Preheat oven to 400 degrees. Prepare two (9×13) casserole dishes with nonstick cooking spray.
In a large skillet over medium-high heat, cook ground beef with onions and green peppers until the meat ir browned and crumbled. Drain well.
Stir the garlic, cumin, chili powder, salt, pepper, worcestershire sauce, tomato sauce, tomato paste, and beef broth into the beef and bring to a boil. Reduce heat to medium-low and simmer for 20 minutes.
Slice the hot dogs and place in the bottom of the baking dishes, dividing evenly between the two. Pour the cooked beef mixture on top of the hot dogs.
Top the casserole with cheddar cheese. Bake for 15 to 20 minutes or until the cheese is completely melted and the edges are bubbling.
Freezer well and eat within 3 months.
Crack Chicken Casserole
Ingredients
• 2.5 cups Chicken, cooked cubes
• 1 cup bacon, cooked and chopped
• ¼ cup onion, diced
• 1 cup shredded cheddar cheese
• 3 eggs
• 2 tbsp sour cream
• ½ cup heavy cream
• ½ cup ranch dressing
• salt and pepper to taste

Directions
Preheat oven to 350 degrees.
Cook chicken and cut into cubes.
Place chicken into the bottom of a casserole dish.
Sprinkle half of the cooked and chopped bacon on top of the chicken.
Sprinkle the diced onion on top of the bacon in the pan.
Cover with ½ cup of shredded cheese
In a medium bowl, mix eggs, cream, sour cream, and ranch dressing.
Pour over the chicken and bacon.
Top with the remainder of cheese and bacon. Add salt and pepper to taste.
Bake for 35 minutes. Cover with foil for the last 10 minutes of cooking time.
Remove from oven and let rest for 5 minutes before sealing and freezing.
Keto Pizza Casserole
Ingredients
• 2 lbs Italian Sausage, hot or mild, casing removed
• 2 tbsp Olive Oil
• 1 medium Yellow Onion, sliced thinly
• 1 large bell pepper
• 8 oz baby bella mushrooms
• 1/2 tsp Natural Ancient Sea Salt
• 1/2 tsp Black Pepper
• 5 oz Uncured Pepperoni
• 2 cups Tomato Basil Sauce, use DrDavinahS for 10% off!
• 3 cups Pizza Blend Cheese

Directions
Preheat your oven to 425 degrees
Heat a large skillet to medium-high heat. Brown the sausage meat, then set aside.
In the same pan that you browned the sausage meat, add the olive oil, vegetables, salt, and pepper. Saute the vegetables until translucent & tender.
Layer the ingredients in a casserole pan. NOTE: I did add black olives but this is optional.
Bake in the oven until the top is browned and the cheese is fully melted.
Seal and freeze.
Easy Keto Chili
Ingredients:
• 2 ½ pounds ground beef,
• ½ large onion, chopped
• 8 cloves minced garlic
• 2 15-oz can diced tomatoes, with liquid
• 1 6-oz can tomato paste
• 1 4-oz can green chilies, with liquid
• 2 tablespoons Worcestershire sauce
• ¼ cup chili powder
• 2 tablespoons cumin
• 1 tablespoons oregano
• salt + pepper to taste

Directions
Break up your ground beef into smaller bits and stir ingredients together before setting timer. It is unnecessary to brown meat ahead of time, but it may improve the flavor.
Place the meat with all the ingredients into a large freezer bag.
Seal, mark with date and cooking directions.
When ready to cook, thaw in the fridge the night before and cook in a crockpot on low for 6 hours.
Cheesy Meatballs Casserole
Ingredients:
• 2 lbs (900g) ground turkey
• 1 cup shredded mozzarella
• 1/2 cup grated or shredded parmesan
• 1 egg
• 2 teaspoons onion powder
• 2 teaspoons fresh minced garlic
• 1/2 teaspoon Italian seasoning blend
• 1/2 teaspoon fresh cracked black pepper
• 1/2 teaspoon Cayenne pepper, optional
• 1/2 teaspoon crushed red chili pepper flakes, optional
• 1 cup Marinara sauce
• 1 cup shredded cheese of your choice for topping (Mozzarella, Provolone, Monterrey Jack, Cheddar…)
• Fresh basil or parsley, for topping

Directions
To prepare the meatballs casserole recipe: Preheat your oven to 400ºF (200ºC). Lightly spray a casserole dish with cooking spray.
Combine ground turkey, mozzarella, parmesan, egg, onion powder, garlic, Italian seasoning, Cayenne, crushed chili pepper flakes in a large salad bowl – except for the Marinara sauce, 1 cup cheese, and fresh basil that are set aside for the casserole. Using your hands or a small cookie scoop, form the meatballs all the same size and arrange the meatballs in the casserole dish.
Bake your meatballs casserole for 15 to 20 minutes or until fully cooked. Remove the meatballs casserole from the oven and drain the grease.
Top with the low carb Marinara sauce and shredded cheese and put the meatballs casserole back in the oven. Bake for an additional 5 to 10 minutes until the cheese has fully melted.
Seal in the casserole dish and freeze.
Philly Cheesesteak Casserole
Ingredients
• 1 1/2 pounds sirloin steak sliced into thin strips
• 1 teaspoon Steak Seasoning I like McCormick's Montreal Steak Seasoning
• salt and pepper to taste
• 1 cup sliced green peppers
• 1 cup mushrooms
• 1 cup onion, chopped
• 2 garlic cloves, chopped
• 2 oz cream cheese
• 1 teaspoon worcestershire sauce
• 2 eggs
• 1/2 cup heavy whipping cream
• 1/2 cup shredded parmesan reggiano cheese
• 6 slices provolone cheese sliced into small pieces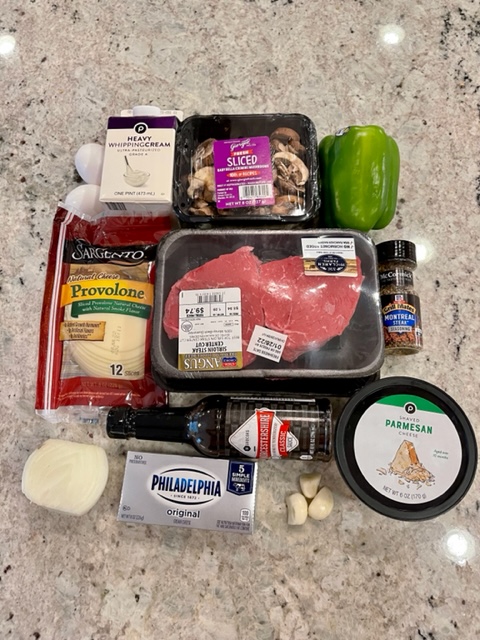 Directions
Preheat oven to 350 degrees.
Add the steak to a skillet on medium-high heat. Season the steak with steak seasoning, salt, and pepper. Cook for 2-3 minutes, flipping both sides of the steak.
Add the green peppers, onion, garlic, and mushroom to the skillet. Cook until the vegetables are soft and the meat is no longer pink.
If there is any excess fat in the skillet, drain it. This step is important. If there is excess liquid it will cause the casserole to have a soupy residue underneath.
Add the Worcestershire sauce and cream cheese. Cook until the cream cheese has melted.
Remove the skillet from heat.
In a medium bowl, combine the eggs, shredded parmesan reggiano cheese, and heavy cream.
Pour the steak mixture into the casserole dish.
Drizzle the liquid egg and cheese mixture on top. Top with the provolone cheese slices.
Bake for 15-20 minutes or until the cheese begins to bubble. Mine was ready around 18.
Seal and freeze!
And there you have it guys. 11 easy and yummy low carb freezer meals to make when you are trying to lose a little bit of weight after baby or if you are strictly abiding by a low carb or keto diet. Be sure to share on Pinterest and let me know which freezer meal was your favorite!
Your trainer and friend,