Lifestyle
Why I Love My Medela Freestyle Breastpump + GIVEAWAY
I have been a fan of Medela for quite some time now. With the birth of my first born, I used the Pump In Style® Advanced that was loaned to me by a friend and I instantly fell in love with the quality of their products.
This time around, I am using the Medela Freestyle® Breastpump Deluxe Set for my second baby which is a little more sophisticated and unique.
What sets this breast pump apart from most is that it's completely and 100% portable which is perfect for busy moms on the go. There's no need to lug around an entire pump set, a bag, or a pump motor base in order to get your pumping done. The portable motor irself is small & lightweight and the battery is rechargeable so you do not have to spend your time finding a wall outlet to plug in your pump for use because it is not needed!
Features & Benefits:
Double electric, daily use breastpump: Designed for moms who pump several times a day
2-Phase Expression Technology and One Touch Let-Down button: Express more milk in less time when pumping at the Maximum Comfort Vacuum™ in the expression phase
Digital display features a memory button, timer and backlight: For easy tracking & recording pump sessions in any pumping environment
Rechargeable battery, compact and lightweight motor: Convenient pumping anywhere, anytime for true mobility
Portable microfiber carry bag designed specifically for your Freestyle breastpump parts: Provides convenient transportation and organization
Double pumping kit with 2 sizes of PersonalFit™ breastshields: For comfortable and efficient pumping
What's included in the pump set:
1 – Freestyle pump
1 – Lithium ion battery – rechargeable
1 – AC adaptor/charger
1 – Double pumping kit – includes: (2) breast shield bodies, membranes and back caps, (1) set of tubing
1 – Set of 24mm and 27mm PersonalFit Breastshields
Instructions
Additional contents within the Freestyle Breastpump Deluxe Set:
4 – 5oz/150mL breast milk bottles and lids
1 – Portable microfiber carry bag
1 – Medela cooler system including cooling element
1 – Free Easy Expression voucher (redeemable at medelabreastfeedingus.com)
I love the fact that the pump keeps track with how long you have been pumping, as shown in the image below. It is super easy to use and the expression modes are a dream to use and explore. Pumping has literally never been SO EASY for me. The motor is a bit noisy due to the fact that it's external, but I don't mind as it's a great trade off for being so light and hand held. My two year old says it sounds like a "froggy" when I pump!
My favorite aspect of the Freestyle pump is the fact that I can take it with me on the go. One of our vehicles has an electrical outlet that allows me to use this pump on long car rides or when we are going into town and my breasts are screaming at me! The pump comes with a tote, but it also fits conveniently inside my diaper bag without taking up hardly any space at all!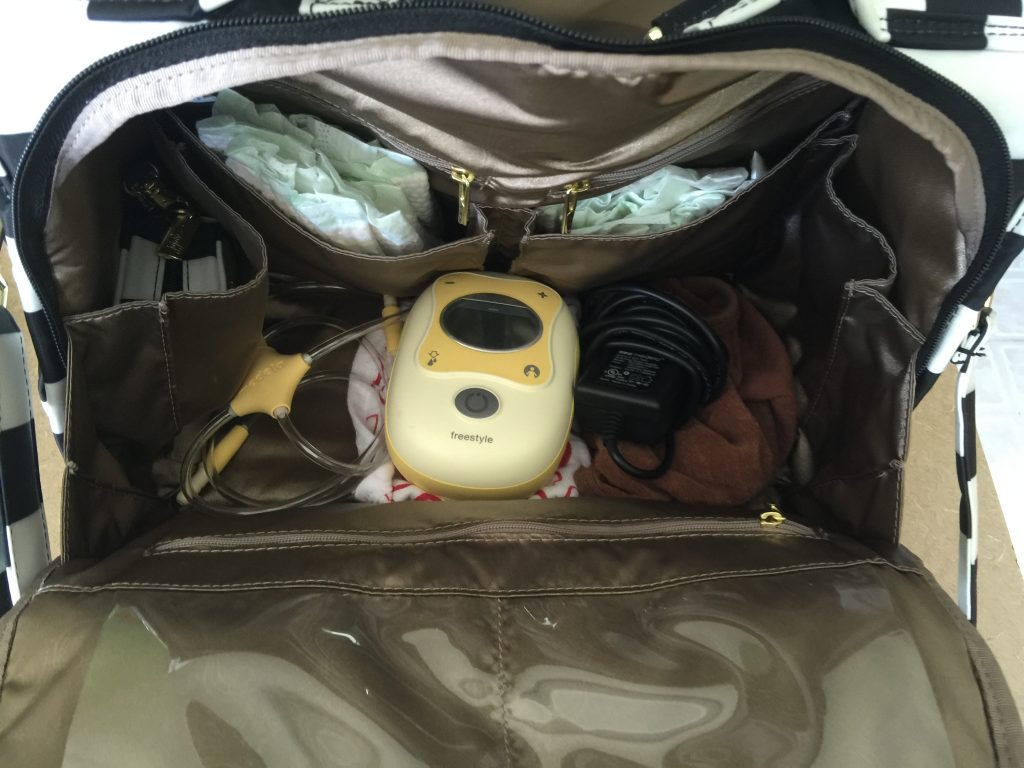 Overall, I think the pump is the best pump on the market. I say that because there's simply not another one like it. Medela has upped their game and has completely taken out the difficulty in pumping to help make things easier on us busy mommies. With this pump, I can even express my milk while walking on my treadmill to kill two birds with one stone. Another wonderful use that has been beneficial to me has been being able to pump in the car or on long trips. I own and love Medela's Harmony manual breast pump, but using your hand to physically do the pumping can really cramp things up and wear you out! You just cannot go wrong with this pump.
The pump set currently retails for $429.99 and can be purchased here on the Medela website.
If you are a busy working mommy like I am, I would recommend pairing this pump with the Easy Expression™ Bustier which allows you to easily pump hands-free! Personally, I type on a daily basis-it is my job-so I need all the help that I can get. This allows me to work and pump at the same time! Want to know what is super cool if you purchase this deluxe pump set? A free voucher for this pumping bra is included in it!
Medela has been SO kind to partner up with me to offer one of you lucky ladies a chance to win your very own  Medela Freestyle® Breastpump Deluxe Set. To enter to win, all you must do is follow the directions on the Rafflecopter widget below. Each task completed equals one entry into the giveaway. Winner will be chosen on Monday!
a Rafflecopter giveaway

Disclaimer: I was given a breast pump to test, at no cost. All opinions are my very own.
Your trainer and friend,