Pregnancy
10 Things to Do Before Baby Arrives
Are you in your final weeks of your pregnancy? I know you are probably feeling a bit stressed, anxious, and scatter-brained, but please know that I have got you covered when it comes to preparing for baby's arrival last minute.
I have compiled a very important list of 10 things you must do before you are due!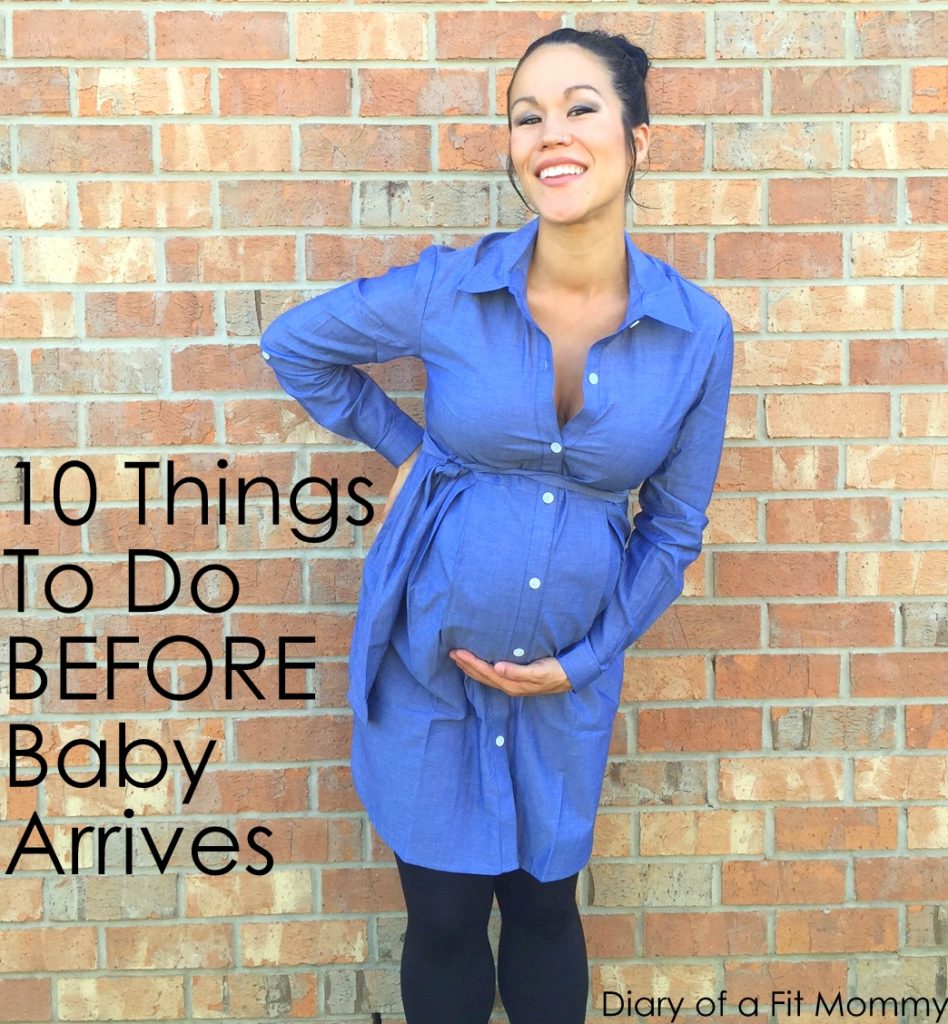 1.Wash all of your baby sheets & clothes. If you are expecting a baby, chances are that you have gotten tons and tons of new baby clothes for your little darling to wear, but before they can, you need to wash them. I recommend Dreft as its safe and gentle for baby's sensitive skin. Why wash first? It makes the clothing softer which helps to prevent skin rashes. Not only that, it cleans them-duh. Think of how many people have fonded that adorable little onesie before it made its way into your shopping cart.
2.Install the carseat. Before you bring baby home, you will need to have your carseat ready. This is just a MUST DO. You should have everything installed and double checked before even arriving at the hospital! Personally, I like to install my carseat in the 3rd trimester because you just never know when baby is going to come. Plus, it allows you to figure out how to install/use it properly and the easiest way to get baby inside. I swear, some people practice with stuffed animals and it never hurts! My personal favorite carseat recommendation? I own nothing but Recaro carseats. For your infant, I suggest the Recaro Convertible Carseat as it will fit them from birth until they are ready for a booster seat 4+ years later. Why Recaro? Recaro is a racecar seating brand and has been around for years. They make seats that are safely built to take a hit from a large crash. The reviews speak for themselves.
3.Make sure your hospital bag is packed. Another "duh" to-do, but you would not believe how many moms-to-be actually fail to have their bag ready by the time they go into labor. Then they are left running around trying to throw things together while suffering from major contractions which means a TON of forgetting. You want to be prepared because you will be at the hospital for at least 48 hours before you are discharged and if you have a c-section, you may stay a bit longer than that. Not sure what to pack? Click here to see my own hospital bag that I have packed and ready to go!
4.Make sure baby has everything he or she needs. Making sure you have everything that you need is pretty darn important. Having a baby is a lifechanging event and you want to make sure you are as prepared as you can be. Not sure what to include on your baby registry? Here's my ultimate baby registry list! My personal favorite is the Amazon Baby Registry! For all items that you didn't get, Amazon will give you a 15% off coupon code to use to get them. 15% off diapers and wipes? Heck yeah!! Click the banner below to sign up. 
5.Go on one last date night or babymoon. Soooo important. Lord only knows when your next date night will be so make sure you take advantage of that last month and go do things together. Before my son was born, my husband and I went to a stand up comedy show and ate sushi. This was our last date night and it was PERFECT! This time around, we went to New Orleans for a couple of days (one of our favorite places) for some good food and relaxation. Your last date night or babymoon does not have to be costly-whatever you do, just make sure you are doing it together and really soaking in those last moments before you will be focusing on someone else for a while.
6.Make plans on who or where your older children or pets will stay while you give birth. Plan ahead and make sure your kids and pets will be taken care of when you go into labor. Enlist a good friend or family member that you trust who can also bring your other children up to the hospital to meet their newest sibling. If you have a pet, make sure you have boarding plans for at least 3 days or ask a friend to come by and check on them a few times per day.
7.Pre-register for the hospital. Your doctor should already walk you through this, but you will need to pre-register for the hospital you would like to give birth at around 30 weeks along. There will be lots of papers and insurance forms to get through to reserve your spot.
8.Make freezer meals. I made plenty of freezer meals for when I give birth! Freezer crockpot meals are a lifesaver, but so many ladies do not make them. YES, you will survive without them-you can always send hubby out to the store, but who really wants to leave their precious new bundle of joy to go grocery shop? Also, you may not want to feel like cooking when you are half asleep, in pain, and still adjusting to life with a newborn. To see what I made and the recipes click here.
9.Attend birthing and breastfeeding classes. If this is something you want to do, start looking into it around 28 weeks along. I did both classes and to be honest, the breastfeeding class was way more helpful to me. You cannot control how your labor will go, but you can use some good tips on breastfeeding because, trust me, it ain't as easy as it looks. Either way, you want to be educated and know what to expect so classes aren't a terrible idea. Ask your partner to come with you for full support.
10.Tour the hospital and finalize your birth plan. Around 30 weeks or the same time you register for the hospital, ask for a tour. When I was pregnant with my son, I remember my husband and I took a tour last minute on a date night of ours! Haha. It was so nice seeing the rooms, learning about the amentities, and getting to see how things would essentially go and what kind of care to expect. If you are planning on making a birth plan, you should have it finalized at around 36 weeks and handed in to your doctor. Personally, I hate the idea of birth plans because you cannot "plan" how your labor and delivery will go. For example, I did not plan to labor for 22 hours and almost need a c-section with my son. I always joke that you should make the plan and then throw it out the window! However, there are things you definitely want to let your doctor know such as: "Do you wanna breastfeed or bottle feed?" "Do you want your baby to have a pacifier?" "Do you want immunizations for your child?" Etc.
I hope this checklist helps you to plan as much as possible. When it comes to pregnancy, planning can be hard, but you've got this!!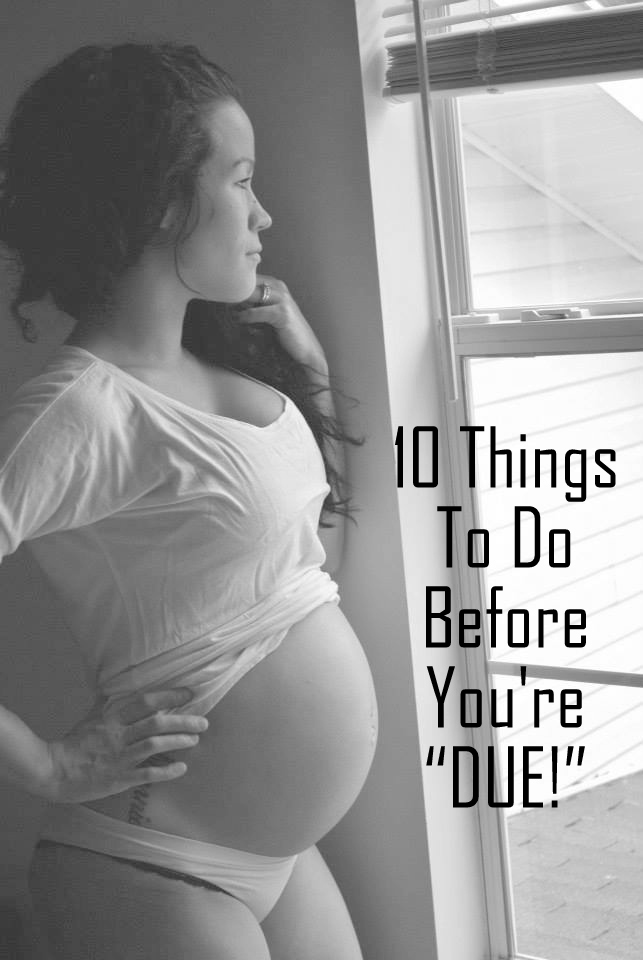 Your trainer and friend,