Lifestyle
What's In My Diaper Bag {The Second Time Around}
Let me ask you a quick question: what are your diaper bag essentials? 
As a mom, you probably already know that your diaper bag is your lifesaver when it comes to having kiddos. I went ahead and pre-packed my diaper bag before my daughter ever gets here so I won't be left uprepared and stressed out.
Being my second time around, I now know exactly what to pack.. and clearly what not to pack so I will share with you all of the details!
First things first, I would love to share a little tip for all of you mommies to be: sign up for an Amazon.com baby registry to get things for your diaper bag stash! Seriously, I have had my baby registries on Amazon for my last two pregnancies and it's been the easiest experience ever as they sell (and you can find) EVERYTHING. So you might notice that when you click on the links here on the list, they will direct you to the product on Amazon and that is why. Plus, a lot of times, the products are discounted or cheaper on there anyway.
Not only that, you get free shipping on everything and for all items that are left on your registry, you will get sent a 15% off coupon code to use to purchase them! Sweet, huh?
Sign up by clicking the banner below and start creating your dream baby list:

Here's what's in my diaper bag: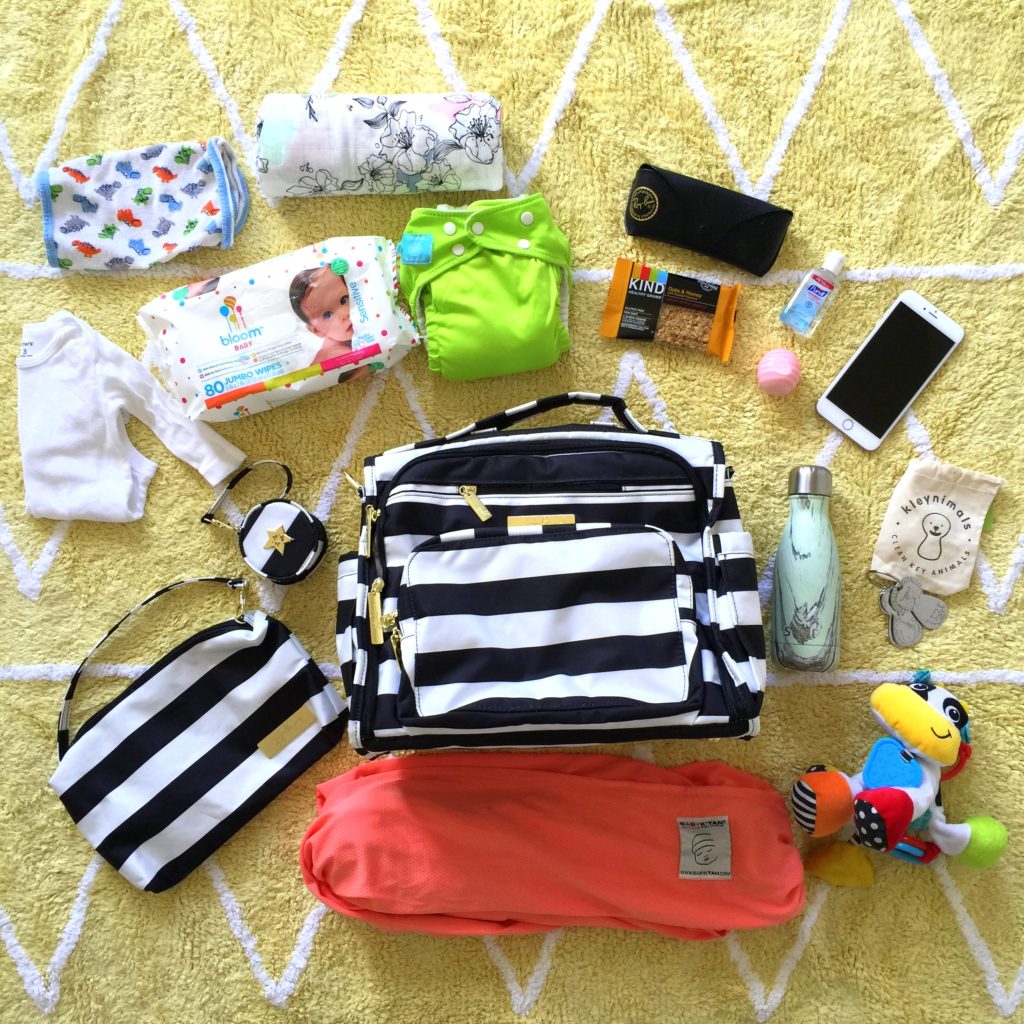 Ju-Ju-Be First Lady B.F.F. Convertible Diaper Bag: This is my go-to diaper bag even though I own about 4. Firstly, it is so stylish and beautiful to carry around as a purse-I'm a sucker for stripes. Secondly, it is heavy duty and does its job well, not to mention that it can be worn a variety of different ways such as a backpack, over the shoulder, or simply carried by hand. There's more pockets and zippers than a Swiss Army knife and it also comes with a changing pad. You will quickly fall in love with this diaper bag! If you are wanting to spoil yourself a little bit, get it!
Ju-Ju-Be Be Quick Wristlet: This wristlet is convenient for a ton of reasons. It allows you to carry around or neatly store smaller items inside your diaper bag so they do not get lost (I love putting my wallet, checkbook, important documents, or money inside this wristlet) or you can take it with you on quick trips when you do not feel like hauling your large diaper bag around as you can throw a few wipes and a diaper inside.
Ju-Ju-Be Paci Pod: This paci pod is made just for what you think it is: your baby's pacifier! Oftentimes, your pacifier will get lost amongst the sea of items in your diaper bag or worse.. end up on the floor… YIKES! To keep your pacifier clean and readily available at all times, Ju-Ju-Be created the Paci Pod which you can carry alone or to conveniently hook inside of your diaper bag! I use this as my jewelry holder as well when we go to the swimming pool or the beach so I know where my wedding ring or earrings are at all times. It is just amazing for the smallest, important things such as retainers, chargers, or even headphones at the gym.
S'well Water Bottle: Possibly my favorite water bottle ever. This bottle keeps beverages cold for up to 24 hours or hot for up to 12 hours at a time. A vacuum seal keeps liquids and carbonation fresh. The sleek design of the bottle itself also makes it ideal for most cup holders in strollers and cars and also fits so well inside of my diaper bag.
Aden + Anais Swaddle: Can I just say that Aden + Anais makes the best muslin swaddles? Once you try them, you won't go back to any other brand. I love carrying around a swaddle because my babies are snugglers. They literally cannot sleep without being swaddled and while waiting at doctor's appointments, this is a lifesaver. I also use my swaddles as a nursing cover (if needed) or a carseat cover/sun shield for baby.
Ray Bans: For when mama needs her hater blockers.
EOS Lip Balm: I always pack lip balm with me wherever I go. Breastfeeding tends to dehydrate me quickly and my chapped lips are an instant first sign that mama needs her H20. I love EOS because the circular shape of the balm itself makes it easy to find in my bag AND they taste good.
KIND Granola Bar: For when mom is feeling hangry and needs a good, sustainable snack. This is actually my personal go-to breastfeeding snack as the oats boost my milk supply and keep me feeling full. I remember eating one around my midnight feeding every single night when my son was a newborn. They are also wonderful to stash in your bag on the go and do not melt or get yucky.
Burp cloths: Spit up and throw up happens quite often so make sure you pack at least one or two burp cloths inside of your diaper bag.
Basic White Onesies: You never know when your diapers are going to blow out or leak.. or when spit happens. Always be prepared by packing at least ONE basic onesie.
Kleynimals: Made with safe, non-toxic, & eco-friendly metal these baby "keys" completely mimic adult car keys-in the best way possible. Shaped after animals, these keys are sure to keep your little ones busy.. and your own keys to yourself! Car keys are gross… these are not! They are also amazing for teething babies or for those babies who just like to shake or throw things around. You can also get these nifty little things engraved with your baby's name.
Baby K'TAN Carrier: I carry my Baby K'TAN carrier around with me when I am not religiously using my Tula. For one, it totally fits better inside of my diaper bag. Secondly, it is great to have stashed away in your bag when you need it last minute or in a hurry as it folds very well.
Bloom Baby Wipes: By far my favorite brand of natural, sensitive disposable wipes on the market. Bloom Baby Wipes have zero harmful ingredients in them and actually are made from glacier water. My son's bum tends to be a bit sensitive and these wipes actually make his skin better if anything.
iPhone 6 Plus: Because I cannot go anywhere with my iPhone. You bloggers out there know this fact. Where you go, technology must go, too.
Charlie Banana Cloth Diaper: As most of you probably already know, I am a cloth diapering mama. The Ju-Ju-Be is perfect for carrying cloth diapers, but since I own 3 main brands, I tend to carry the least bulky one around so that it fits a little better inside. Though its not my favorite brand of cloth diaper, the Charlie Banana fits very well inside diaper bags without taking up too much extra space. I can usually fit up to 4!
Mini Hand Sanitizer: Every mom needs sanitizer.. you just never know when you are going to get poop on your hands. Enough said.
Infantino Activity Pal:  I love these little activity pals from Infantino. They clip on strollers, carseats, and even cribs, but is best in the hands of your busy baby. Not only is it a stuffed animal, it also doubles as a rattle and a teether-win! Mine has lasted through my son and I have washed & stored it away to use for my daughter. Let's face it: you cannot have a diaper bag without some sort of toy inside when you need it the most.
What's in YOUR diaper bag?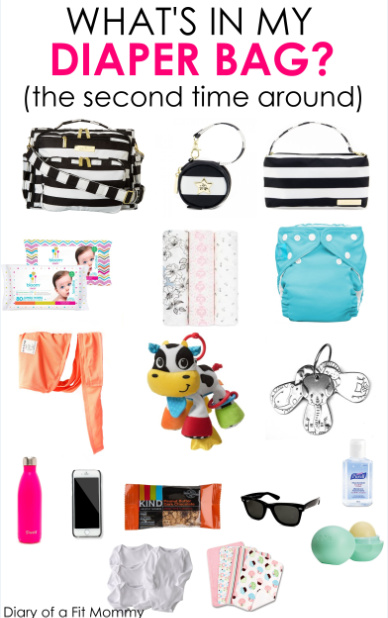 Your trainer and friend,