Pregnancy
What's In My Hospital Bag {The Second Time Around}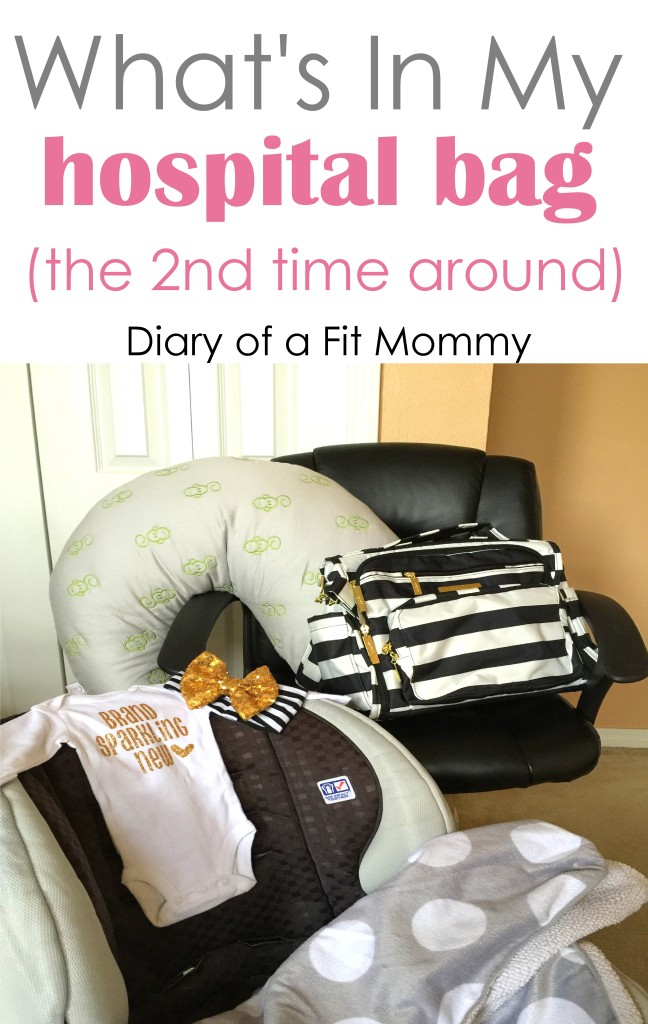 Before you read this post, I have something to share. If you've not created a baby registry on Amazon, it's something I recommend anyone having a baby. They have just about every product, handle returns perfectly and best of all, you get up to 15% off items that you purchase from your own registry!
Packing your hospital bag to deliver your new sweet bundle of joy? I am going to be strictly honest with you… Do NOT fret because you honestly do not need much.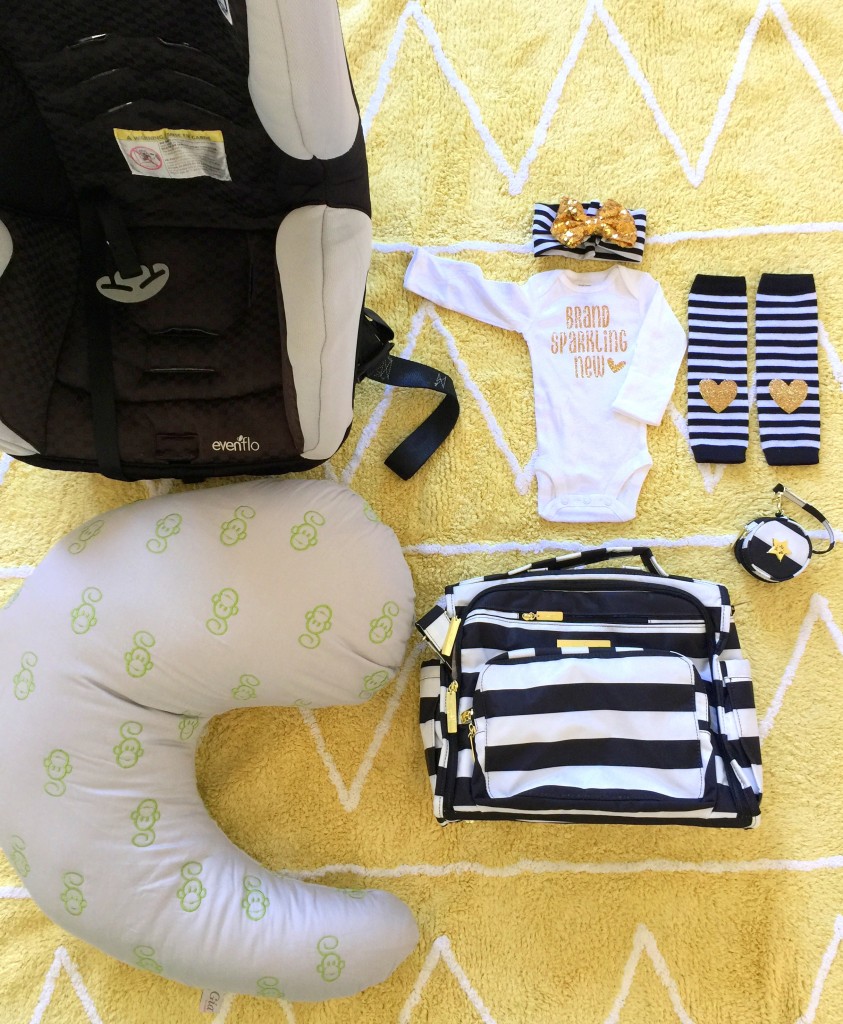 Carseat | Going Home Outfit | Nursing Pillow | Paci Pod | Diaper Bag
When my husband and I packed to go deliver our son, I OVERPACKED by far. I mean, I was a new mom so I wanted to be prepared, but it would've been nicer if I would've known the stuff I would actually use and the stuff I wouldn't even lay a finger on-or think about.
I have been asking what my hospital bag looks like this time around and I will share with you my ultimate hospital bag packing list for delivery:
Your Hospital Bag
For Mom: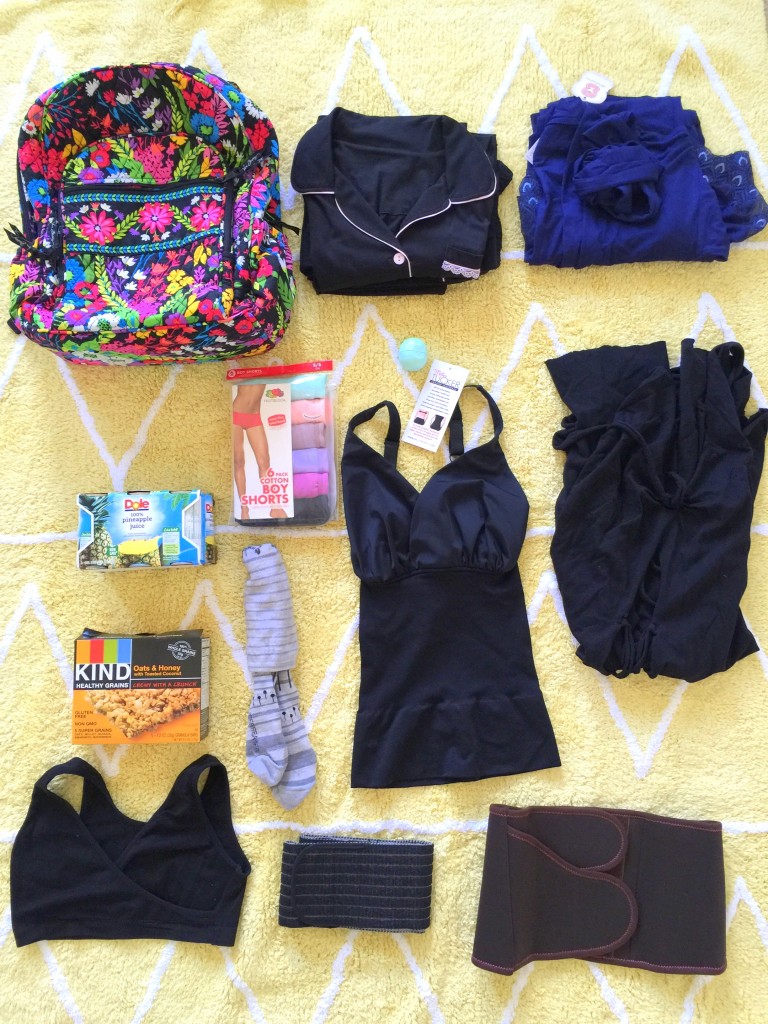 A large duffle bag and/or backpack. Because you need a large bag to put everything inside! I love my Vera Bradley Campus Backpack. I actually used this same bag for Hawaii and for all of my Disney trips. I will be storing personal things and my electronics in this bag. You can grab one here!
A cute hospital gown. Let's face it-not all of us want to wear the old, worn hospital gowns that hundreds of other women wore to give birth in as well. I am in love with my Pretty Pushers gown! I chose black so that stains wouldn't show and it also is built for your to wear even if you are plugged up to an IV or need an epidural-it won't get in the way!
Robe/Gown. After delivery you won't want to wear pants immediately and you will be sore and so freqently changing your pads from bleeding so much. If you like pants, fine bring some pants, but I am telling you, you won't need to wear them until you go home.
Comfy PJs. LOVING these Belabumbum Ariel PJs.. I personally own the black and I cannot imagine NOT packing them in my hospital bag. They are pefect for the hospital as the it tends to get cold.
Socks. Hospitals are so cold so bring a few pairs. You also want socks for when your feet are inserted into the stirrups while pushing. I love these Victoria's Secret Pink Knee-High Socks!
Granny Panties. Pack a whole pack of these! This was something I wish I would have had because all I packed were normal Victoria's Secret cheeky PINK panties. When I started bleeding heavily after delivery, these did not support my ice pack pad.. or anything else. Fabulous. I also packed some Fruit of the Loom Boy Short panties to give me more support and coverage as extras.
A Nursing Bra. All you need is one good nursing bra while at the hospital because during this time, you will learn from a lactation specialist how to breastfeed your baby so pick a bra that is comft and easily accessible. I have been using Belly Bandit's B.D.A. bra for the last two years so naturally I am TOTALLY going to pack this inside my bag. It is perfect to wear before, during, and after pregnancy and its easy to nurse in (not to mention sleeping in it is pure Heaven)!
Going Home Outfit for Mom. You will need a good pair of pants and a comfy, not restrictive shirt for this. I suggest sweat pants and a large tee. Bring some sneakers to help you walk sturdier because your balance may be off from the epidural for a little while. I will personally be packing my Blanqi postpartum leggings!
Postpartum Girdle. I cannot begin to tell you how much my Belly Bandit postpartum girdle helped with my tummy shrinking after the birth of my first baby. It also helped to shrink my swollen uterus back down to its original size in no time. I personally wear the BFF Belly Bandit, but if you are looking for a cheaper one, you can try the Original Belly Bandit. Use code SIA15 for 15% off ALL Belly Bandit goodies.
Boppy or Nursing Pillow. This was awesome to use to learn to nurse my son and I honestly could not imagine going to the hospital without taking mine. It also helped me to prop myself up when I wasn't using it for feeding time. I also liked sitting on it due to the donut shape, which helped to relieve my sore bottom.
Flip Flops. If you choose to shower in the hospital, you will want flip flops to wear inside of the shower, for sanitary reasons.
Misc.
Bed Comforter & 2 Pillows. Something I am SO GLAD that I did was bring my own bed comforter and pillows from home. Not only was it something familiar, it made my hospital stay a bit more comfortable.
Toiletries: Toothbrush, toothpaste, body wash, shampoo & conditioner, deodorant, hair brush, and hair ties-the usual. I wouldn't worry about packing an ounce of makeup because this should be the last thing on your mind, but to each their own.
Lip Balm. Notice this has a bullet of its own. Depending on however long you are in labor, you will get thirsty. You cannot drink until you deliver. Well, I was in labor for 22 hours without drink or food so my lips were chapped to hell and back. I would have given anything for some lip balm! I have packed my favorite Eos lip balm for this occasion.
Documents: ID, Wallet, Insurance Card, Registration Forms.
Snacks. The hospital snacks are do-able, but if you are a picky eater, you will want to pack a few good snacks. I suggest packing some KIND bars or granola bars. These in particular helped boost my milk supply while in the hospital because of the oats, sesame seeds, and toasted coconut in each bar! They were also my midnight nursing snack up until the time my son was about 3 months of age.
Pineapple Juice: I know you are probably like "WHY?" Pineapple juice has been known to be a lifesaver when breastfeeding. When having problems with blocked milk ducts or engorgement, many women drink it because its a natural anti-inflammatory. Not only that, it helps with the pain that most new mother's experience when attempting to breastfeed for the first time (it's painful, ya'll). I personally have this 6 count pack already packed away for this time around!
Medications. Don't forget to pack those prenatals! I personally use these prenatal gummies!
Tech Goods: iPhone, iPad, Phone Charger, etc. Labor could take a good while so you might want to come prepared. Most hospital tv's are sooo small.
For Baby: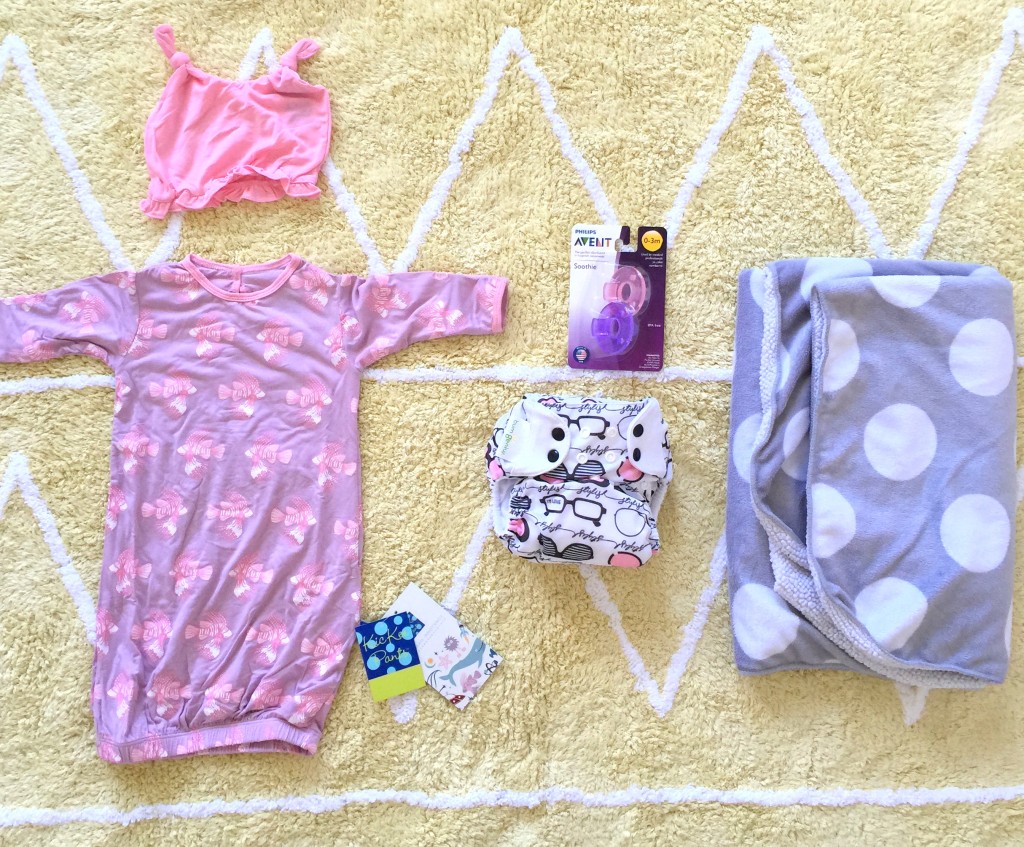 Diaper bag: I am bringing my Ju-Ju-Be First Lady diaper bag filled with her things. It will be her little hospital baggy. Inside the bag, I also have a matching paci-pod to hold her pacifier and my matching Be Quick wristlet to hold paperwork, forms, money, and important things.
Fluffy receiving blanket: I have packed my gray and white polka dot Circo blanket for my daughter. I packed the same brand with my son and it was the first blanket we ever wrapped him in-he still sleeps with it to this day. It is still soft as ever!
Etc: socks, mittens, and hats
Cloth diapers (if you are planning on doing cloth-if not the hospital supplies disposables): I use this brand and this brand the most. I have tried over 25 different brands and these two are the BEST. Trust me.
Layette night gown (not necessary though, and a going home outfit (again, not necessary). Loving Kickee Pants' line of layette gowns. I was first introduced to this brand with my son and I fell in love with the soft, bamboo fabric! They come in the prettiest colors and the cutest prints.
Going home outfit: I was sent this ADORABLE going home outfit for my little girl from the Etsy shop Skylar n' Me. It is probably the cutest thing I have ever seen in my life. I also LOVE LOVE LOVE this Hello World onesie!
Carseat: Obviously, you will need a carseat to take baby home! I am a huge fan of the Recaro convertible carseat as I own two, but if you are wanting a cheaper option, I also own the Evenflow SureRide convertible carseat and I love it, too! The Recaro is going to be better in safety and quality, but I realize not everyone wants to pay $200+ for a carseat-your choice-just throwing that out there. However, keep in mind that the Recaro brand actually started out making racecar seats so their seats are very widely known and can take a pretty good beating if something were to (God forbid) happen.
For Daddy:
Lastly, don't forget daddy! Pack him some snacks, clothing, cash for vending machines and cafeteria, electronics, magazines, toiletries, and his own pillow and a blanket from home.
I know it can seem so overwhelming at first, but I promise you that you do not need to bring much. It honestly depends on how your labor will go and you won't know that fact until you actually GO into labor! I was in pain for most of my labor so I wasn't looking at magazines, watching tv, or looking at an iPad. I was just focused on delivering my healthy baby.
At the end of the day, this will be your main focus too! 
Feel free to hover your mouse over the image below to save to Pinterest:

Your trainer and friend,