Fitness
10 Minute Low Impact Home HIIT Workout
One of my favorite forms of cardio is HIIT or High Intensity Interval Training. Instead of walking on the treadmill for an hour, I can literally burn the same amount of calories within minutes.
HIIT can be super intense, but it is only for a short period of time. During this short time, you can burn more fat and more calories than you could imagine doing any other way-this is why HIIT is so effective! It is also good for your heart and gets that heart rate up which also makes this a good warm-up to lifting weights.
HIIT is actually an important part of my Strong Body Guide: 12 Week Home Workout guide that I offer to my clients. My workout plan is created for busy women and HIIT fits right on in as the main workouts take only 20 minutes per day to complete.
Most of you want to do HIIT, but have no idea where to start. I have created an easy HIIT style workout for you to try that you can do at home-no treadmill or equipment needed. This HIIT workout is also low impact and requires no jumping so it is apartment friendly and good for those who may have weak knees or joints. If you would like a more grueling HIIT workout, I will be making one soon!
Check out the HIIT workout tutorial video below and be sure to subscribe to my YouTube channel for more future workouts.
To complete this HIIT home workout, there are 5 exercises for you to do:
X TOE TOUCHES
PLANK TO DOWNDOG
MOUNTAIN CLIMBERS
PLANK TOE TOUCHES
WINDMILLS
You will complete each move for 30 seconds followed by 30 seconds of rest. For example, you will do 30 seconds of X Toe Touches without stopping, at full speed. Once those 30 seconds are up, you will rest for 30 seconds before continuing on to the next move. Once you are done with the entire 5 moves, you will repeat the circuit one more time to equal 10 minutes total.
During my rest periods, I like to keep moving so I will just jog in place lightly or walk around. If I stay too still, I will lose motivation.
Below are a couple of good printables for Pinterest or to save for yourself as a quick reference. Please watch the video above for instruction on how to do each move if you need additional help!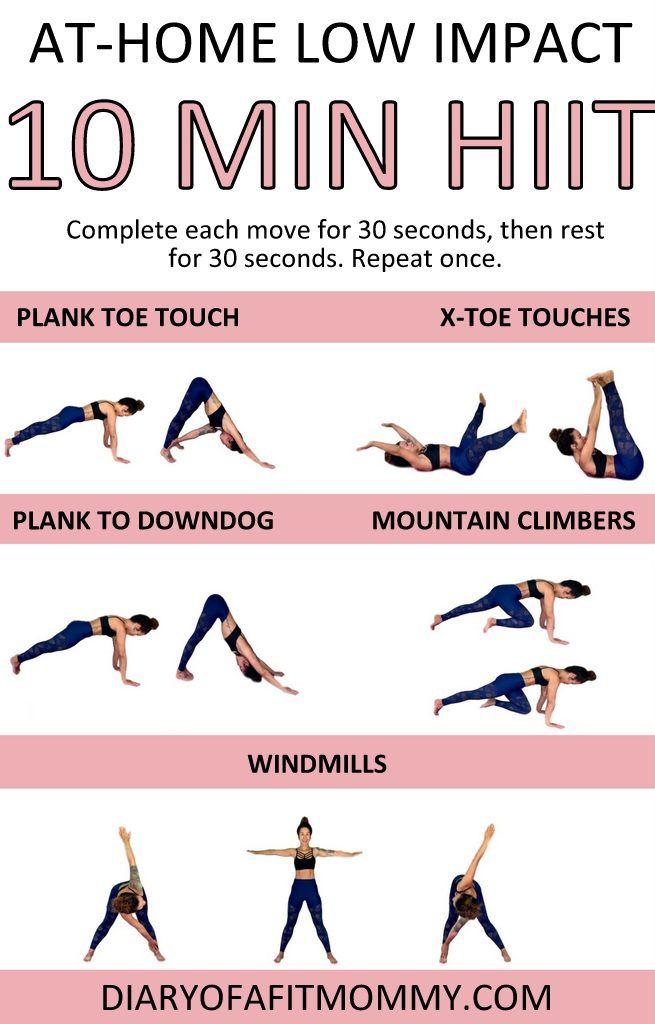 If you need more guidance or help along the way, checkout my Strong Body Guide: 12 Week home workout guide and join our private support group with thousands of other ladies.
Your trainer and friend,