Food
Chocolate Chip Cookie Dough Protein Bites
Who loves chocolate chips and peanut butter? What if I told you that if you combined the two, you still could enjoy a healthy treat? Well, good news is that you can!
I spent the afternoon making these yummy little Cookie Dough Bites that are packed with protein and flavor. They are perfect as a snack for when you are feeling a bit hungry or as a post-workout snack.
The ingredients needed to make this healthy protein snack are:
1 cup peanut butter
1 1/3 cup Lean1 vanilla protein powder
1/3 cup chocolate chips (semi-sweet was used here, but you can also use dark)
The first step in creating this tasty treat is to combine all 3 ingredients in a medium sized bowl.
Using a spoon, mix the 3 ingredients together until well blended, making sure to get every bit of peanut butter off of the sides of the bowl.
Using clean hands, grab a bit of the mixture and start forming a ball. The ball should be the shape of a ping-pong ball.
Place the ball on a baking sheet and freeze for 30 minutes to harden. When you remove it from the freezer, this is also your time to re-shape or make your balls prettier.
Store the balls in the refridgerator in an air-tight container or eat right away!
The texture will remind you of cookie dough! Who can argue with that?
Love this recipe? Come vote for it daily at Smoothie King's Blogger Blend Off on their Facebook page by clicking here! I would be forever thankful! 🙂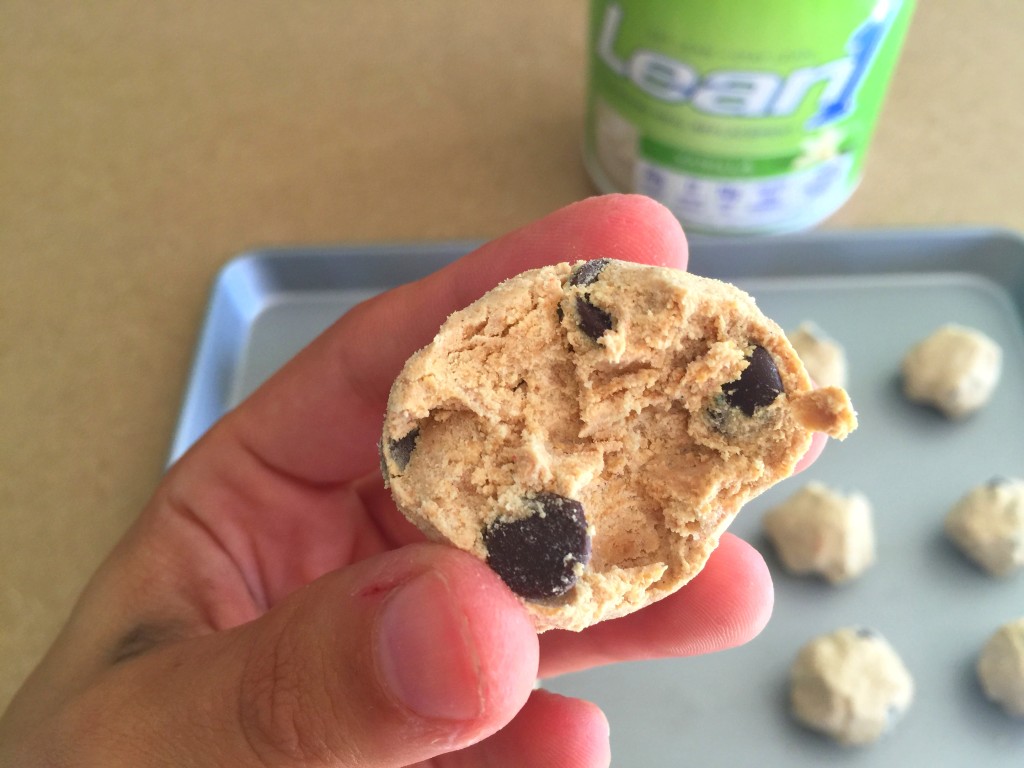 Lean1 protein powder is available at Smoothie King locations near you in sample or full sizes and you can choose from vanilla, chocolate, or strawberry flavors. It can also be enjoyed in Smoothie King's new Lean1 Tropical Smoothie which was created to help you "Slim Down and Slip Away" with its pineapple meal replacement packed with lean protein, vitamins, and fiber. Sounds like the perfect drink for summer!
Oh and by the way, if you post on social media about how you fuel your purpose with Smoothie King, you'll be entered to win a tropical vacation! Simply use #SKTakeMeAway when posting by March 31st!
At 31 weeks pregnant, these protein balls are the perfect treat for when I am starving or just needing a quick post-workout snack. Plus, they are easy to meal prep or to pack on the go.
Disclaimer: This post is sponsored by Smoothie King and I was given Lean1 protein powder to try, at no cost. All opinions are my own.
Your trainer and friend,