Pregnancy
We Have a BIG Announcement!
WE'RE PREGNANT AGAIN!!
The day after getting home from our Disney vacation, we found out we were expecting our Mini Cooper #2 and are thrilled.
We tried for baby #2 during my last cycle and lo & behold, all it took was one time. During our vacation, I had some spotting and cramping so I thought, "Surely, I didn't get pregnant this time around." But, something told me to test as soon as I got home and the little faint line popped up.
Then, I went to Wal-Mart to grab one of those digital pregnancy tests-just to make sure. That popped up as "Pregnant", too!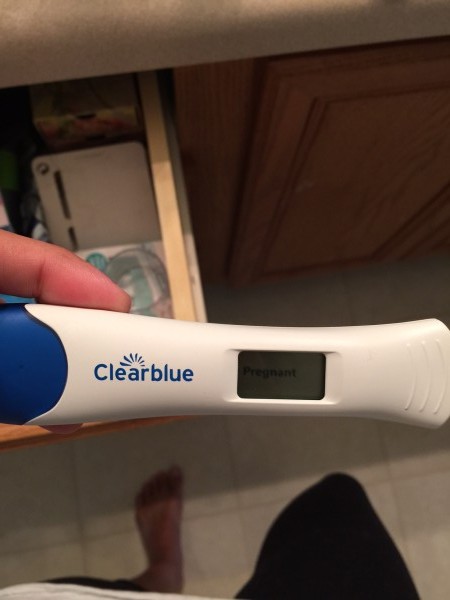 I decided to think of a way that I would tell my husband. I decided to buy Jimmy Fallon's book "DADA." The book is absolutely simple, adorable, and fitting for my husband since Greyson's favorite word-besides "HI!"-is "Daddy!"
I used this book to surprise my husband. The last page made it so perfect to announce so I wrote in my little "announcement" and planned to have him read the book to Greyson that night.
So, just how did my little plan go? You will have to watch the video below to find out 🙂 Grady's face was PRICELESS!
We are so insanely excited about baby #2 and are hoping for another baby boy, but I am honestly fine with either has long as Mini Cooper #2 is happy & healthy. That's really all any mother could ask for, right?
We could not decide on one way to tell the world so we came up with the idea of two pregnancy announcements! One with Starbucks (cause we looooove some coffee) and one with our car, featuring the new baby carseat (cause we looooove cars). They came out quite perfectly!
So, how far am I now? Just about 5 weeks along. We have our first OB appointment on October 2nd to see our little nugget. The due date, based off of my LMP is set for May 23rd! But, of course, that is just a guesstimate-I will know more and post more after our appointment.
Yes, I am pretty early. I know some of you may even be shocked that I announced so early. Well, when I was pregnant with Greyson, I announced at just 5 weeks along as well.
Why? Because, he was a real human life and I believe that every life should be celebrated-no matter how big or small. If this current pregnancy does not workout-Lord willing-then I still want people to know that I value this precious life inside of my tummy and loved him or her as much as I possibly could and can't wait to meet them someday. I want every life to be celebrated. Of course, it is a personal choice. Some people choose to wait until after 12 weeks while people such as myself and my husband can't keep secrets! Haha. We are just hoping and praying to hear and see that strong heartbeat when we go for our first ultrasound.
I am having no morning sickness and hardly any signs of pregnancy so my workouts have been the same. I have actually upped my cardio to 30 minutes (from 20) 5 days a week and am doing leg day 3 times a week now and have stopped working my abs (personal choice-there's not really a huge point in working your abs while you are pregnant and my legs were my trouble area during my last pregnancy).
I cannot wait to share everything with you all as I did with my last pregnancy-that is how Diary of a Fit Mommy came to be!
Stay tuned!
Sia Cooper
Your trainer and friend,