Fitness
My Vacation Weight Gain + 3 Day Reset
I am finally back from vacationing at Walt Disney World and BOY it was a lot of fun! It was sooo much fun, that I kinda got a little bit carried away and enjoyed a LOT of good food. Too much good food.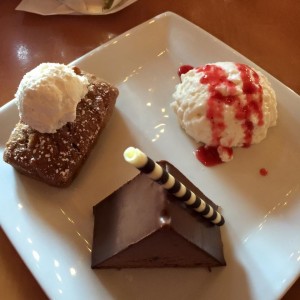 After all, I bought the dining plan which included a dessert at every meal-something I usually don't eat. YIKES. So, I felt the need to live a little, enjoy my vacation, and to not let my all expenses included meals go to waste. You only live once after all, right?
But, just as with anything in life, eating junk food that my body is not used to came with its consuquences.  By the 8th and final day of our vacation, I was bloated, fluffy, and lacking energy. I did NOT gain any weight numerically, but my body was a far cry from how it usually looked.

Thank goodness we walked about 8 miles per day and I even packed my weights along with me, but this just comes to show you how much diet can REALLY play a role in how you look and feel.
The photo on the left was taken the last night of our vacation. The photo on the right? Just 3 days after getting back home. Quite the difference, right? So what did I do to get right back where I was pre-vacay? I reset my WHOLE BODY.

"A reset? What's that?" you might be wondering.

Similar to detoxing, I really just went back to the way I normally do things, but with more intensity. For example, here's what I did to reset my body from all of the guilty pleasures I indulged in:
No sugar. Nope, not one drop. I know I ate well enough sugar to meet the needs for maybe 3 adult's daily intake. But, honestly, it's not very hard to do so. One can of Coke exceeds nearly twice of the daily recommended intake for any individual. 
Ditched caffeine and alcohol. Yup, to reset my body, I ditched most caffeine and all alcohol and started drinking green tea and lots of it. I actually drank one cup of hot green tea with every meal along with a glass of lemon water.
Got my macros back on point. I cannot even begin to think about how screwed up my macros were during those 8 days lol. So, I got back to my normal ways of eating and focused moreso on lean protein and fresh veggies for 3 days straight.
Upped cardio & incline levels. I usually do maybe 20 minutes of cardio a day with an incline of 15%, but I upped my cardio to around 30 minutes at 25% to get that extra bit of kick. My incline trainer really kicks my butt! I also focused on 15 minutes of HIIT (in addition) to kick the fat burning into gear.
Stayed true to the weights. I continued on with my normal lifting routine-nothing new here. 
Upped water intake. I made a point to drink at LEAST 1 gallon of water per day. Water not only flushes toxins out of your body and revitalizes your energy, it also helps combat cellulite (which was very apparent on me).
Body brushed. Yeah, I know, I know. This might sound like a fad, but I dry brushed my thighs religiously. This helps move the lymph from the system. I truly believe in it as my legs feel and look smoother.
We are planning on another Disney trip in February and I vow to be a little more health conscious while I am there. Believe it or not, Disney DOES offer healthier options-I just chose not to take them lol. Also, I realized that no, I do not have to take the dessert even though it's included. It is all a matter of willpower and I let the whole "BUT IT'S VACATION!" idea get inside my brain. 

Next time, I am so excited to choose better options and to document them on the blog to help keep me accountable and to show you that it is possible to stay healthy while on vacay.

Until next time!
Your trainer and friend,