Little Ones
Tips to Stay Focused & Consistent During Those Active Summer Potty Training Days

Disclaimer: This post is sponsored by Pull-Ups Training Pants
The summer is the prime time for activity and this includes lots and lots of traveling. Well, for our family anyways! We recently visited the island of St. Lucia and it was my kids' first time traveling outside of the country. We had a blast, but it was also quite challenging at times thanks to my son's teensy weensy bladder!
We have been potty training for a year now and we are mostly trained. However, there are a few accidents here and there. I knew that traveling would pose some challenges so I figured I would tackle them head on and be prepared no matter what was thrown our way.
Here are my top tips to potty training while traveling this summer (or anytime!):
1. Be proactive. The best way to potty train while traveling is to be prepared, proactive, and to think ahead. Try to predict what your schedule will look like and be sure to make time for bathroom breaks ever so often. While we were on our four hour flight, I took my son to the potty once every hour-even when he said he did not need to go! I also bring a travel potty wherever we go in case we need to pull over where there isn't a restroom. Lastly, be sure to pack plenty of underwear and Pull-Ups in your suitcase.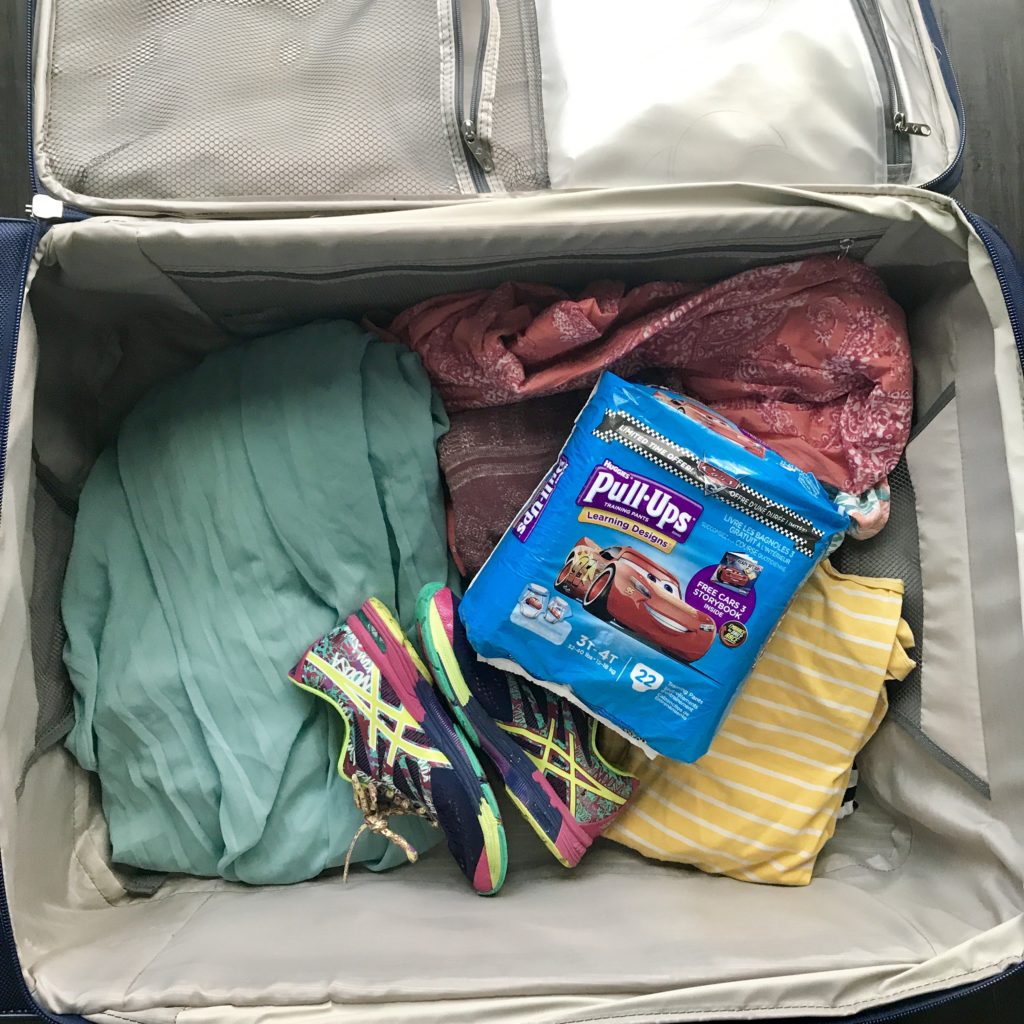 2. Expect accidents. Accidents will happen-it is just a part of learning to potty train. Since your child will be so busy traveling, they might be too tired to remember to go to the potty. Traveling can also be stressful for kids because it throws them off of their usual routines. This can result in an accident or regression on vacation. No need to worry, though-just be prepared and don't sweat it. Try to build your child up and offer encouragement as they may feel ashamed if an accident occurs.
3. Continue rewards. Just because you are traveling does not mean that the rewards should stop! If anything, your child might need the continued positive reinforcement and incentives while on vacation since they will be out of their comfortable routine. We used the good old fashioned sticker chart when we first began potty training. It was easy and cheap to make, but it made my son very happy to add a sticker to his DIY chart every time he went to the potty. Pull-ups.com has some amazing DIY rewards ideas that you can make for your child to help encourage them along the way! In fact, 3 of 4 moms prefer Pull-Ups©!* Personally, we love printing these out and taking them with us when we travel to make sure we stay on track.
I also love taking my son to the zoo, swimming at the beach, or out for a game of bowling as an incentive for staying focused on his potty training and doing a great, consistent job. Summer is a wonderful time for activity and I love adding a physical reward in addition to the sticker chart.
4. Bring your Pull-Ups Training Pants! Every time we travel or go on vacation, I always pack more than enough Pull-Ups as my son still wears them during daytime naps and at night. We have been using them for over a year and have loved them every step of the way. They allow for my son to gain as much independence as he can while learning to use the potty on his own. I also love the fact that they do not look bulky under my son's clothing and they contour well to his body which makes him feel like a big kid.
On the plane to St. Lucia, he would take his Pull-Ups out of his backpack to show the other passengers because he was so proud of them! Pull-Ups provide an award-winning design specifically to help teach potty training skills. They look and fit more like underwear, giving your child the independence to slide their pants on and off, while also providing consistency for any learning style throughout their potty training journey.
Pull-Ups truly are than just a training pant – They have simple ways to make potty training easy and fun for parents and children to start together and Pull-Ups.com is a great resource for parents to find tips, tools and advice on how to make potty training fun and exciting.
Interested in trying them? Make the promise to start with Pull-Ups – an underwear-like pant designed for big kids, to help teach potty training skills and symbolize your transition out of diapers. Share how you got started together with your little one by using #Time2Potty.
Pull-Ups is also hosting a super fun Disney contest right now (because who doesn't love Disney?)! Share your Big Kid's Big Moments on Instagram or Twitter using #DisneyAndPullUpsSweepstakes for a chance to win a vacation to Walt Disney World with your family! Hurry though – the sweeps ends on August 4 and you don't want to miss out on a chance for a FREE trip to Disney!
*Pull-Ups offering includes in-pack prizes, packaging, products and activities vs. Pampers© Easy Ups©
Your trainer and friend,