Lifestyle
Feeding Our Future
Disclaimer: This post is sponsored by Feeding America and Scholastic. The ideas and opinions are all my own.
Did you know that one in every six children in the U.S. do not have enough to eat? As a parent, it is unbelievable to hear this saddening statistic because my kids are fed each and every day without worry. However, there are plenty of children who do not have this privilege. Imagining my own son and daughter going hungry is enough to make me want to do something about it.
Summer is an even more difficult time for children who face hunger since they are out of school and no longer getting school lunches, which can sometimes be the only meal that they get to eat per day. Through the National School Lunch Program, free or reduced-price meals are served to 22 million children. But when schools close in the summer, only 4 million children receive meals through the USDA Summer Food Service Program. This leaves so many children who are still in need of food.
It is time to do something about this issue because hunger is detrimental to a person's entire being-physical, emotional, and social wellness. It is important to not only teach other parents and families about childhood hunger, but it is also important to share the statistics with other children, as well.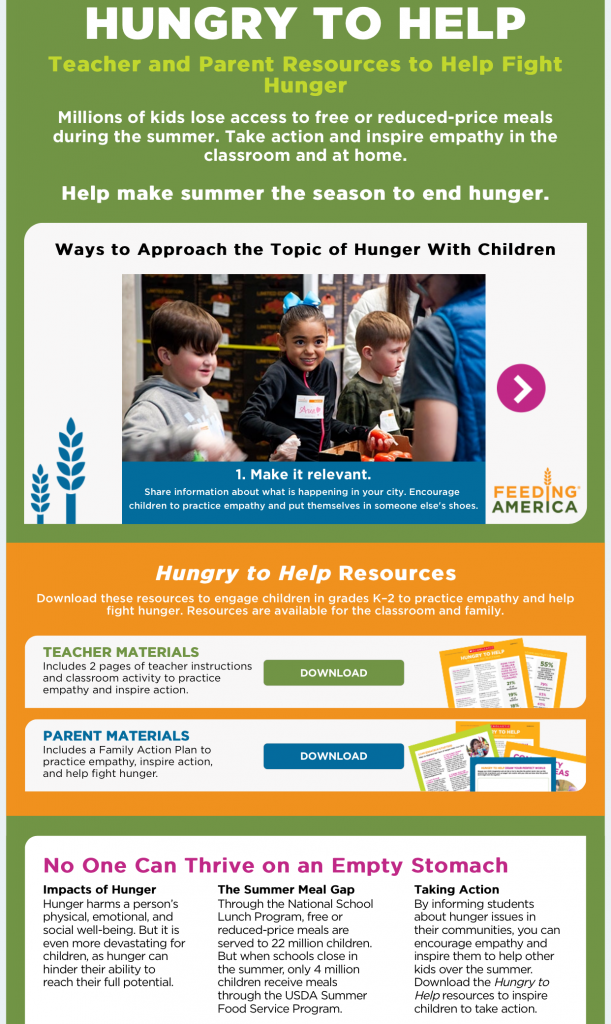 There is a solution for you to share with your family and friends. I am excited to share Feeding America and Scholastic's Hungry to Help Program. It's goal is to teach parents and children to practice empathy and learn more how they can support those who struggle with hunger.
The Family Action Plan includes:
• Links and online resources for more in-depth information
• Family conversation starters on the topic of hunger
• Hands-on community action ideas and family activities
• Children's activity sheet to draw their perfect world
• A summer checklist to track their progress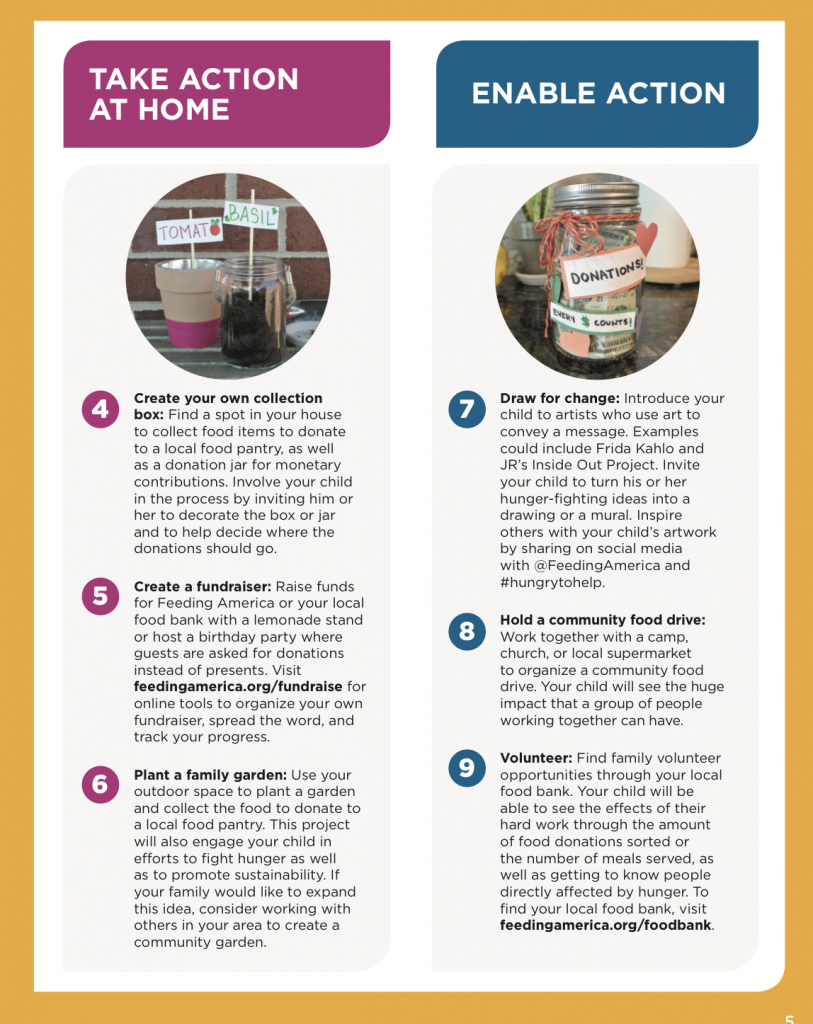 Although my children are too small to understand the concept and gravity of childhood hunger, here are a few great tips to talk to your school-aged child and get them involved:
Collect change. Have spare change falling out of your pockets or lying around the house? Place a jar on the kitchen table and label it "Food for Kids (or anyone!)" Anytime you find spare change, place it in the jar and allow your children to do the same. At the end of the month or so, donate the money to a food bank or drive.
Help others directly. If there is a family in need that you may know of, place a few non-perishable food items in a box and deliver it to them. If there is a food drive, going through your pantry with your children and designating which foods to donate.
Talk about feelings. Ask your child how they would feel if they were to go hungry? Would they feel sad? Would they feel frustration? This helps put them in other children's shoes and to help them experience a glimpse of how others might feel. You can talk to your child about solutions and how they can help.
For more ideas, refer to the chart below: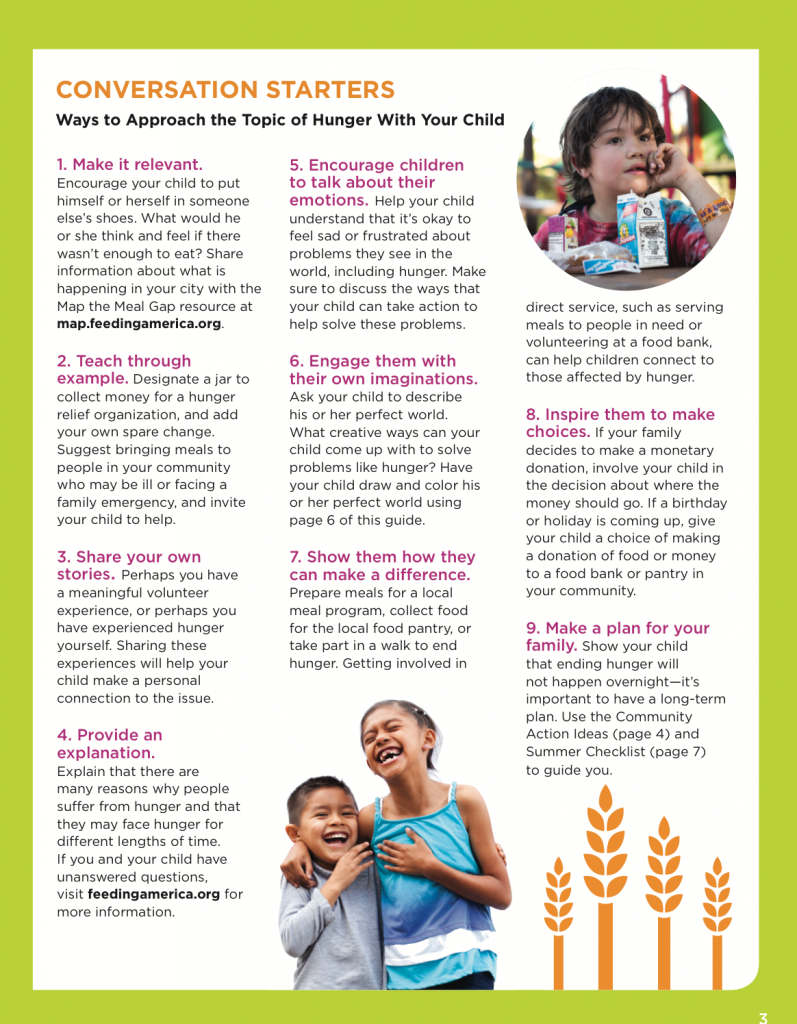 The Feeding America site has been so helpful because it has tons of materials that you can use for your family and community! If anything, there is an option to make a simple donation.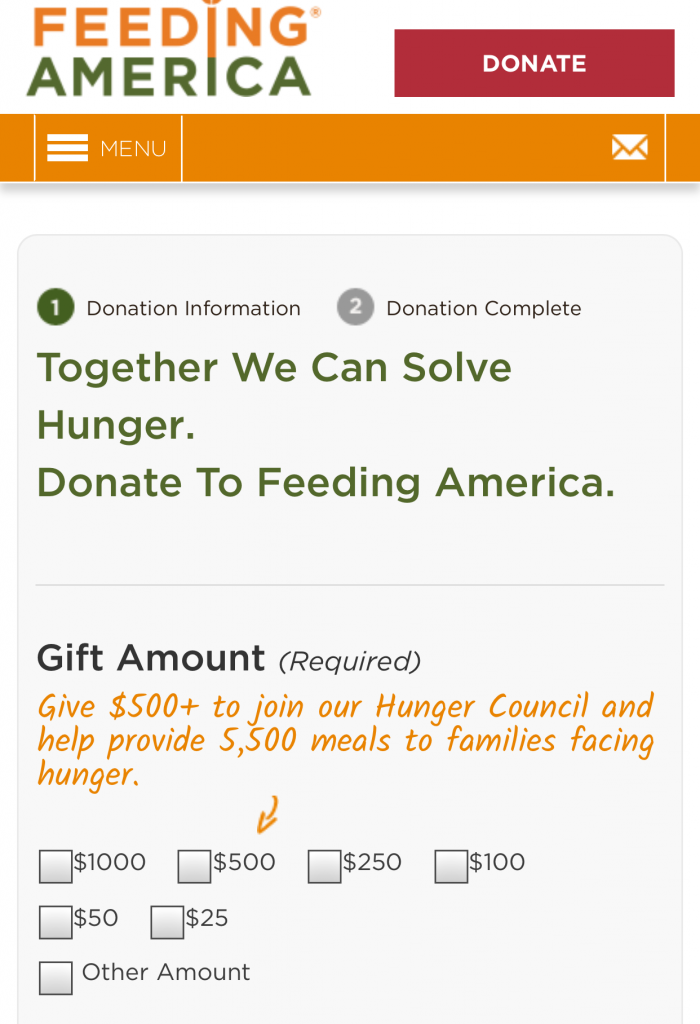 To view more details on the plan and how you can get involved, visit the website and download the Family Action Plan. You may visit the Scholastic site or the Feeding America site for more.
Your trainer and friend,