Diet
My Secret to Fighting Hunger and Endless Cravings!
Ever have endless cravings? If you could see me right now, you would see my hand slowly popping up. I love sweets and carbs-there's just something about them that makes my mouth water-even when I am not all too hungry. Cravings can get the best of us and make or break a healthy diet or weight loss goal. So, how do we deal with it?
I have been obsessed with AppeFIT from Next Step and have been taking it once per day for the last couple of weeks. It is a drink mix powder that can be taken alone or in a smoothie to reduce hunger and cravings. The secret ingredient in this ingredient that takes away your cravings and mindless hunger is Appethyl, a natural spinach extract. Appethyl is clinically shown to reduce hunger and cravings while promoting a feeling of fullness for about 5 hours. It also has been documented to delay fat digestion, which in turn will increase the amount of satiety hormones in our body.
I like drinking mine when I need the feeling of fullness the most.. mid-day slumps! Otherwise, I will overeat at dinner time and become more likely to reach for that midnight snack. I feel more energy after drinking it so that is a perk of mine!
You can add a scoop of AppeFIT into a smoothie, soup or a green drink. If you're taking AppeFit with a green drink or smoothie, add a tablespoon of your choice of healthy oil-I like coconut oil. You must take this product with healthy fats hence the reason for adding the oil because in order to work, it needs a certain amount of fat. Some people may choose to take it with almond butter and that works, too!
I personally added a scoop to my morning green smoothie that I drink on a daily basis. I did notice that after drinking my smoothie, I was a bit fuller than usual! I actually was not super hungry near lunch time so I did not over-indulge. On busy mornings when I am in a rush though, I like to mix it with just orange juice!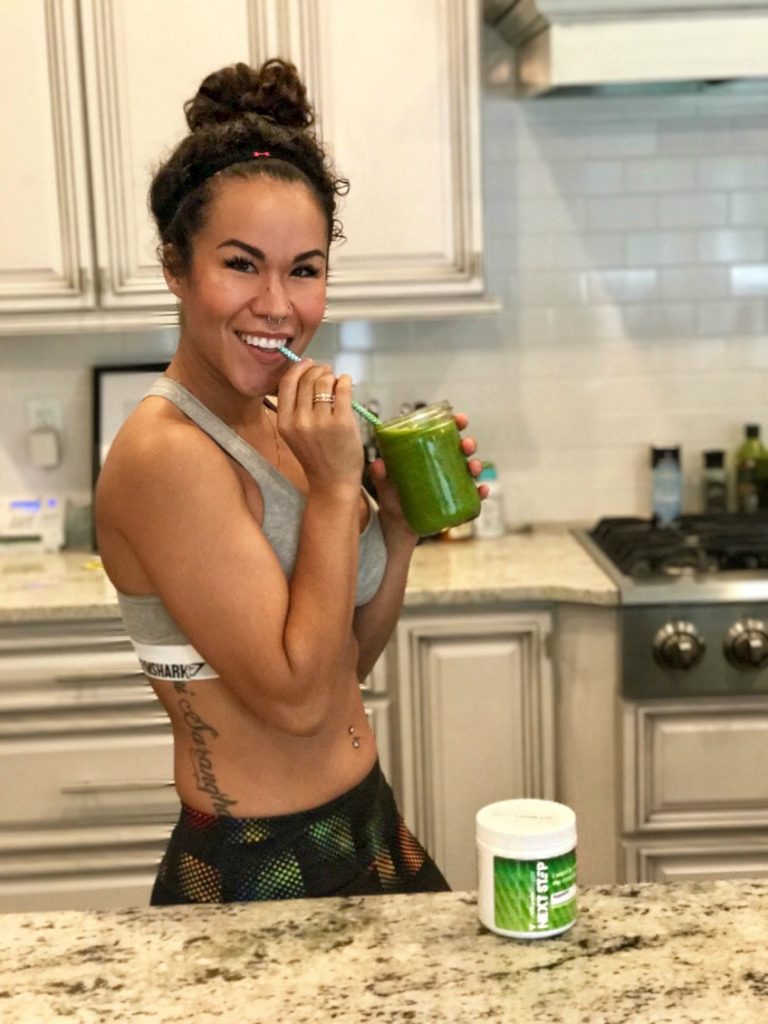 If you would like to make the smoothie for yourself, here is the recipe:
Ingredients:
1 scoop AppeFIT
1 cup orange juice
1 tbsp coconut oil
1 cup spinach
1/2 green apple
1/2 cup pineapple
1/2 cup mango
Ice
Directions:
Blend all ingredients until smooth. Add as much ice as you need to get the desired consistency.
You can check AppeFIT out and purchase on The Vitamin Shoppe.
Next Step is a brand belonging to the Vitamin Shoppe, one of the largest and most trusted names in health and wellness. The products are manufactured in the United States in cGMP facilities (stands for Certified Good Manufacturing Practice, the facilities are regulated and certified by the FDA).
This is a sponsored content written by me on behalf of Next Step. The opinions and text are all mine.
Comments submitted may be displayed on other websites owned by the sponsoring brand.
This is a sponsored content written by me on behalf of Next Step. The opinions and text are all mine.
Your trainer and friend,