Diet
How HelloFresh Made Me a Better Mom
Let me ask you a few questions:
How many times a month do you grocery shop?
How long does each trip take you?
Do you struggle to take the kids along with you to get it all done?
I once dreaded trips to the grocery store. The amount of time I had to put into planning each trip and then actually going on it really stressed me out. I remember seeing a commercial on tv about HelloFresh and how meal delivery works and my mind started started wondering how much better life would be like if I were to just try one week of it. So, I went for it! Even though I am not a huge fan of subscriptions, I knew I had to get some of my life back weekly. There was simply way too much going on with the kids and my home business that I needed to take some worry out of the equation.
I started HelloFresh in February when I was given a discount code for a box. I figured $30 off my first box was a good enough deal to get me to even consider trying it! When my first box arrived, I was amazed at all the goodness inside: an apron, recipe cards to keep, specifically boxed ingredients for each meal-(pre-measured by the way!), and discount cards. Each meal is pretty easy to make as the recipe card guides you through with step-by-step instructions WITH images for each step. I love the fact that my husband and I could alternate making meals to give each other even more of a break.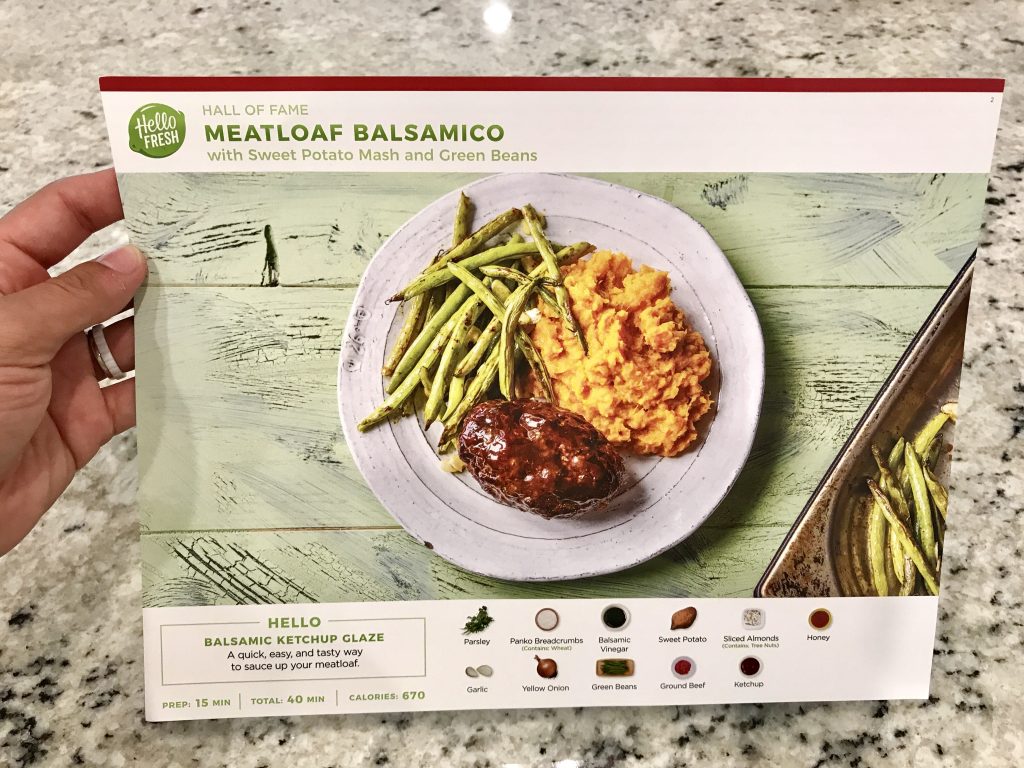 Fast-forward to today: I have been using HelloFresh for 4 months now and I have yet to look back. I only make quick 15 minute or less runs to the grocery store weekly for basic things and the convenience of having the meals delivered to me. Most of all, if I do not like a certain week's meals, I can skip it at no charge and I can schedule what day I want my boxes to be delivered to me. Most meals are delicious and every week is honestly a good mix of ingredients-maybe one or two fish or seafood meals, two chicken or steak meals, and then maybe one pork meal or so.
Something that I love about using HelloFresh is that the recipes are so simple that my 3 year old loves to chime in and help me cook dinner. Believe it or not, there's quite a bit that he can do to help. I can honestly say without a doubt that this has helped us to bond more by doing something new together-something hands on. I feel as if it has made me a better mother because I am teaching my son a valuable skill and we have so much fun together in the process.
One night this past week, he helped me make Meatloaf Balsamico (see the recipe card above) and we had a wonderful time. I started off getting our ingredients ready and familiarizing myself with the recipe card while Greyson attempted to conceal his excitement for dinnertime.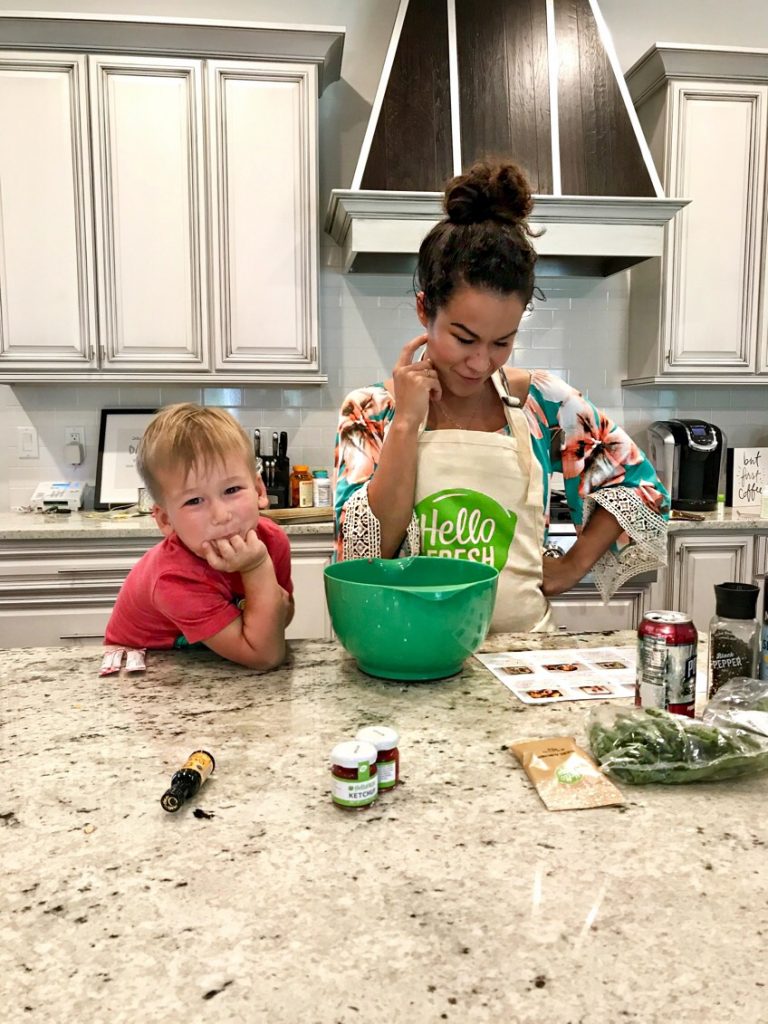 We grabbed our produce and got to work with washing, peeling, and chopping away.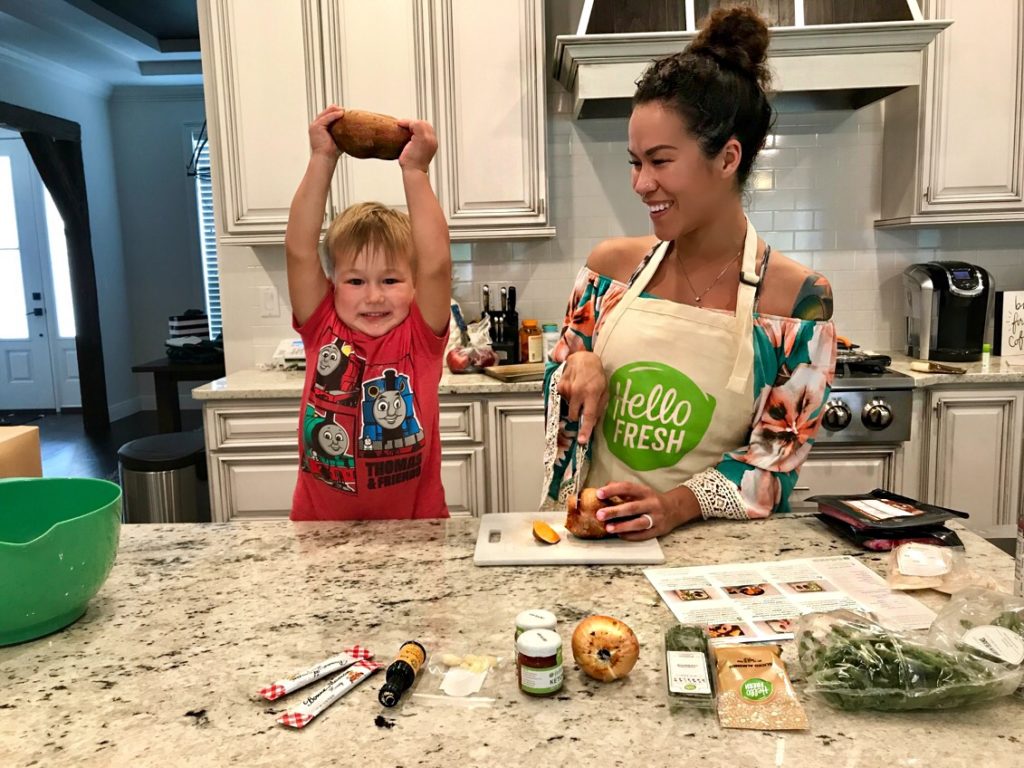 Then we got our hands dirty and molded the meat loaves. Greyson loved this messy part!
Lastly, we basted our loaves with a special sauce made with balsamic vinegar and ketchup. I told him it was like "painting" and he really enjoyed it!
Lastly, we let everything bake and in 25 minutes we had yummy dinner prepared!
Another cool thing about HelloFresh? They have a free app that you can use to check the meal schedule, pause your meals, or edit your box if there is a particular meal that sounds unappealing, or delivery day.
I thought I was a great cook before, but I must admit that HelloFresh has improved my cooking skills. I definitely know that they have improved my husband's (haha)! It is so easy that even a toddler can help you and you can bond in the process!
I urge you to just give one box a try! If you want to, here is a coupon code that will get you $30 off your first box if you are a new customer. Use code FITMOMMY30 when you click here! If you are not convinced, just simply cancel online or through the app-no hassle.
Disclaimer: This post was sponsored by HelloFresh. All opinions are my very own.
Your trainer and friend,