Lifestyle
Making My Life Easier With Angelcare
Being a new parent is hard enough. With having a baby, you are constantly stressing out about whether or not they are doing well. Take my case for example: with my son, I would wake up every 30 minutes or so to make sure he was still lying on his back or breathing. I barely got any sleep or peace of mind this way and it almost drove me crazy. Same thing happened when my daughter was born. Even to this day though my daughter is now one, I still stalk the room during her naps to check on her wellbeing.
Though I am late in the game, I sleep a lot more soundly and get more done around the house thanks to Angelcare and their amazing collection of home video baby monitors. There are so many baby monitors out on the market these days so it can get a bit overwhelming to choose one, but I can tell you that Angelcare delivers good quality and they do it extremely well.
My husband and I have never owned a baby monitor before so we were excited to try the Angelcare AC510 Video Monitor. We were instantly blown away by how much a baby monitor could actually do these days. I typically use my video monitor during my daughter's daytime naps since we co-sleep and while I workout so that I can keep a close eye on her.
This video monitor features:
5" LCD touchscreen parent unit
Wall-mount or tabletop camera with adjustable magnetic mount
Low profile camera with room temperature display (turns red for too warm and blue for too cool)
Room temperature reports covering last two months
Secure digital transmission (2.4GHz)
Two-way talk
Wide angle lens with digital zoom (2x) and pan
Night vision
Range up to 820ft (clear line of sight)
Alerts: Out-of-range, low battery, room temperature
Visual sound level indicator
Sound & Video Quality
The sound and video quality were both amazing for a monitor. My favorite though was the fact that I could talk to my daughter through the monitor as well as hear her. The video was pretty good, but I thought the sound was more superior.
Ease of Use
The monitor was super easy to use! The touch screen menu made life so much easier as far as navigation goes. It was not difficult to learn or figure out and it only took a couple of minutes to get the hang out. Set up and installation was super easy as well!
Reliability & Performance
We have been using our monitor for over a week now and it has been absolutely good to us! It is so nice to be able to workout in one room while my daughter sleeps peacefully in the next. Also, it is great being able to check up on her without having to wake her. The monitor never freezes, lags, or gives me issues. The performance is absolutely incredible!
Price
The AC510 video monitor retails for about $199 and can be purchased straight off Angelcare's website. The price is about average to a bit on the higher end of the spectrum when compared to others brands on the market. However, I think the price is highly fair considering the fact that it is basically multiple products in one monitor and it truly does so much. Let me ask you this: what price are you willing to pay for the very best safety for your child and some peace of mind?
However, I have a special promo code for you to use! Use promo code FITMOM for 25% off AC510 and AC517 monitor purchases from Angelcare's site. Coupon expires 05/31.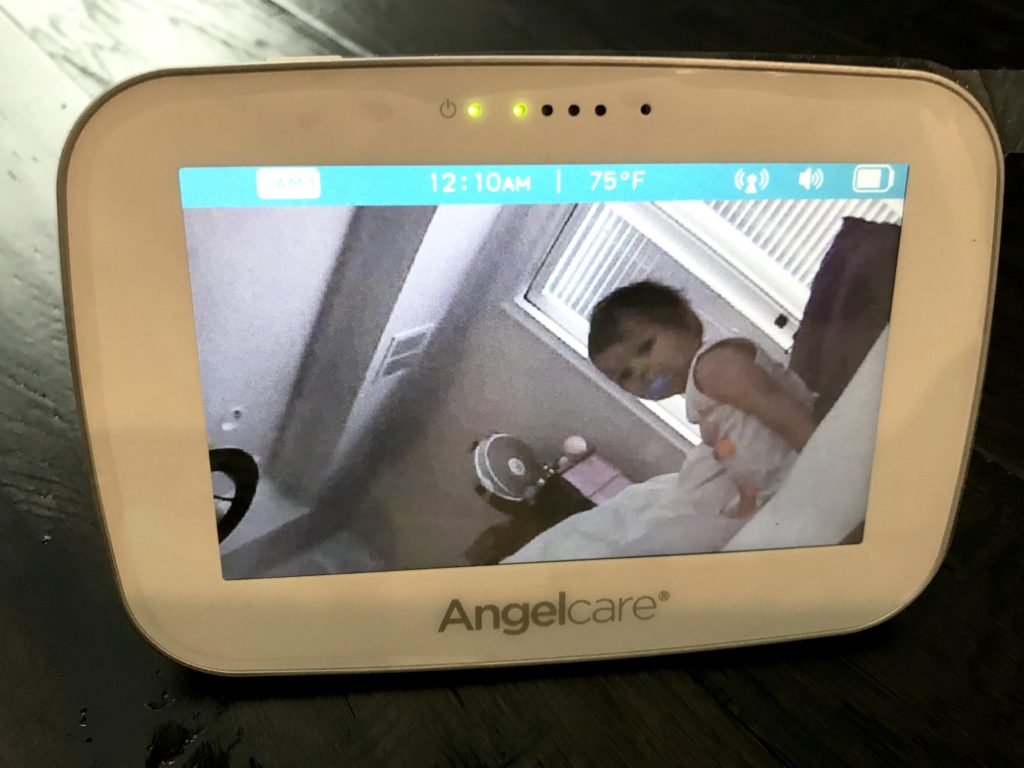 Verdict
The Angelcare AC510 baby monitor allows me to worry less while getting more done. I use it whenever my daughter naps so I can check in on her without physically checking in and possibly waking her. This monitor allows me to run my business smoothly from home, get my workouts done, do my chores, and have a little "me" time without having to stress or worry about watching my baby like a mother hawk. My favorite part of the monitor is the fact that I can zoom in and closely see that my baby is breathing and that I can hear them breath. This is just so reassuring to me!
I firmly believe that every parent should invest in one of these, if not any other video monitor that Angelcare makes. They offer many different monitors to choose from, but I personally love having the best of the best. After all, my little girl's safety and my peace of mind are worth it. Right?
Right now on my Instagram page, we are giving away a monitor! Please come enter to win!
Disclaimer: I was given a monitor to test at no cost. All opinions are my own.
Your trainer and friend,