Workout Challenges
14 Day Fall Fitness Workout & Diet Challenge
Hi ladies and happy fall!
Yesterday marked Halloween and today marks the official FIRST day of November! Wow, is fall already flying by??
To celebrate the beginning of a brand new month, I wanted to do something a little special for you all. As the temps are dropping, so is our desire to go get out there and MOVE. So! I put together a FREE 14 day home workout challenge that is absolutely perfect for fall weather since it can be done indoors (or anywhere for that matter)!
The following is only for the first week of the challenge, days 1-7. The next part will come in a week, but first, let's just focus on the now and what's upcoming for this brand, new week. To reach a goal, I always like to say to take it all one day at a time. Below, you can find a few perfect home workouts along with simple recipes to make to help get you ready for the end of fall.
Here are some guidelines to aim for:
Try to get at least 20 minutes of exercise daily. The national recommendation is 30 minutes 5 times a week or 150 minutes per week. Ideally, I would love to see you go above and beyond, but of course you have to do what best fits into your schedules.
Fit in at least 10 minutes of cardio (cardio options will be listed in the schedule).
Say no to fast foods and cook your foods from home. This will help you control what goes into your mouth 🙂
Stick with lean meats, whole grains, and fresh fruit and veggies.
Eat a small snack/meal every 2-3 hours to keep your metabolism going.
Drink at least 100 oz. of water per day. If you do not like water, try flavoring it with lemon or fresh fruit.
THE WORKOUT SCHEDULE
Day 1: Cardio/Abs
-Choose a cardio option for 10 minutes and try this quick at home Six Pack Abs Workout.
Day 2: Cardio/Butt & Legs
-Choose a cardio option for 10 minutes and try this Flat to Full Booty Workout.
Day 3: Cardio/Arms & Back
-Choose a cardio option for 10 minutes and try this Love Your Arms workout.
Day 4: Cardio/Stretching &Yoga
-Choose a cardio option and try this stretching sequence to relieve tight muscles.
Day 5: Cardio/Abs
-Choose a cardio option for 10 minutes and try this Love Your Abs home workout.
Day 6: Cardio/Butt & Legs
-Choose a cardio option for 10 minutes and try this No Squats About It booty & leg workout.
Day 7: Cardio/Arms & Back
-Choose a cardio option for 10 minutes and try this Bye, Bye Back Fat Workout.
Suggestions for Cardio:
Power Walking/Running/Jogging
Biking
Swimming
Dancing/Zumba
Hula Hooping
Skipping
Jumping Jacks
Burpees
High Knees
Stair Climbing
Running after your kids (seems legit?)
HIIT
Ellipitcal
Circuit Training
Cleaning the house
CLEAN MEAL IDEAS
Breakfast Ideas:
Breakfast #1:
Breakfast #2:
Fruit & Oat smoothie (1/2 banana, 1/2 cup strawberries, 1/2 cup oats, 1 cup almond or coconut milk, Stevia or honey, ice)
Breakfast #3:
Avocado Toast (1 slice Ezekiel bread, 1/2 avocado mashed, salt & pepper)
1 banana
Breakfast #4:
Pumpkin Pie Oatmeal (1/2 cup oats, 1/4 cup pumpkin puree, 1 tsp pumpkin spice, 1 tsp Stevia, 1/4 cup almond milk)
Breakfast #5:
3 egg whites, 1 whole egg scrambled
2 slices turkey bacon
1/2 cup oats
Lunch Ideas:
Lunch #1:
1 baked chicken breast, skinless
1/2 cup brown rice
1 cup steamed green beans (salt, pepper, garlic powder)
Lunch #2:
Tuna salad sandwich on 2 slices of Ezekiel bread: (1 can tuna, 1 boiled egg chopped, 1/2 cup plain greek yogurt, 2 tbsp mustard, 2 tbsp diced pickles, 1/4 cup diced onion, salt & pepper to taste)
Don't like tuna? Sub with chicken! 🙂
Lunch #3:
1 filet salmon, baked
1/2 cup brown rice
7 asparagus spears
Lunch #4:
1 grilled chicken breast, skinless & boneless
2 cups spinach
2 tbsp of your favorite lite dressing
Lunch #5:
1 baked tilapia filet
1 cup steamed green beans
1 sweet potato, mashed
Dinner Ideas:
Dinner #1:
1 salmon filet with lemon juice (salt, pepper)
1 medium sweet potato
1 cup asparagus or broccoli.
Dinner #2:
4 oz. grilled chicken breast, skinless & boneless
1/2 cup quinoa
1 cup steamed edemame
Dinner #3:
5 oz. baked or grilled sirloin steak
1 medium sweet potato
1cup steamed broccoli
Dinner #4:
Dinner #5:
Snack Ideas:
Snack #1:
1 scoop natural whey protein powder (I use MRM-use coupon code SIA to get 40% off all MRM supps!)
8 oz. unsweetened vanilla almond milk
Blueberries
Almonds
Snack #2:
2 oz. sharp cheddar cheese
10 multigrain crackers
1/2 avocado (sprinkled with lime juice, salt, pepper, and garlic powder)
Snack #3:
1 Nature's Path Qi'a Superfood Snack Bar (my favorite is the bluberry/cashew/pumpkin!) I love these bars-they are organic and gluten free. They also have a decent amount of protein in them, very surprisingly!
2 oz. beef jerky
Snack #4:
1/2 cup REAL Greek yogurt
1 tsp raw honey
1/4 cup granola
Snack #5:
2 tbsp peanut butter
1 small apple
Snack #6:
2 cups plain air popped popcorn, no butter
Snack #7:
5 celery sticks
2 tbsp hummus
SUPPLEMENTS
As for supplements, take your pre-workout about 5 minutes prior to your workout. Then, during your workout, take your protein shake (I drink mine between cardio & weights/strength training). Then finish off with BCAAs to help repair your muscles and keep them from getting sore the next day.
On a daily basis, I use the following:
Whey Protein Powder: MRM Natural Whey or MRM Fruit-n-Whey- 1 scoop (safe for breastfeeding)
Fish Oil: MRM Smart Blend (safe for breastfeeding)
Hair, Skin, Nails Supplement: MRM Biotin 5mg (safe for breastfeeding)
On workout days, I add the following two:
Pre-workout: MRM's DRIVEN-1 scoop (I haven't been using this now that I am pregnant)
Post-workout: MRM's BCAA's + G RELOAD- 3 scoops (safe for breastfeeding)
For all MRM products click here and you can use my personal discount to take 40% off of your entire purchasing by using code 'SIA' at checkout.
Are you in? See you next week for week #2!
Want to build a better body in just 12 weeks?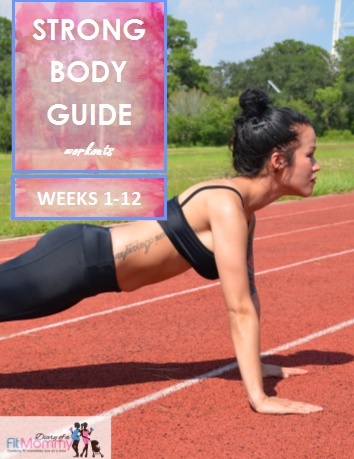 Welcome to the Strong Body Guide.
In this guide, you can expect:
– ✅ 12 weeks of workouts that can be done at home with little to no equipment.
– ✅ 225 pages long
– ✅ Each workout takes less than 30 minutes-great for busy schedules.
– ✅ step by step instructional picture examples of every move
– ✅ no gym required
– ✅ exercises focus on hiit, strength training, and plymetrics
– ✅ download on any device
– ✅ build a lean tone stomach, butt, thighs, and arms
– ✅ download instantly from anywhere
– ✅ promote fat loss & boost metabolism
– ✅ contains cardio and stretching routines as well!
– ✅ full exercise glossary with images and instructions for every move
*All guides are digital ebooks available instantly worldwide. Compatible on all devices – Android, iPhone, iPad, Kindle, Nook, Computer, Mac.
Your trainer and friend,