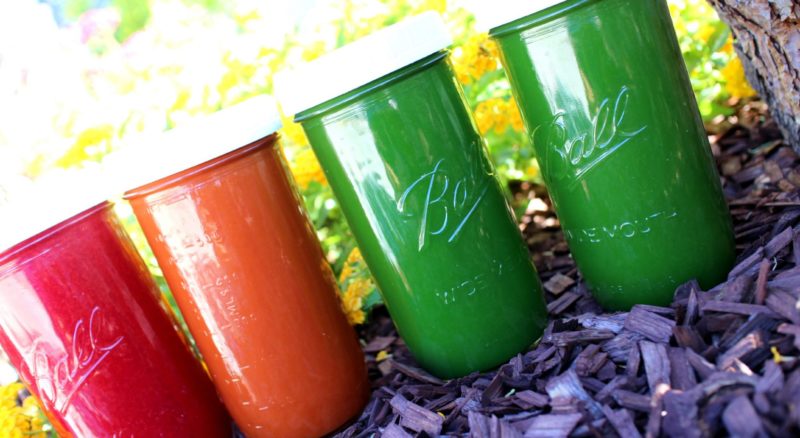 Diet
The Ultimate Beginners Guide to Juicing
I finally restarted my juicing journey this past week. I was first introduced to the world of juicing after watching the documentary called Sick, Fat, & Nearly Dead. My husband and I were so impressed with what we saw and learned that we went out and bought our first juicer 4 years ago-something barely $100 from Target. It did not last long before it eventually broke and our juicing journey ended, but boy did we have a blast when we tried it!
I did not have much money at the time to afford a nice juicer as I had quit my nursing career to stay at home to pursue my fitness passion and blogging. I was also newly pregnant and wanted to be hands on with raising my kids. I remember going to the grocery store with my husband and grabbing some kale (I had never eaten it before!), some apples, a few oranges, and carrots or so.
Last weekend, I purchased my second juicer-this time, I spent a good bit of money on it because it is an investment to my health. I decided on the Omega VRT350 Heavy Duty Dual-Stage Low Speed Juicer based off the tons and tons of amazing reviews, not to mention the box says it is the "last juicer you will ever need" and comes with a nice 10 YEAR warranty in case something ever happened. If you cannot afford a costly juicer, then the Big Boss Juicer is a great, cheaper alternative!
As soon as I got home from the store, I went straight to Whole Foods, grabbed some organic product, and I put my juicer to its first good use. I made a yummy "red" blend juice (as seen below) with fresh and raw beets, carrots, strawberries, raspberries, and a little bit of pineapple for more sweetness. The result? AMAZING! I instantly felt rejuvenated, lively, and energized.
One of the biggest reasons why I started juicing again was to reduce my bloat. Lately, I have been SO bloated and I felt sick. I have never been to the ER so much in my life until recently! I was also dealing with fatigue on a regular basis. I would sleep 8 hours per day (my baby girl has slept through the night since one month of age) yet I would feel as if I had only gotten an hour or two. It was miserable, I tell ya.
Within the first 3 days of juicing, I lost 3 pounds and my bloating disappeared almost completely. I felt rejuvenated, happier, and more energetic than I have in a very long time. Needless to say, I won't be stopping my juicing journey anytime soon!
If you are reading this blog, chances are that you want to start juicing to. So, let's begin, shall we?
What is juicing?
Juicing is basically the process of drinking your food. No not like the juice you buy from a grocery store. Think of it as taking a multivitamin! You can literally get the nutrients of 1 apple, 2 carrots, 2 beets, 10 strawberries, and half a bag of spinach in just one glass-without having to eat it all. I mean who really wants to sit around eating half a bag of spinach amongst other things when you can drink it quickly-and still reap the benefits?
Why juice anyway?
We expose ourselves to toxins and pollutants through the foods and drinks that we consume as well as the atmosphere that we come into contact with. Smoking, drinking alcohol or soda, eating processed foods that are packed with preservatives , chemicals, and artificial colors are just a few toxins that we all endure. Our bodies work hard enough on its own to kick those nasty toxins out of our system BUT as we age, that defense mechanism slows down. This is where juicing can be highly beneficial! Drinking juices-especially from green veggies-can detoxify your entire system and kick those toxins out of your body that is making you feel sluggish, making your skin look dull, and that is keeping you sick.
Who is juicing good for?
Those who want to lose weight.
Those who suffer from migraines.
Those who need more energy or a boost.
Those who have acne or want clearer, brighter skin.
Those who simply want to detoxify.
Those who suffer from tummy issues or irregularity.
Those who get colds or sick often and want to stay well.
Those who suffer from depression or anxiety.
Those who do not eat enough fruits or veggies in their daily diets.
Those who suffer from insomnia.
The benefits to juicing are mighty great:
Mental clarity
More energy
Clear, glowing skin
Weight loss
Thick shiny hair and nails
Better digestion
Alkaline (balance body's pH= no disease)
Bulletproof your immune system
Hydration
Happy, rejuvenated, refreshed, and great sense of well-being
What can I juice?
Long answer short: ANYTHING! But, here is a list of a few things that I personally love juicing:
FRUIT
Pineapples
Apples
Cherries
Watermelon
Oranges
Lemons
Limes
Grapefruit
Berries (Strawberries, Blueberries, Blackberries, Raspberries, Cranberries)
Kiwi
Mango
Peaches
Pears
Melon (Watermelon, Honeydew, Canteloupe)
VEGGIES:
 Spinach
Kale
Beets
Carrots
Tomatoes
Celery
Cucumber
Broccoli
Sweet Potatoes
Bell Pepper
Wheatgrass
HERBS:
Here are some very important tips to keep in mind when juicing:
Use a GOOD quality juicer. As I stated above, after using a cheap juicer only to have it break on me and waste my money, I invested in the Omega VRT350 Heavy Duty Dual-Stage Low Speed Juicer. I am pretty damn proud of it. It is super quiet so I can juice while my daughter sleeps AND it is durable AND it is easy to clean. Hallelujah!! BUT… if you are not crazy about spending $350 on a juicer just yet, the Big Boss Juicer is a good and cheaper option to look into. It honestly depends on what you are looking for and how serious you are. What I love about my new juicer is that, due to how it's made, the juice that I create can be stored up to THREE DAYS!
Try not to go crazy with the fruits. Fruits are ahhhmazzzzing to juice, but do not forget that they can be high in sugar as well. Add a little bit of fruit only to add a bit of sweetness to your juice. However, if you are a huge fruit person like I am, aim for the less sugary fruits such as berries: strawberries, blackberries, blueberries, and raspberries. I also find carrots help to sweeten the juice as well. It is funny because I hate eating carrots, but I love the juice!
Get creative with the pulp. I know what you are thinking: "But what about the rest of the produce?" Rest assured because that can be put to some good use, too! Some ideas are: use the pulp to make muffins, cookies, or pancakes (I find carrot and apple to be great for this!), blend pulp into a smoothie later to add fiber, add to a soup to thicken, make a fruit "tea" by boiling the pulp with water, use in DIY skin care such as face masks or beauty scrubs, blend pulp into your pet's food or make treats with them, or make a veggie broth by boiling the veggie pulp with water.
Help your body detoxify itself. Imagine your kitchen sink is clogged up. When you pour Drano down the pipe, what happens? It melts all the gunk and as the nasty stuff comes out it'll be circulating around a bit. You have to actually run hot water down to flush all that out. Detoxing your body with daily juices is the same process. Imagine the gunk as toxins in your body. As toxins are released from your organs and blood, they need to go somewhere! That's why it's crucial for you to do one of the following techniques to help speed up the flushing process of toxins: 1) Take an Epsom salt bath for 20 minutes. 2) Exercise to sweat it out. 3) Drink a lot of water and tea so you urinate often. or 4) Sit in a sauna.
Store your juice properly. After you create your juice, you have got to protect it from a process called oxidation where the juice will start losing its nutrients when exposed to air or light. While it is best to drink the juice immediately, most of us want to store it for later use which is totally understandable. I personally love and use this very glass beverage set to store my juice to protect the nutrients from breaking down and to take on the go. I also store my juice in mason jars such as these to store in the fridge for when I am home.
Now let's get started. Juice your way to better health with these nine tasty recipes for one!
The perfect mix of sweet and tart. This fresh drink filled with vitamin C also has fresh lemons to help balance your body's pH.
Even if you don't like beets, you have to give this juice a try! The apple and carrots are sweet balancing the earthy beet flavor. Beets are a superfood that help detoxify the skin and kidneys, contain important folic acid and are filled with betacyanin known to prevent cancers and increase exercise endurance.
Tip: Wash the beets well and cut into pieces that will fit into the juicer.
So refreshing and delicious you won't believe you're drinking kale! The sweetness of the pineapple makes this drink feel like a treat. The green machine is filled with vitamin B and iron that leaves you energized and ready to take on the world.
This is the Bloody Mary's healthy sister! You haven't had real tomato juice until you make it fresh and add a little kick to spice things up. Tomatoes are rich in beta-carotene and lycopene both known to reduce the risk of heart disease and strokes.
Good morning, gorgeous! I love the vibrant taste of fresh citrus in the morning. The vitamins and minerals get my blood pumping and the smell and taste really wake me up. I also add a little club soda to the recipe in the summer to make a healthy spritzer on hot days. Yum!
If you have a hard time "eating your spinach," this is the juice for you! I add strawberries and kiwi to sweeten the spinach up and the combo tastes incredible. Plus, the juice is filled to the brim with iron, vitamins and micronutrients to you make you as strong as Popeye.
Get your garden party on with this veggie-packed juice! The beauty of juicing is that when you use carrots or apples, the other super healthy but strong flavors such as parsley and green pepper aren't as pronounced.
One of the first juices I've ever made and still my kid's favorite. The Snake Bite is sweet but the fresh ginger gives it a healthy bite! Fresh ginger raises immunities and is also known to improve digestion and circulation.
Wheat grass is full of vitamins and nutrients that help boost immunity and energy. The combination of wheat grass and vitamin C-rich lime makes this juice the perfect flu and cold fighting formula to keep you Kleenex free. Mint is also known to clear up congestion and is a natural stimulant so if you feel the sniffles coming on, this is the drink for you! Note: Pregnant or nursing mothers should not consume wheat grass.
Your trainer and friend,