Travel
Our Xtreme Xperience at NOLA Motorsports Park!
For my husband's Christmas present, I decided to gift him with a memorable experience from Xtreme Xperience at NOLA Motorsports Park today where he got to DRIVE a Ferrari 458 Italia and a Porsche 911 GT3 around a racetrack for 4 laps each. He said it was the most fun he has had in his life and he actually teared up a bit when he told me about it!

My hubby and I are HUGE car fanatics and I currently own a 2014 Nissan GTR. We love going out to Cars & Coffee one Saturday a month to watch the cars and hang out with other like-minded folks who enjoy the same things as we do so it was a NO-BRAINER when it came to getting him his gift!
What I love about our time at Xtreme Xperience is that my two year old, my 7 month old, and I all got to watch him at the track so it was super family friendly. The instructors we're so nice and knowledgeable when teaching us!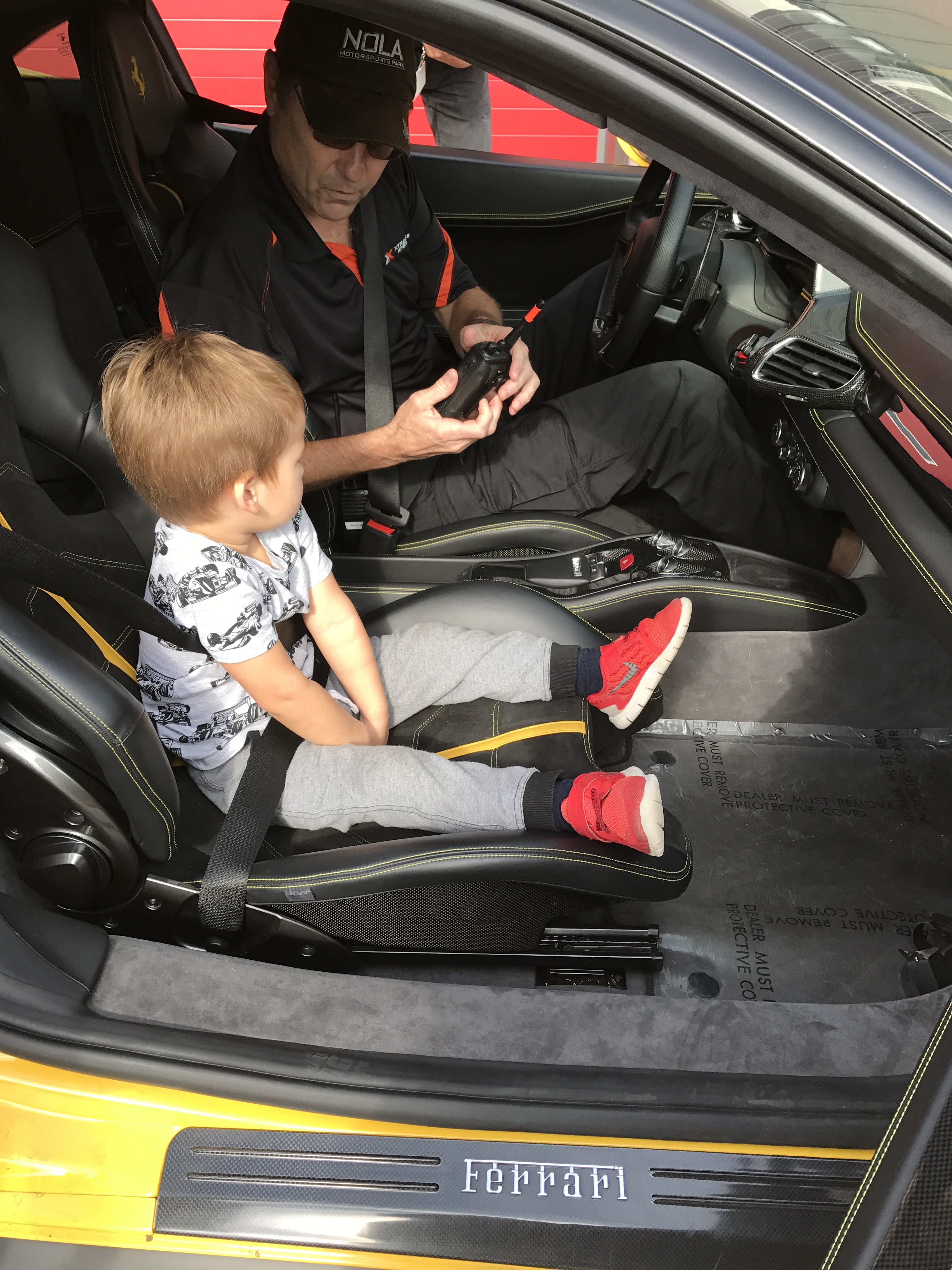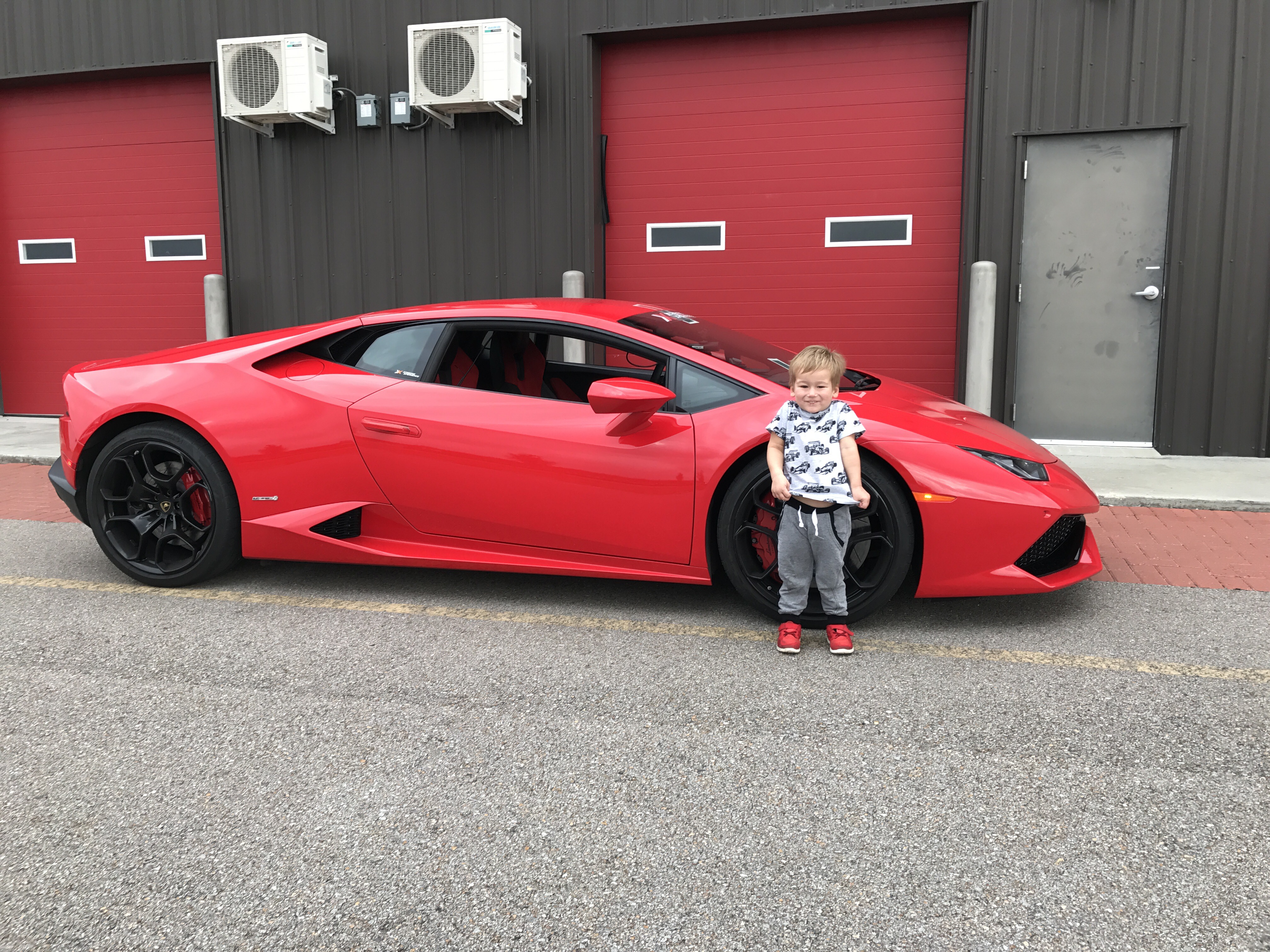 Ladies-if your man loves cars (or heck, if you do!)-you should definitely check them out as they have multiple locations around the US. We went to the main one at the New Orleans Motorsports Park-so nice and new!
Enjoy the little video below I took of the drives as well as my silly son who was obsessed with the cars and watching his daddy and I will let my husband share his thoughts on his experience.

Take it away, Grady!
Good day ladies and gentleman! Grady, Sia's husband, here with a first hand recount of our recent experience with Xtreme Xperience.
I was informed I had been given a two car pass at NOLA Motorsports Park. I immediately wanted to study the track knowing that time on track would be limited to 4 laps in each car. So I immediately got on youtube and began to study the track trying to imagine each corner.
Once my mental prep was done we set out to the track. We had a 9:00am showtime but came early to eyeball the cars and boy was it worth it. From the moment we pulled up we were greeted by a super friendly and layed back staff that made myself Sia and our kids feel right at home. We checked out the cars as a small rain storm came in and awaited the 0900 driving meeting/briefing. Now when I say basic knowledge of how to drive is all you need thats really all you need. The Chief instructor Alex sat me and Greyson down and began to show us the track and basic advanced driving skills. We spoke on hand and body positioning along with how tires and chassis actual work on track. I have spent time on race tracks and know some of the ins and outs of fast cars having one myself but the sheer speed and braking that you are about to experience is unlike ANYTHING I have ever felt before. I tried to not be cocky and simply listen to the instructors and boy did it pay off! After a quick review of the briefing and some details of the track we went down to get my helmet and my media pack (USB) ready.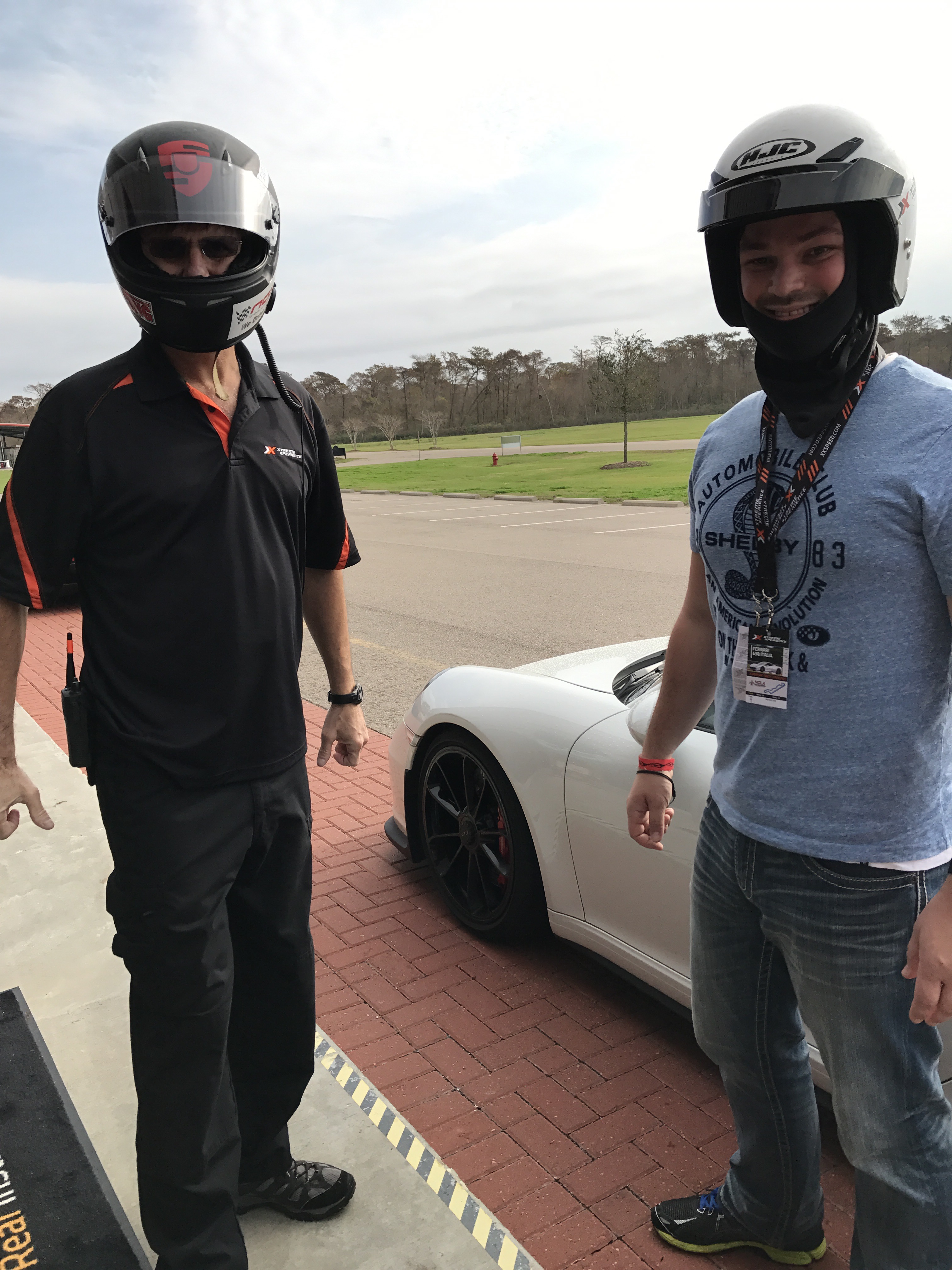 I was original set to drive the GT3 first followed by the Ferrari 458 Italia. I was told to reverse the order as I would be able to extract more of the porsche after getting used to the track with the Ferrari first. This was the best advice I could have asked for! while discussing this they have the Ferrari warming up behind me with the camera being set up while Greyson is alllll up in their business but never once did I feel he was a bother to them. He was met with hugs and high fives from this awesome crew! While Sia was getting Evie ready to ride over to the grandstand (in their own GTR I might add!) area we went over to get my seat position in the Ferrari just right. I said my goodbyes and kisses and before I headed out for my first on track experience in a car!  The Ferrari is BRIGHT yellow and the quality and "feel" is immediately apparent and as I click the lever into first gear I knew this was going to be a thrill of a lifetime. the car is instantly alive the motor quick to rev and the steering direct with brakes immediately up for the task. Dave my instructor calls to the tower and I was headed down pit lane to bed in the brand new brake pads. So I accelerate to 50-60mph and brake as hard as possible, while i thought this was a great display of the cars ability I was in for a real shock.

My first lap was a sighting lap to get familar with the course in real life instead of a video or in my head. Upon the first corner I was already in shock how well the car turned and how high the engine rev'd. I spent the next 3 laps piecing together corner after corner with the greatest thrill coming at the end of the long straight away! Imagine going from just a tick under 160mph and braking as hard as possible to make the first corner. My eyes felt as they were going to come out of my head! My breath was taken away and I knew I was certainly in the middle of the thrill of a lifetime! Sadly the 4 laps came to a close and I was exiting to go see my family at the grandstand. After some photos and waves and some engine rev'ing I was headed back to the pits to switch to the Porsche. I was already sweating from the first car and jumped right into the GT3 to get back to this amazing experience.

Dave fired up the video as I dialed in the transmission settings along with the suspention and openning up the exhaust for a louder experience for me and for the family watching. The car felt different and almost a little more tame. I was extremely excited to see the differences between the Italian and German supercars. The GT3 was a monster in its own right I knew it didnt have the same power as the Ferrari but the car felt great and corner after corner it was easy to drive and the handling was sublime! Dave told me all the places to put the car and what I was doing well and what I was doing wrong. I learned more in 20 minutes on track than I could ever put a price tag on.
The staff here are true enthusiasts and only want to share their passion with you and to make sure you have the greatest day ever. And I did just that. I had the best day ever! Thank you Sia and thank you to all the staff at Xtreme Xperience's NOLA.
Interested in surprising your main man with the ride of his life or going to try it out yourself? Get 20% off your experience with code fitmommy at checkout!
Your trainer and friend,