Lifestyle
BIG NEWS!! I STARTED A NEW BUSINESS!
For the last 9 months, I worked on a top secret project that I am finally so excited to share with you all. First of all, I created a second business and the brand name is FightHER!
What I created are…
*drumroll* please….
BOOTY/GLUTE BANDS!!!
I have always wanted to create an actual physical product. Since I started Diary of a Fit Mommy in 2013, I have sold digital goods, but have dreamed of doing something like my own clothing line. But I am the type that likes to start small so this is why I chose glute bands.
Why glute bands? I have always envied fabric booty bands-not the rubber ones that roll up and just typically do not work that well (plus they are sooo cheap and uncomfy!).
First of all, they are light and small enough to travel with! I like the fact that you can use and take booty bands anywhere: home, gym, and even vacation.
Second, they are easy to use. Glute bands use your own body weight to create a strong resistance and in turn tones your booty and your thighs.
Third, they are affordable and durable. These bands will last you-no breaking, no fabric tearing-they are the real deal. You can snag just one band for $20-thats it!
When I decided on creating my first set of fabric booty bands, I decided that I wanted something durable and thick-great quality so I made them with cotton, elastane, and rubber. They are 33cm x 7.5cm each in size. Each band has a 2 non-slip rubber grip panelling on the inside that keeps the band in place as you are doing your exercises (some tend to slip and that is so annoying!). This also allows you to control your resistance during each movement.
After I chose the fabric, I decided to start with 3 different band strengths: light, medium, and heavy. Each strength gives you a certain range of resistance in pounds. The level of resistance that you feel while using the bands will depend on the strength of the user, the body part you are working out, and the type of workout. For beginners, I would suggest starting light!
The light resistance band is equivalent to 30-38 pounds in weight.
The medium resistance band is equivalent to 39-48 pounds in weight.
The heavy resistance band is equivalent to 48-54 pounds in weight.
After testing out the sample bands, I moved forward with creating the design. I knew right away that I wanted my bands to stand out and be fashionable. I am a mega leopard print fan so I decided right away to create the Wild Collection which features one regular leopard print, one snow leopard print, and one funky leopard print. Aren't they cute?
I have many other collections that I am dying to create, but I figured this would be a great starter. I will be offering each of the bands for purchase separately for $20 each as well as a bundle price for all three bands which will be $50. You end up saving $10 when you buy all three together! Also, you will be able to have all three strenths since some exercises may require lighter resistance. Its good to have on hand just in case! Also they come in a cute mesh carrying case!
Speaking of exercises, here is a list of ones you can do with fabric glute bands and what makes this the ultimate gym bag must have:
Squats
Lunges
Side Lunges
Glute Kickbacks
Glute Bridges
Hip Abductions
Clamshells
Hip Thrusts
Leg Lifts
Bicycle Crunches
Plank with leg lift
You get the idea!
FightHER is more than just gym equipment or booty bands-its all about empowering women. Every woman has a fight in her and I hope that 2020 has proven this! For me, this has been one of the toughest years of my life from going through a divorce, nagivating single motherhood, cutting ties in a narcissistic abusive relationship, and launching this business all at once. But one thing that 2020 has taught me is that we are fighters and that we can make it. Every one is fighting something in their lives, but I want to empower you to know that you can overcome even what seems like your most impossible obstacles.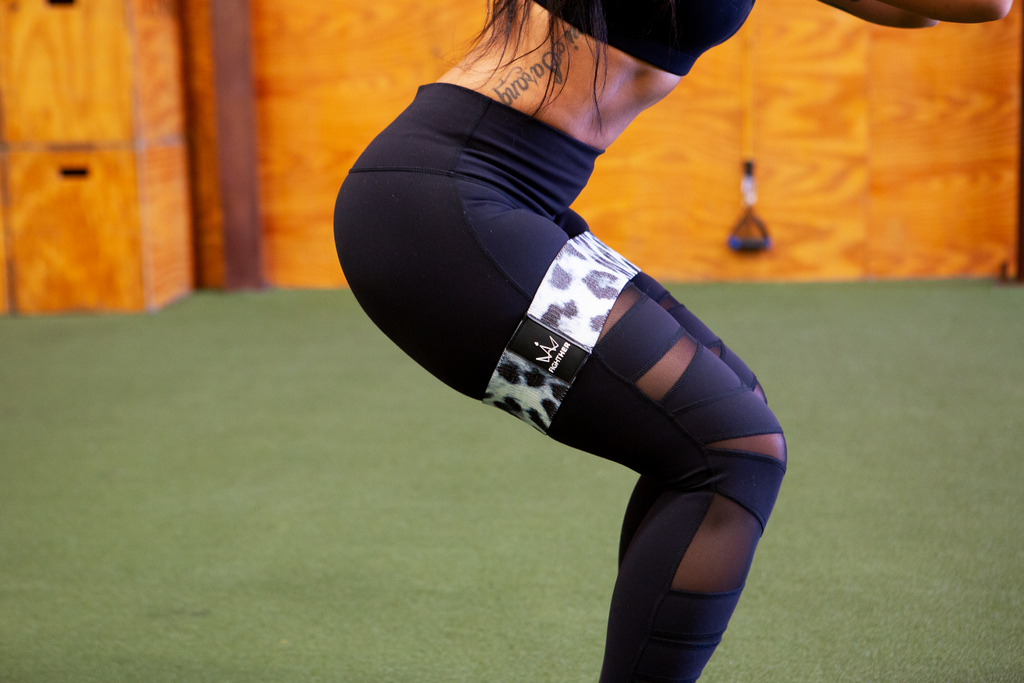 I have a lot of plans and dreams for this brand. Eventually if the bands do well, I would love to progress to offering dumbbells, barbells, yoga mats, and more of a variety of gym goodies for the home. As always thank you guys for making my dreams come true and I cannot wait to hear what you think about my FightHER glute bands!
Be sure to follow FightHER on Instagram and well as Facebook for launch updates!
The offical website will be www.shopfighther.com once its live next week!
Your trainer and friend,