Travel
YOUR QUICK GUIDE TO A 30A FLORIDA VACAY
I have been a Florida resident for 11 years now and one of the prettiest places to visit in the state is merely just over an hour from me. In fact, this area is widely visited and vacationed by people all over the world-even celebrities have homes here. But this small little 24 mile stretch of beach isn't known by many and for those who do know it, they know what all the magic is about. If you are looking for a nice little getaway this summer (or honestly any time of year), you have to visit Florida's 30A beaches and community on the Emerald Coast!
First of all, if you've ever visited the Emerald Coast in Florida (Destin, Navarre Beach, and even Pensacola Beach) then you know how blue the water can be and how white the sand shines. What makes 30A so special is that its tucked away in its own little private world with 12 little communities inside of it. As you drive through each area, you will notice a distinction as each place is unique on its very own.
You will go through 12 communities, from east to west:
Inlet Beach
Rosemary Beach
Alys Beach
Seacrest
WaterSound
Seagrove
Seaside
WaterColor
Grayton Beach
Blue Mountain
Santa Rosa
Dune Allen
My favorite comunities within this area are Seaside (love the food trucks), Alys Beach (great for photography!), and Rosemary Beach (cute little quaint town to exlore with shops)!
Top Things to Do in 30A Florida
Visit the Food Trucks! In Seaside, you will know when you get there when you see the airstream food trucks lining on side of the road with other cute eateries on the other side. They offer a variety to choose from: hotdogs, epic grilled cheese, gyros, and even BBQ. Across the road, one of my favorite places to eat is the taco joint. There is also the Shrimp Shack, Pickles a burger joint, and a Cuban spot.
Rent a Bike. More folks are getting around by bike than by car in 30A, My personal favorite are the electric bikes from Salt Air 30A. Not only will you burn off all the delicious food, but it's easier to navigate through small shopping areas since there is usually limited parking during tourist season. The Timpoochee Trail is exclusively for bikes and will take you all the way through 30A–wildlife and little villages included. Not feeling the bike? Golf carts are also easier to navigate.
Checkout the Hub. The Hub is unique because of its spacious astroturf center, complete with an outdoor movie screen. From sports to flicks and even live music, it's a treat to watch anything outdoors, while surrounded by a po' boy shop and other meaty goodness. Grab some street corn, tacos, or shaved ice, and let the kids stretch their legs while the big game is on. When it's ultra-hot, super-powered fans are there to cool it down.
Grab Drinks and Tapas. In Rosemary Beach, there is an amazing little place called La Crema which is a spot I always visit for a round of cheese fondue (they've got chocolate fondue as well!) and a good Cabernet. This place is a good stop when you need a break from bicycling and you're craving a snack.
Go on a Nature Walk. Alys Beach is one of the newer areas along 30A and it is stunning! It is primarily residential, very high-end, and is very quiet and private. The neighborhood offers a 20-acre nature preserve, walking trails, and outdoor sculptures. This is the perfect destination for a couple looking for an intimate, elegant getaway while staying in Florida! This is one of my favorite places to take photos during the off season when the town is empty because the architecture amazing.
Go to the Beach! Duh! It's no secret that 30A has some of the most beautiful beaches on the emerald coast! With over 30 miles of beaches and 16 different communities, each with their own uniqueness and charm, there really is something for everyone. My personal favorite public beach is Inlet Beach at the near end of 30A.
Checkout a local Brewery. Grayton Brewery and Beach & Brews are among my two favorite spots to start a tab and grab a cool one. At Beach & Brews, they even have a little board in which you can leave a tab open for a friend or owe someone a beer!
Paddleboard at the Dunes. Enjoying the great outdoors is a big part of what makes the 30A area so great. So after a day of bike riding, try your hand at paddleboarding. Grab a board from YOLO or BOTE and head to one of the famous Coastal Dune Lakes. A little calmer than the Gulf for first-timers and provides the opportunity to enjoy this rare natural phenomenon that only occurs in a handful of locations around the world.
Visit the Truman Show House. Hop back on your bikes and head a few streets over to "The Truman House" in Seaside. It's the perfect selfie spot for movie lovers of all ages. Stop by Modica Market to see another filming location from "The Truman Show" and relive moments from the 1998 film that launched Seaside to fame!
Walk in the Park. When you get to WaterColor, park your bikes and take a walk through Cerulean Park. With a thriving butterfly garden, bubbling fountains, and a shady canopy of trees, it's the perfect spot to relax. Head to the end of the park, and you'll even find a little known bridge offering beautiful panoramic views over the lake. Its so pretty that I even had my family photos done there! See below!
Farmer's Market. Held every Thursday and Sunday from 9am-1pm, the Rosemary Beach farmers market features foods from around the world, and of course, features many delicious foods from South. For more information or for a list of all of the farmer's markets along 30A click here.
Best Places to Eat in 30A Florida
As you travel through the towns of 30A, you will notice that there are an abundance of cafes and restaurants lining the road. Here are some notable places to checkout on your next visit:
Pescado's Rooftop Bar, Rosemary Beach – Excellent cocktails and an even better view. Great way to unwind and toast to your day at the beach.
Blue Mountain Creamery, Blue Mountain Beach – This may be the best ice cream I've ever had—depending on the flavors of the day. The line will be LONG, but it moves fast, and you will have time to debate peppermint bark or oatmeal cookie or graham central station. And, the house-made waffle cones and generous scoops are worth the wait.
Neat – A thoughtfully curated bottle shop & tasting room in Alys Beach, FL, featuring artisan spirits, wines, craft beers, seasonal cocktails & small plates.
The Perfect Pig, Seagrove and Gulf Place – Serving breakfast, lunch, and dinner, the bacon-inspired menu is consistent, and the vibe is casual. Even though I am at the beach and wearing a swimsuit, the meatloaf with cheddar mashed potatoes (oink! oink!) and the fig flatbread are my go-tos. Full bar at Blue Mountain location, beer and wine only at Seagrove.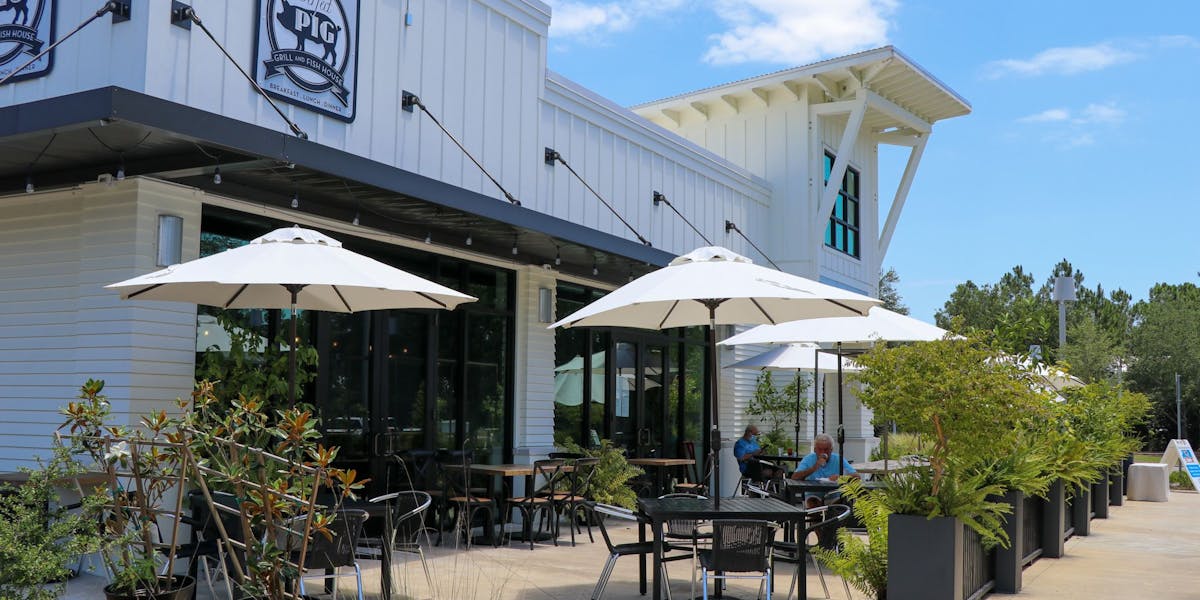 Cowgirl Kitchen – Affordable for laid-back day dining after a day at the beach and it's in the heart of Rosemary Beach so it's fun to walk around the area before and after you eat. The pizza is really good and I loved the drunken cowgirl and southern tacos. I've never tried their salads but I have heard they were amazing!
As you can see, there are many things to see (and eat!) in Florida's beautiful 30A. I would recommend staying outside of 30A since its pretty pricey, but if thats not an issue, there are many great locations to checkout for lodging. Have you visited 30A?
Your trainer and friend,