Little Ones
How to Tackle Your Kid's Fever Like a Supermom
Use FeverAll® only as directed. If you have specific questions about fever, acetaminophen or using FeverAll, speak with your child's pediatrician. FeverAll Acetaminophen Suppositories are available at major retailers and drugstores across the U.S, such as CVS, Rite Aid, Walgreens and Walmart. For more information and current offers, visit www.FeverAll.com.
This is a sponsored conversation written by me on behalf of FeverAll® Acetaminophen Suppositories. The opinions and text are all mine.
Disclaimer: This is a product-provided, sponsored conversation written by me on behalf of FeverAll® Infants' Strength Acetaminophen Suppositories. The opinions and text are all mine. This is not intended as medical advice or diagnosis.
Winter is just around the corner and it is almost time for colds, the flu, and most frightening of all-fevers. As a mom of two, I am used to dealing with fevers in both of my children since the very beginning. No matter how ready or prepared I am, fevers are always scary to deal with-especially in babies.
When a baby or toddler (six months to two years old) develops a fever, it can be particularly concerning for caregivers, especially first-time moms. However, I am here to reassure you that you are not alone and that you've got what it takes to be a supermom when your child gets sick and #BeFeverReady!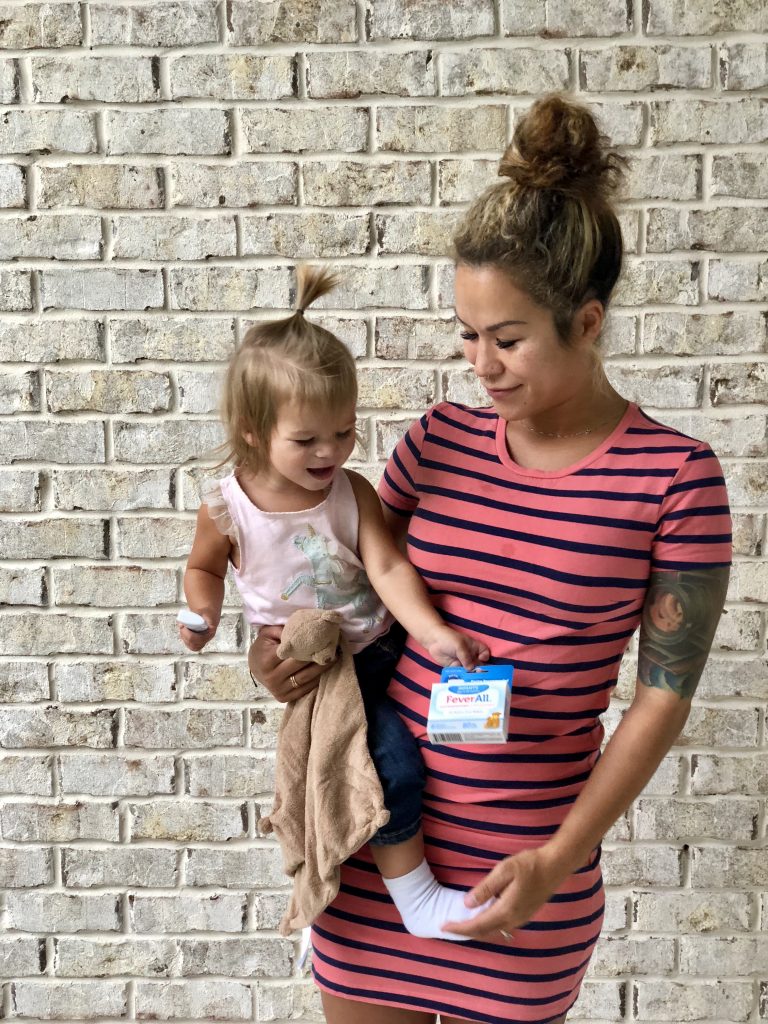 What is classified as a fever? According to the American Academy of Pediatrics, fever in babies begins at 100.4 degrees Fahrenheit. Of course, call your physician about any concerns with fever in your child. Though they can be scary to deal with, fevers aren't something that you need to fear. It simply means the body is doing its natural job of fighting off an infection. When I think about it that way, I instantly feel much more confident!
How do you measure a fever? Measuring temperatures for a fever can be very tricky because it is not recommended that you use an oral thermometer due to inaccuracy. Using a digital rectal thermometer is the best route and will provide the most accurate reading of a baby's temperature. It is a little scary to do at first, but I promise it won't hurt your baby and you don't need to insert the thermometer very far to obtain a reading. It is best to use a bit of lubrication though for easier insertion and to make things more pleasant for baby and always use a disposable probe cover as well.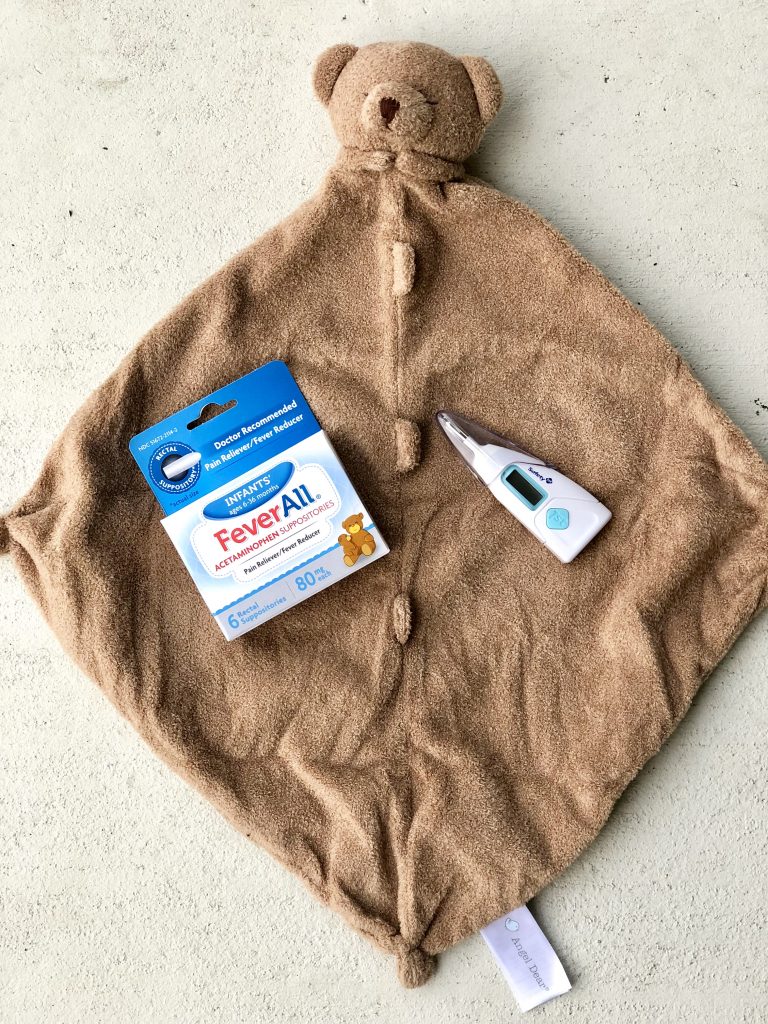 How do I treat a fever? The best way to reduce a fever quickly and help your baby be more comfortable is by using Acetaminophen. It is one of the most recommended non-prescription medications by healthcare professionals – including pediatricians and pediatric nurse practitioners – for temporary fever reduction and relief of minor aches and pain in infants and children. My favorite brand has always been FeverAll® since we have used their suppositories for the last 3 1/2 years.
FeverAll® Infants' Strength Suppositories (80 mg of acetaminophen) is the only acetaminophen product available with dosage instructions for children as young as six months of age. It also contains fewer inactive ingredients than other infants' fever reducers*. That means no parabens, no high fructose corn syrup, no artificial flavors, and no preservatives!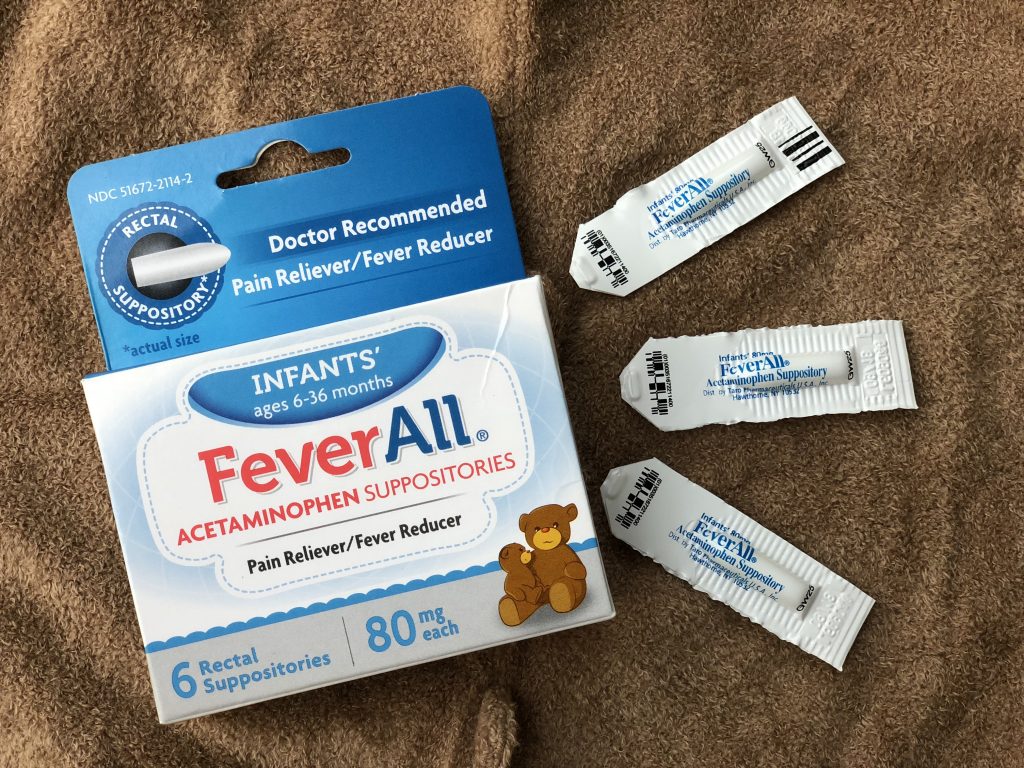 We used suppositories more with my son because he would never take oral acetaminophen. He would either spit it out or, much worse, throw it up due to gagging. As a parent, this was highly frustrating at first because I knew he would not get over his fever unless he took his medicine so I turned to FeverAll® . I started actually preferring the use of the suppositories over the oral medication anyway. It seemed to work faster and much better!
How do I use the suppositories? Suppositories are inserted anally using a bit of lubrication. Please make sure to wash your hands thoroughly before applying. Use FeverAll® Infants' Strength Suppositories as directed per package instructions. It is intended for children ages 6 to 36 months of age. Speak to your child's healthcare provider for any specific fever or dosage questions.
Be sure to check out the FeverAll website as well as their Facebook page, Instagram, and YouTube channel where there are short videos from a Pediatric Nurse Practitioner! You can find FeverAll® in your local Rite Aid, CVS, Walgreens and Walmart stores.
*Versus Infant's Tylenol and Infants' Motrin Oral Suspension
Your trainer and friend,