Lifestyle
Our Maui Trip + Going On Vacay With a Toddler!
Aloha! I am back from my week long vacation in Maui, Hawaii. Boy, oh, BOY am I jet-laggedd to hell and back. I am from Florida so the time difference was bout 5 hours for me so I am slacking today as we just got back into town last night.
My husband and I decided to go to Hawaii on a whim a couple of months ago after feeling the need for a major vacation. No offense to Disney, we love it-but we wanted an escape far, far away from Florida. Well, far is what we got!
Before I begin, let me tell you this: Hawaii ain't cheap. Things cost more there. A gallon of milk there is around $6-$7. Gas was $3.20 a gallon. And don't get me started on the food… I went to a little shop one night to buy my son a carton of Vitamin D milk and a small lunchable and spent over $6. The total trip for 7 days was about $5,500. So, if you are looking into spending a week there, know what you are getting yourself into! It was nice to be able to pay for my trip in cash so make sure you save in advance!
I booked our Maui vacay through Orbitz.com and bought myself, my husband, and our son each a Delta plane ticket. Delta is THE way to go, in my opinion. The planes are nicer and so is the crew! We first drove from Florida to New Orleans (to avoid taking a third plane to Maui)to Los Angeles and then jumped a plane from Los Angeles to Maui. Our three tickets total costed around $2,100 for round trips. Not a bad deal because I saw some for much worse.
You might be wondering why we bought Greyson his own plane seat. Well after reading this article, I quickly knew I wanted him to have his own ticket. The truth is that most plane accidents happen during take off and landing, in which you cannot wear your baby. That's right. Babies under 2 do not require a plane ticket and you can let them lap sit or wear them. But in the event of a plane accident where most fliers lived, there have been babies who have died because they did not have a seat. Yes, it costed about $1,000 more, but there is NO price on my son's life. Plus, halfway through the flight we were thankful he had his own chair because it made life-and fussing-soooo much easier to deal with! Our total time between the 2 flights were around 9.5 hours! The flight also was really bumpy and turbulent-being over water and all. Definitely wouldn't want to wear my baby through that!
To keep my son entertained during the long flights, Delta had personal screens built in to the back of each headrest in which you could play games or watch movies! There was a lot to choose from. I also made sure to head to Target's $1 bin, Wal-Mart, and the Dollar Tree to grab small toys for Greyson to open one at a time on the flight. Don't take them out of the packaging-this helps pass time! I also got coloring books for Greyson and downloaded plenty of games for him on my iPad. I also downloaded 5 episodes of Mickey Mouse Clubhouse which saved our asses on the last flight! Tip: try to take a red eye flight if you can!
We arrived in Maui around 8pm last Monday and headed straight to pick up our rental car (NOTE: you will need a rental car for Hawaii). Our rental was about $550 total for 7 days and we added insurance to it. Tip: You will want insurance on your rental car!!! The parking spots are very small in Hawaii and dings happen! We arrived at our hotel, The Royal Lahaina and went straight to bed! This resort on the beach was soooo nice and I got a coupon code for it through Orbitz! I think I paid around $1,800 for the 7 nights we stayed. Unfortunately, I had missed a deal that could've made that around $1,300, but you just gotta keep looking in advance! You can see our rental car below, it was Nissan Versa. Not our taste, but it was great on gas-and you will pay for gas in Hawaii to see things. The other photo is a view from our balcony.
On our first day in Hawaii, we decided to stay around the resort town of Lahaina which is Hawaii's old capital before Honolulu. We checked our the local baby beach and some other beaches around, but we first started our outing with the best cup of coffee my husband and I both ever had in our lives at this snazzy little coffee shop called Java Jazz. If you are a coffee lover, this place is a must! The environment is so interesting and so is the music they play. The breakfast though was INCREDIBLE. We ended up going twice our stay!
After breakfast, we took little man to Baby Beach in Lahaina which he just loved! It is called the Baby Beach because it is very calm and perfect for small children.
For lunch, we ate at Kimo's and I had the best calamari I ever had in my life! It was battered with macadamia nuts!!  We actually had a coupon for this and got it free thanks to signing up for the Kimos newsletter. No grease what-so-ever. I opted for a cheeseburger because that is just what I happened to be craving!
After lunch, we treated ourselves to the best shaved ice I ever had from Ululani's. This stuff melts in your mouth and is made with Maui's own natural cane sugar (they export it). This is the Haleakala flavor which was half leche and half coconut.
The night of our first day in Maui, we celebrated with going to a real luau called The Old Lahaina Luau. Note: there are plenty of lauas around Maui and all of Hawaii, but Old Lahaina Luau is known for being the most authentic luau that you can experience. The food was amazing, but mostly our show was the best! It is not cheap-for two adult tickets it was around $230-ish, but it is so worth doing if you are in Maui! You can see a video form the luau in my video at the end of this post!
The next day, we ate breakfast at Kihei Cafe and went to Maui Ocean Center aquarium. My son loves fish so this was obviously a no-brainer. We loved walking through and under the huge tank where there were literally sharks, stingrays, and fish almost 360 degrees around us! He even got to pet a live starfish!
We also visited Big Beach in Makena this day which was our #1 favorite beach. Little beach, our second favorite which is next to Big Beach, was awesome too, but beware: clothing is optional! Haha. It was my first time at a "nude beach," but I did not go nude. I do not have anything against it-I just rather keep my clothes on. Our son, however, fit right on in!
For dinner, we actually took a nap around 3ish and somehow managed to sleep through dinner and woke up at almost 7pm. The time difference kicked our butt!! We decided to order local takeout pizza from Lahaina Pizza Co. since we were exhausted.
On our third day, we ate breakfast at the Gazebo which is a place I highly recommend eating for the best macadamia nut packes!! But I will warn you: get there early. There is always a wait, but they provide free coffee outside for the line!
We decided to exlpore Northwest Maui which is known for plenty of landmarks and cool beaches. We saw the Nakele Blowhole which was incredible. We had to hike all the way down a rocky hill (in flip flops and babywearing) to go near the hole. The hole is a natural formation in the rock and when the waves come crashing in underneath, it sprays this huge spout of water up into the air! You can see a video of it in action in the video at the bottom of this post.
We ate lunch at the Honolua Store which was absolutely tasty with a super nice deli. I also had my very first Spam Musubi here-a Hawaiian local favorite! Basically it's a slice of Spam on top of a bed of rice wrapped in seaweed with a special sauce on top. Absolutely amazing!
After lunch, we headed back to our resort to do a little resting. I actually went back to the beach right outside the hotel while my husband and son relaxed! I love the beach and could literally stay there forever.
For dinner, we ate the Hula Grill where I ate the best thing on the menu-Firecracker fish! It was sooo good. For the record, for food in Hawaii, our son ate whatever we ate. I am thankful that I exposed him to different foods when he was younger. He loved the fish!
On our fourth day, we decided to see the Haleakala Sunrise. This is a bucket list thing for those who have never done it! Basically, you travel 10,000 feet up into the air and watch the sun rise on top of the tallest mountain around. It was such a beautiful sight to see as the sky slowly started to change colors. It was also very cold. No, it was VERY COLD. Like, you need to bring legit winter clothes up there (hats, mittens, long johns, etc). I was honestly so shocked by the cold even though everyone warned me. I mean Hawaii is SO warm so how on Earth is it gonna be THAT cold. Well, the elevation makes quite the difference. You can see a timelapse of the sunrise in the video at the bottom of this post.
For breakfast, we came down the mountain and ate at this adorable little lodge called Kula Lodge. It had a real fireplace running that I was SO excited to sit near. I had an omelette while my husband had the zucchini pancakes. It was all so very good! There isn't many places to eat near Haleakala so this place is a must if you are starving after the sunrise.
We had an epic lunch this day at Geste Shrimp Truck-yup its a food truck. But there's no wonder why its rated #1 in Maui: it's THAT good! But you must bring cash as they do not accept cards. After lunch, we played on a few beaches and enjoyed the sun.
For dinner we ate a Leilani's on the Beach where we had some amazing food. My husband got the fish and chips while I got the strawberry and walnut salad. I was craving fresh this night! We also got $25 off our whole meal thanks to signing up for their newsletter!
On our fifth day in Maui, we ate breakfast at Slappy Cakes. This breakfast place allows you to make your own pancakes and it was sooo fun!!! I felt like a little kid! You could add mix-ins to your pancakes and choose your toppings too. This is a great place for kids and very affordable!
we decided to explore the infamous Road to Hana. To be honest, I liked seeing some things, but the drive was LONG, TWISTY, and NERVE-WRACKING. I did not like it one bit and would have rather skipped it. We did the WHOLE drive along the East coast of Maui. There were just so many blindspots where I anticipated another car ramming into ours. Also, there are hardly any food places to stop at.. or bathrooms.. and zero cell service. It was beautiful, though! There were plenty of waterfalls and overlooks to see. My favorite stop was the black sand beach.
We did dinner at The Flatbread Company and loved it. Little did we know, we would also be eating here the next three days… Haha. My favorite part besides the fresh, organic wood fired pizzas is the fact that they gave Greyson pizza dough to play with!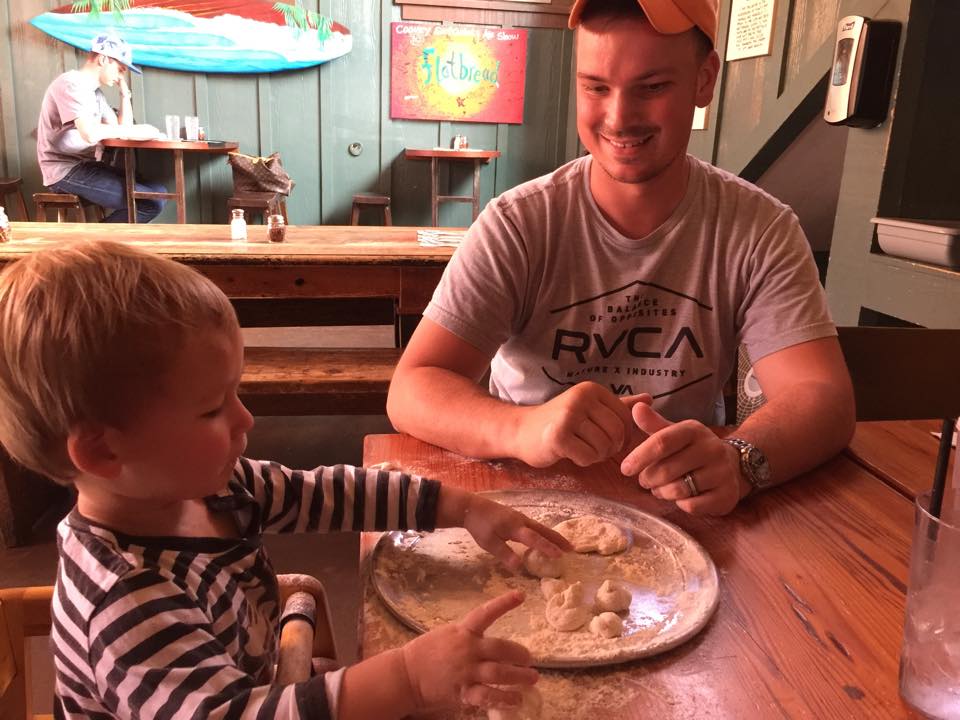 On our sixth day in Maui, we really did not have much planned. We just wanted to go back and do everything we loved again! So, we did breakfast at Slappy Cakes AGAIN which was delish.
We went to Little Beach-the clothing optional beach-and enjoyed sand and sun. I have to admit, it was really strange at first… but when I saw that the nudies didn't care, then I stopped caring too. But I did keep my clothes on and so did my husband lol.
We went back to The Flatbread Company and had more pizza and salad. Greyson played with more pizza dough. The Cheese & Herb pizza is THE BEST! I also ended up getting Ululani's Shaved Ice one more time.. the blue vanilla flavor was my favorite! Don't forget to add the Snow Cap on top!
For dinner, I ordered from veggie soup from a local place on the beach called Koa's. I wasn't too hungry for much this night-thanks, pregnancy!
On our final day in Maui, we ate breakfast at Java Jazz and I had a yummy omelette. I swear omelettes and pancakes were all I ate! We enjoyed our last cup of the finest coffee ever (though I will be placing an order from their site soon as they do free shipping to the US!).
After breakfast, we went to the beach for a bit and let Greyson play. We then had lunch at Mama's Fish House. Now, I have had many friends recommend this place and they have said it is THE BEST place on Maui to eat. And…. IT WAS! I had the crab & lobster stuffed macadamia nut crusted mahi-mahi. It melted in my mouth! But just a note: its not cheap here. For two meals, my total was $125 for LUNCH! It was well worth it though.
After lunch, we went to the Surfing Goat Dairy Farm. "What?? A goat farm while you are in Hawaii??" You must be thinking. Well,  it was one cool experience. If you go out to eat in Maui, you will see that a lot of the cheese they use is goat cheese from the Surfing Goat Dairy Farm meaning its fresh AND local! We took the casual tour which was only $12 a person and got to sample cheese as well as feeding the goats which Greyson loved!
And we bought the goat cheese truffles that they make on site… they were to die for!
We went to Baldwin Beach in Pai'a one last time and enjoyed the smell of the ocean before heading to the airport to drop off our rental car and to check our luggage. We left the airport around 9:30pm and arrived at LAX about 4.5 hours later. We boarded our next flight to New Orleans to discover that the actor Danny Trejo was on our flight! Greyson ran up to him and said "HI!!!" It was so cool.
We had such a great time in Hawaii and are already planning another Maui trip in a year or so! We have learned ways to make things a bit cheaper next time and what to do/what not to do. Here are a few tips for you! If you have never gone, PLEASE CONSIDER! Its beyond amazing.
How to make Hawaii cheaper:
Plan in advance. We left within 2 months of booking and buying our vacay! It was definitely a spontaneous thing.
Plan before you go. I made a full 8 day itinerary before leaving. I already knew where we were eating, what day, what I wanted, etc.
Look for the best airplane deals which are usually released on Tuesdays and Thursdays.
Don't worry about a fancy rental car. It will cost you more.
Look for coupon codes and special hotel deals. Our hotel was doing half off all partial ocean view rooms which sold out before I book book it! On the bright side, we got the full ocean view which was not so bad.
DO NOT BUY SOUVENIRS. You do not need them.
Food is NOT all inclusive so look at menus before you go. Meaning, you have to pay per meal wherever you choose to go. Next time, we are planning on renting a condo with a kitchen so I can go to the local fish market/farmers market and cook most of our foods from home.
To make food cheaper (if you wanna go out), sign up for the restaurants newsletters. We went to Kimos and was able to get a free appetizer. At Leilanis on the Beach, we got $25 off our meal with a coupon that was emailed to me for joining!)
I have been asked so often how I kept my son and myself sane during our 9.5 hour flight, so here is the answer! I made him his own bag filled with goodies. Basically I used my Vera Bradley backpack and packed everything possible that could keep my son distracted. However, he enjoyed the plane ride itself and looking through his window!
Here's what I packed:
Disposable diapers and wipes (yes we cloth diaper, but not thousands of miles away and basically in another country so to speak. the disposables made life easier for vacay)
Sleeping Aid: for parents.
Snacks: Puffs & Lil Crunchies are his favorites. Mini M&Ms were in there as well because desperate times call for desperate measures. These actually saved us at a restaurant! I do not like giving him candy, but these are so small that it allowed me to only give him bits at a time.
Gummy Bears: For Greyson to chew to keep his ears popping on take off and landing.
Coloring books: the tray did not sit in Greyson's lap very well due to him being in his carseat so we actually did not use these on the plane. Restaurants? YES!
Gum: for parents.
Blanket from home: the plane gets cold and so does the hotel!
Baby spoon & fork: helps making eating easier when away from home.
TOYS! I had bought him a dinosaur which he ended up loving, a Thomas the Train toy, a Goofy figurine, and a racecar. Success! We actually did not use these until the hotel and then on the plane rides back home.
Not pictured: iPad filled with kids apps
Here is a little video highlighting a few of our favorite moments in Maui!
Your trainer and friend,