Lifestyle
Newborn Must Haves {The Second Time Around}
The amount of baby products, tools and supplies on the market is seemingly endless. I am very fortunate to be able to try so many products via this blog. This is a list of the things that I've tried and consider my favorites. AKA I would buy them again if I had to start over and know what I know now. Everything you see below we actually used with our baby and I highly recommend each product.
Before you read this post, I have something to share. If you've not created a baby registry on Amazon, it's something I recommend anyone having a baby. They have just about every product, handle returns perfectly and best of all, you get up to 15% off items that you purchase from your own registry!
Ok. There's a reason why this thing is listed first on here-it is amazing. The Dockatot is the reason why my newborn sleeps for hours at a time and we loved it so much for her that we bought my son a toddler version that he naps in for 2-3 hours per day and goes to sleep in at night. We use our Dock as a safe co-sleeping option, a changing pad, a lounger, a transitioner to a toddler bed, tummy time mat, and for playing. Developed in Sweden, this product allows your baby and toddler to sleep soundly (and safely).
Ju-Ju-Be First Lady BFF Diaper Bag
I have gotten so many questions and compliments on my Jujube First Lady diaper bag. First of all, it looks like a purse. Second of all, it is the best purse I have ever owned-even my husband loves it. All of Jujube's bags are freaking amazing. It has a ton of different compartments that makes mom's day a bit easier.
Binxy Baby Shopping Cart Hammock
Ok, this thing is so rad. We used it for my baby girl at Target for the first time and it was so convenient-better than lugging around a carseat, but what's cool is that an infant carseat actually fits in this hammock, too. I personally just love putting my baby girl in it so when I push the cart, it sort of rocks her a bit and she sleeps soundly as I shop! What a win! It just simply clips to each side and that's all there is to it.
Owlet Monitor
THIS THING. WOW. If you do not own one, I highly encourage you to do so. I am one of those type of neurotic moms who constantly wakes up in the middle of the night to check and see if my baby's breathing. Well, I can honestly say that I sleep soundly now thanks to this monitor that constantly watches my baby's pulse and oxygen levels. You can read my full review of the Owlet Baby Monitor here. Owlet was so sweet to allow me to offer you guys your very own promo offer for reading this post to try their monitor out for yourself! Simply head on over to Owlet's website and choose a monitor by clicking here.
UPPAbaby Vista Stroller & UPPAbaby Mesa Carseat
This travel system is hands down the best stroller and carseat combo I have ever owned. I actually would purchase the carseat over and over by itself because it takes less than 15 seconds to install thanks to the SmartSecure system it features. Oh and the stroller fits your baby and your toddler and has multiple configurations that will blow your mind! It also comes with a newborn bassinet so you can push your baby as they sleep. Oh, and the bassinet is safety tested so that your baby can actually sleep in it at night! Forget a crib! We would purchase this over and over again. You won't regret this!
Its no secret why Pack N Plays are amazing for new parents. It doubles as a changer/napper/crib for your newborn, but also is wonderful for a playpen when they are of older infant & toddler age. You can easily pack it up and take it with you on trips and vacations or use it around the house. My newborn naps in it as I do chores around the house.
Baby Carrier
My husband and I are avid babywearers for life! I have tested over 15 baby carriers so I know just which ones are worth your time and which ones suck. My absolute favorites are Tula and Lillebaby. If you did not want to spend money on a stroller, you can always babywear which can be easier in a lot of different situations. Plus, you get to have your baby snuggle up to you-it is a win/win!
Aden + Anais Swaddles
Out of all swaddles and blankets I have tested, Aden + Anais brand offers the best. They are just the right size and made of the softest, organic cottom muslin. My favorite print is the Meadowlark for my daughter, but there are tons to choose from.
Nursing Pillow
Finding a good nursing pillow is very importnat. I personally love Dr. Brown's Gia Pillow because the shape of it makes complete sense and allows baby to fit more comfortably, but a lot of moms like the Boppy. To each their own!
This is the best rocker/bouncer/lounger I have ever used. You can control it using an iPhone app from sitting on your couch. It features motions such as Car Ride, Kangaroo, Side to Side, Wave, and more. It also plays lullabies for your baby and has an MP3 connector so you can play your own music for baby! You can recline the seat or sit it up straight. Definitely worth the money!
Cloth Diapers
I have tried over 25 cloth diaper brands since I became a mommy. Why? I wanted to find the PERECT cloth diaper for my son. So now that my daughter is born, I know exactly what cloth diaper she will be wearing. My favorite, hands down, is Lil Bums Cloth Diapers as they are the softest bamboo cloth diapers, super affordable, and they have lasted me from my son to my daughter and possibly will last until our 3rd baby!
I adore this simple infant bath tub so much. It is cheap and very easy to use! Your baby lays on the bath tub (which is slip resistant by the way) and you wash them. However, it props them up perfectly and can fit even the tiniest little baby.
This thing is a parent's BFF. No, seriously! It seems really disgusting, but you insert the snotsucker into your little one's nostrils and the other end goes in your mouth. What do you do? You manually SUCK out the snot. Sounds gross, but it isn't-it is actually the best tool on the market to get snot out of your little one's nose. Forget the bulb which harbors dangerous mold and bacteria and try this!
Out of all baby monitors on the market, this one is the best one of all.  It features a 5 inch high def touch-screen display, 12 hour battery life,  50/50 split screen view, USB charging, and allows you to pan around the room and zoom in on your baby. Not only all that, but it allows you to talk to your baby from another room and plays lullabies. The monitor also comes with a temperature sensor which tells you the temp of your baby's bed and a nursing timer that also keeps track of which boob your babe ate from last. Ummm yeah. It is a must have!
I am so glad I saved my son's Rock N Play for our daughter because it is now her bed. No crib needed when you have one of these! It stays conveniently beside my bed as I can rock her to sleep or easily grab her when she cries for a feeding or change. The Rock N Play is also great for bonding with baby when you want to sit on the couch or for letting them lounge when you have to go do something real quick.
Ok, I'll admit I actually did buy this before our son was born, however, I didn't actually think we would really use it. I only bought it because it was so dang cute. Fast forward to the first time our baby got sick. My doctor and lots of websites all recommended using a humidifier to help keep the air in the room moist for relief from nasal congestion, dry coughs and cold and flu symptoms. I ended up using it every time our son got sick and it really did help him sleep better at night.
This sleep sack is a miracle! My little girl is so strong and tends to break out of her swaddles at night so for her safety I have invested in one of these to keep her swaddled without having to worry about SIDS or suffocation. Also, this thing keeps her wrapped up and comfortable which equals more sleep for me! It is also easy to change her in as the zipper opens from the bottom up. LOVE IT!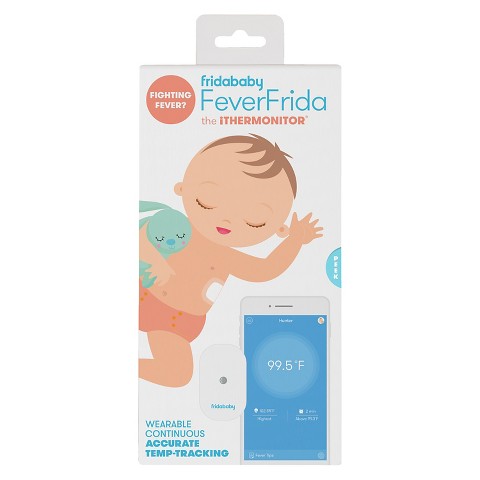 When baby's sick, the last thing a parent wants is to wake him or her for a temp check. FeverFrida checks in on your babe every four seconds without waking him or her, thanks to a bitty Bluetooth monitor and patch placed under the arm. The FeverFrida will alert your smart phone when the temp goes above a predetermined threshold and continuously stores data for pediatrician visits and medicine dose reminders. Think thermometer meets very smart baby monitor!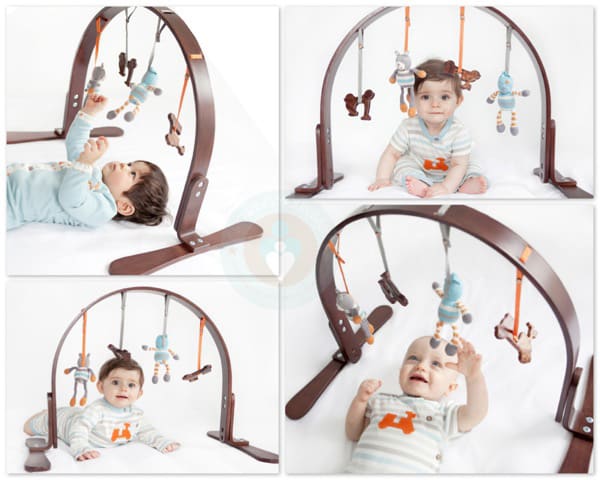 I love these stylish wooden play gyms so much. I bought my daughter the feather one and it is just too classy and cute. She will lay in her Dockatot and stare up at the little ornaments in amazement. If you are wanting to invest in a good, stable play gym, this is a great one to consider.
Aden + Anais Blankets
Just as with swaddles, Aden + Anais makes the most amazing blankets for babies. We own the Soft & Silky Daydream Blanket and its amazing!
I hope that this list has helped you in your journey to finding the perfect newborn must haves. As a second time mom, I can highly attest that you will want all of these.
Your trainer and friend,