Little Ones
Making Potty Training Fun + 3 Cues to Look For!
Disclaimer: This post is sponsored by Pull-Ups® Training Pants
When my son turned 3 years old, he was officially potty trained. We started potty training after he turned 2 years old and boy, oh BOY, it has been an interesting journey! There were many good times.. and many trying times to say the least, but we did it!
Potty training can be frustrating to both parents and kiddos, but one thing that helped us was looking for cues to go potty. Your toddler will tell you everything you need to know when he or she is ready to potty train-you simply cannot force it!
Here are the cues that our son showed us:
Telling us when he soiled his diaper. This cue showed us that our son was becoming more and more aware of his bodily functions so he knew when he needed to. By being aware of what was going on, he was able to plan ahead tell us when he had to go potty, and when he felt the urge to go. Sometimes, he would even take off his dirty diaper because he hated the wet feeling-we loved the way that this helped him to gain independence.
Interest in our bathroom habits or the potty. Every time husband or I would have to use the bathroom, my son was two steps behind us! He would carefully watch us and ask us questions about what we were doing.  Though it was a bit awkward at first, we used it as a valuable learning experience and explained everything in detail. Let them follow you! How else are they going to learn how to go potty if they do not have a prime example? Though, I must warn you-the following continues well after potty training has been completed! Haha.
Fewer wet diapers. When our son started gaining interest in potty training, one of his cues was going less and less in his diaper. He would actually hate having a dirty diaper and then he would rip it off so we were waking up with dry diapers pretty often from naptime and overnight. This was when we knew it was the perfect time to introduce our son to Pull-Ups Training Pants. He quickly realized that this was very different than the diapers he had been wearing and loved the fact that he could easily slide them on and off to go potty-just like underwear!
What he loves most, besides the newfound independence that Pull-Ups gives him, is that he gets to wear his favorite Disney character every day. All Pull-Ups training pants come with various Disney characters to suit your kid's personality and style which always helps to make things more fun. Potty training is an incredibly important milestone for toddlers, and it's also an opportunity for parents to work together with their children-it sounds daunting to so many parents, so why not make it fun?
Pull-Ups truly are than just a training pant – They have simple ways to make potty training easy and fun for parents and children to start together and Pull-Ups.com is a great resource for parents to find tips, tools and advice on how to make potty training fun and exciting. In fact, 3 out of 4 moms prefer the Pull-Ups offering* including the products, packaging, in-pack prizes and activities that make potty training fun for kids. My son's favorite tool from the site to help encourage him while using the potty was the feature that allowed him to get a phone call from one of his favorite Disney characters. He loves Lightning McQueen and was so excited to hear from him. Other characters include Mickey Mouse, Minnie Mouse, and Doc McStuffins. Getting to talk to his favorite character when he went to the potty made his day even better.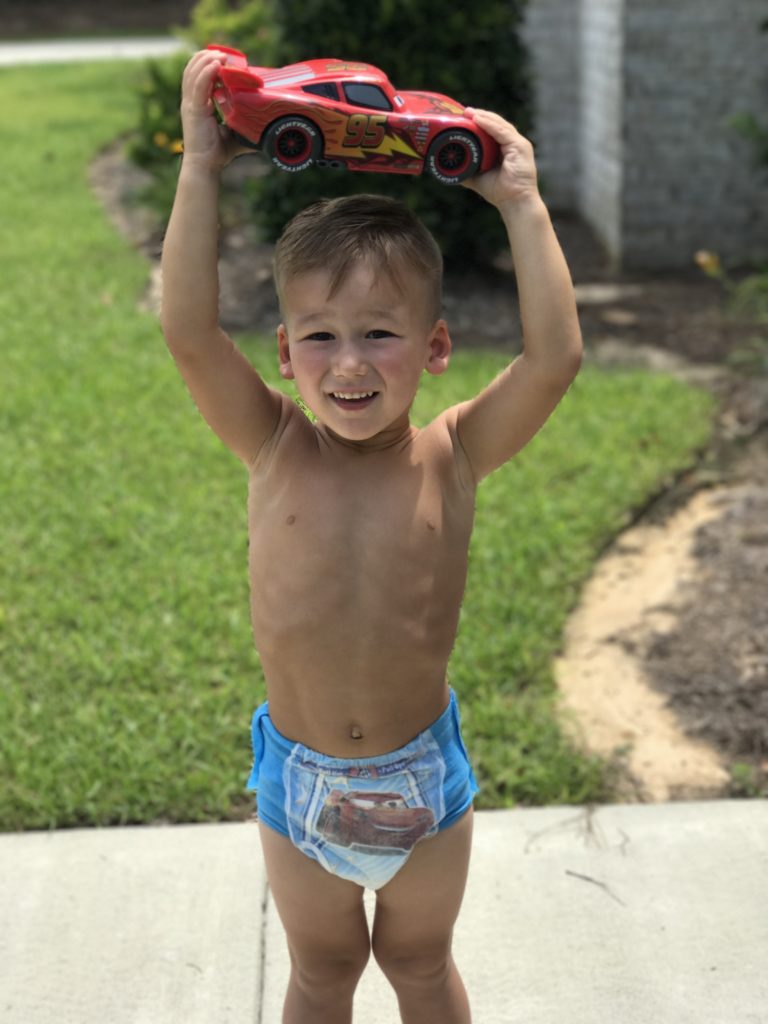 One of those ways to make potty training more fun is through the Let's Get Ready to Potty Contest, going on now through June 30th. All you have to do is tell Pull-Ups how you got your kids (and yourself!) excited to start potty training and made the journey fun. You could win $1,000 and be featured in an upcoming issue of Parents Magazine. Three runners-up will win a 1-month supply of Pull-Ups Training Pants. Enter now at parents.com/itstimetopotty.
I cannot imagine potty training without the tools and resources that Pull-Ups provide and truthfully, I doubt my son couldn't either!
*Vs. Pampers Easy Ups
Your trainer and friend,