Little Ones
Everything I've Learned About Potty Training

Disclaimer: This post is sponsored by Pull-Ups Training Pants.
Though we have nearly reached the end of the potty training journey, there are so many important things that I have learned along the way. While I have learned that potty training certainly isn't easy, I know it is a super rewarding and is also a fun experience for both the kiddo and the parent. If you are new to potty training, don't give up or get discouraged just yet! I have a few good tips to share with you to help make the experience even better for you and your toddler.
Here is everything that I have learned about potty training:
Wait until they're ready. When we started potty training, my son was frightened of the potty chair –  he did not want to sit on it at all. We took this as a sign that he was not comfortable enough to start his journey with potty training. We waited a few months until he started showing readiness cues such as being interested in our own bathroom habits and despising his wet diapers. My son eventually came around to the potty chair and wanted to try it out on his own. He went successfully once we stopped pushing him and then our potty training journey began!
Accidents happen. When we began our journey, I made the mistake of thinking that once my son used his potty, that would be it! I thought he would be instantly potty trained, but that was definitely not the case. He would still have accidents here and there because he was still developing and learning this new skill. Accidents are wonderful to use as a learning tool. If your child has one, encourage them and remind them that it is okay and that it is a part of the journey!
By building your child's confidence, you can help set them up for future potty training success by using Pull-Ups Training Pants.
We've been using Pull-Ups since day one of our potty training journey. My son was so happy to graduate from his diapers to his training pants because they made him feel like a Big Kid. They also gave him a huge boost of confidence that he needed to keep going. He is always excited to wear his favorite characters in style! Potty training takes time. I did not realize how long our potty training journey would last. My son started when he was 2 and he did not become completely trained until shortly after he turned 3 years old. You will hear personal stories of some children becoming fully trained within a few months while some others may take years. Please try not to base your experience off of someone else's because every child is different and each journey is so unique. It is okay that this is not a sprint, but a marathon. Your child will get the hang of potty training when you least expect it!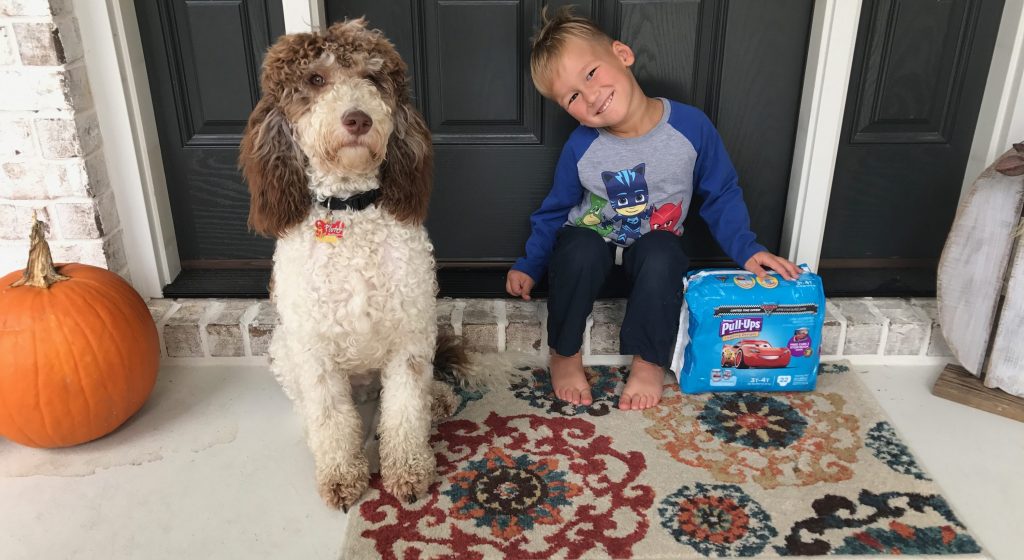 Make it fun for the both of you!
The most important thing I have learned about potty training is that you have got to keep things fresh and fun-for the both of you – especially with little kids! You might become frustrated, but this is where fun and games make things so much sweeter. Having an incentive helps to motivate your child to do their best to keep on track on those tough potty training days.
This is where Pull-Ups helped us too! They're truly more than just a training pant – they have simple ways to make potty training easy and fun for parents and children to start together and Pull-Ups.com is a great resource for parents to find tips, tools and advice on how to make potty training fun and exciting. Pull-Ups has helped potty train 50 million Big Kids and counting, so they know what they're talking about! Our favorite tool lately has been the character video chats Pull-Ups.com!
Parents can get their child excited to start potty training by receiving a call from one of their favorite characters It's sure to get them excited to start and it's a great way to get your child excited to start potty training and keep them engaged throughout. Visit Pull-Ups.com to get a call from your child's fave character!
I hope my tips and everything that I have learned will help make your potty training journey a little easier and more fun. I urge you guys to try out a pack of Pull-Ups and to visit PullUps.com to see how they can make things fun and rewarding for you and your little one.
Your trainer and friend,