Travel
Our Trip to St. Lucia
This past week, my family and I decided to do something spontaneous! We traveled to the island of St. Lucia which happened to be our very first time in the Caribbean islands and my first time out of the country. We took both of our children and had the best time! Our flight was not too bad-6 hours altogether. We bought my son his own seat and I wore my daughter and let her sit in my lap for free. I love flying during the day because it really helps you to see the beauty in the sky!
Upon getting to St. Lucia, my husband and I were super surprised when our rental car had the steering wheel on the right side. We found out really quickly that in St. Lucia they drive on the left side of the road. This was new to us, yet very exciting!
Windjammer Landing
My family and I chose to stay at Windjammer Landing All Inclusive Resort. This place was amazing to say the least! All of our food and drinks were paid for within our stay since it was all-inclusive. This meant that we did not even have to leave the place if we didn't want to!
Each morning was spent walking the beach after breakfast and finding tiny crabs on the sand. The resort has its own private inlet that features a jetty and more.
Our favorite breakfast view! My son was happy that the breakfast buffet made fresh pancakes daily-my favorite were the banana pancakes. In St. Lucia, one of their main crops are bananas and I need to tell you something.. you will never eat a better banana than a St. Lucia banana! Seriously.
We enjoyed the beach every single day. I snorkeled every chance that I had because there was so much to see that you simply cannot enjoy here in Florida. Funny story: I found a huge conch shell that I had taken out of the water to snap a picture of and an octopus glided his way on out. I was shocked, but I helped the little guy make his way back to the water. This was definitely an experience I will never forget.
The resort had its own mango tree that we would walk past each morning and find fresh mangoes that had fallen the evening before. They were so tasty!!
One of my favorite drinks from the resort was called the Big Banana. It contained bananas, coconut cream, and liquor. I swear I had like 6 during my stay!
Windjammer Gym & Spa
Two of my favorite parts of the Windjammer Resort were the gym and the spa. I am known to workout on vacation because I feel it is no excuse to get off of your routine. Why not mix a little discipline with fun? Besides, I had to work those banana drinks and banana pancakes off! LOL.
The weight room was pretty awesome and featured a few machines as well as a full set of dumbbells for every weight. The place was clean and kept very tidy. It also featured a yoga studio that I enjoyed stretching in. The kids also did not seem to mind the gym!
The Windjammer Spa was something else! I had the Signature Massage which consisted of 80 minutes. It started off with a hand and foot exfoliation and moved on to a full body massage. The massage consisted of hot rocks, percussion, and bamboo rolling. My therapist, Herbert, was so kind and great to have. The facility itself was modern and clean-I did not want to leave, but I had to remember my husband and kids were waiting on me!
The spa itself was absolutely beautiful.
Here is a little glimpse of the juice bar. After the massage as I put my clothes back on, I had their signature welcome drink waiting on me. It contained sour sop, honey, and lime. It was highly refreshing and just what I needed to end my time there.
Soufriere Mud Bath/Sulfur Springs
One of our bucket list things to do in St. Lucia was the mud bath aka sulphur springs. You simply cannot visit St. Lucia without going down to the bottom of a volcano and slathering yourself in nutrient rich mud and bathe in the hot springs! This is an experience I will never forget as I, my son, and husband took turns.
There were buckets of mud from the volcano that were brought down to the hot springs. There were no rules-just slather yourself with the mud and have fun doing it! I let it dry on my skin before entering the water so that it had maximum effects. The minerals within the mud are supposedly great for eczema, burns, pimples, arthritis, sore joints, and more. Many tourists often say they look 10 years younger after doing so which is crazy because my husband commented on my glowing skin after we drove away from the springs.
My son was not thrilled with the mud, but he ended up loving the hot springs bath so much that he would not get out!
He fit right on in, eh? 🙂
If we come back to St. Lucia, we will be doing this again!
Piton Falls
Next stop, we visited Piton Falls after leaving the mud bath as it was super close by. Even though I have went to Maui twice, I had never gotten the chance to actually play and swim in a real waterfall before.. until this trip!
The water was warm which was nice and enjoyable and this little cave instantly became my favorite spot.
Our kiddos both enjoyed the waterfall-who knew? There are more waterfalls on St. Lucia that we did not get to see.
Pigeon Island National Park
The last adventure that we had on St. Lucia was a historical landmark called Pigeon Island National Park filled with numerous forts such as an 18th-century British fort and Fort Rodney both used by the British to spy on French Ships.
One of my favorite parts of the park was this old cannon which still had the royal seal on it with a cannonball stuck in the opening. We also saw the old forts, but did not get to travel up the large peak since we had the kids-maybe next time?
An island worth visiting..
All in all, I loved St. Lucia and my heart yearns to go back. While it is an amazing family place and a great country to bring your kids to visit, I see why many honeymooners come here to get married and stay!
A rainbow across the inlet that I captured from our balcony.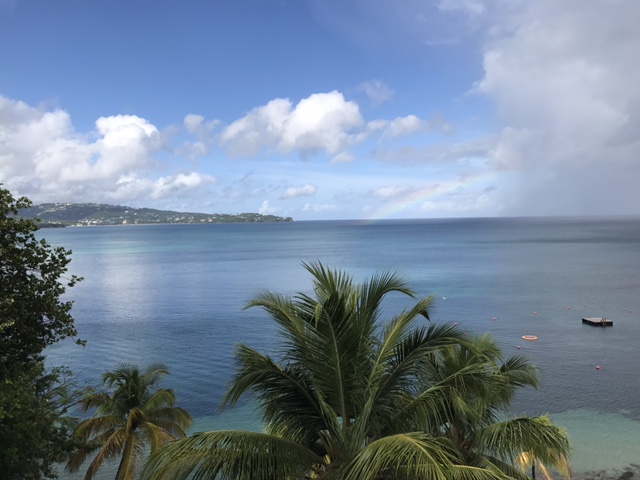 I miss Windjammer Resort. I miss the people. I miss the ocean. I miss the vibes.
Until next time.
Your trainer and friend,