Pregnancy
TONING FOR TWO: FOR TWO FITNESS® MATENITY WORKOUT TANK REVIEW
Hey ladies! If you are looking for an adorable maternity workout tank to match your love of fitness, I have got something to rave about!
I am currently obsessing over my new maternity fitness tank from For Two Fitness®. It says "Toning for Two®" which could not describe my pregnancy any better as I am always lifting a dumbbell or two.
Instead of dumbbells, though, the tank features two little rattles perfectly set right on the bump. I have gotten so many compliments just from wearing this tank to the grocery store. Staying fit during pregnancy is hard enough as it is, but with such a motivating tank, it definitely helps fuel the drive to keep pushing until the very end.
Not a fan of purple? No worries as this tank also comes in a couple of other cute colors!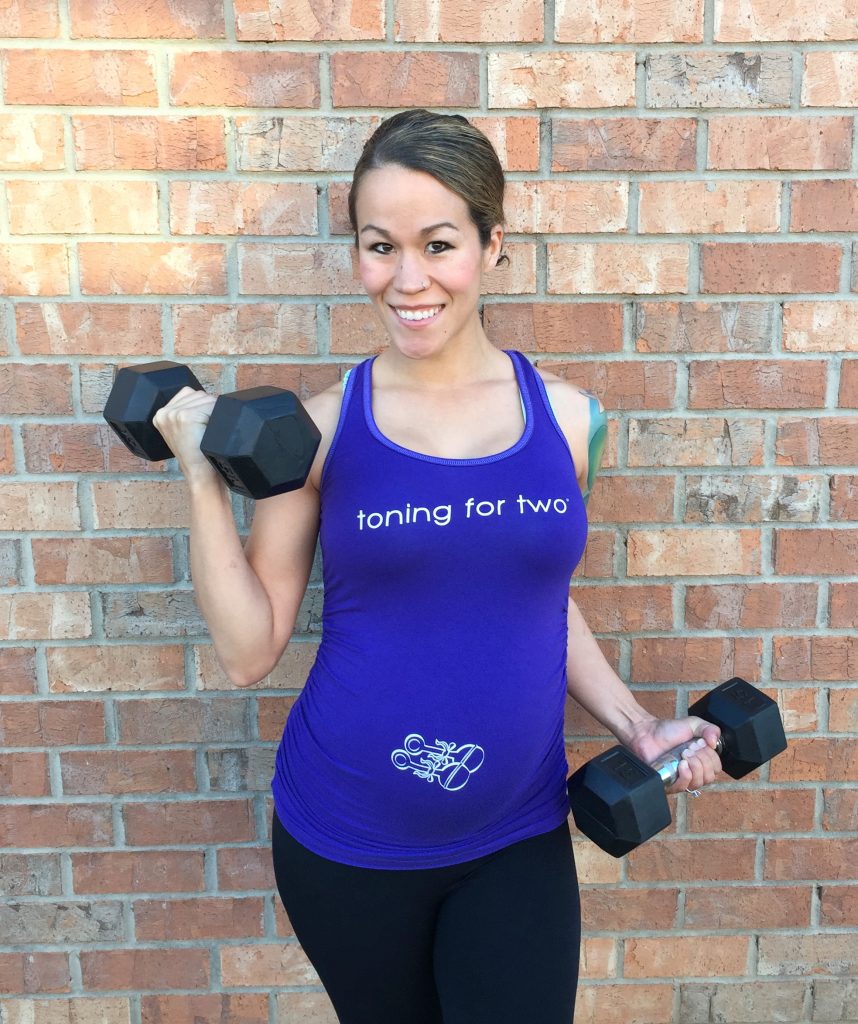 This high performance maternity workout tank features a racerback and ruching on the side which allows the tank to fit you perfectly as your bump grows. Think of it as if the tank is "growing" with you which still offering full coverage. The fabric is oh so soft, moisture wicked, and high end quality.
These tanks are wonderful for announcing a pregnancy or just being proud that you are carrying a little miracle inside of your tummy while staying fit for two.
More features of this tank includes:
Technical fabric blend for moisture-wicking and breathable performance you expect in your best activewear
Generous length will keep your belly covered and won't ride up!
Garment dyed for brilliant, rich, get-you-noticed color
Ultra-soft, tagless, 4-way stretch and recovery
Side-ruching for form-fitting style for a flattering fit through all 40 weeks and into your "4th trimester"
Made in USA – Crafted by artisans in Los Angeles and shipped from our headquarters in Raleigh, NC so you can feel good about supporting local businesses
Easy care
Oh, and no worries if you aren't into "toning" because For Two Fitness® offers a tank for:
Running for Two®
Yoga for Two®
Walking for Two®
Working Out for Two®
Sweating for Two®
Dancing for Two®
Cycling for Two®
Racing for Two®
Tanks without slogans and more!
To grab one to suit your fitness interest, click here! Please know that you will not find these tanks with these adorable slogans anywhere else as these are specically made for For Two Fitness® only!
For Two Fitness® Brand Statement: For Two Fitness® is the premier maternity fitness apparel brand, proudly made in the USA and available worldwide. We are committed to celebrate and support moms who are dedicate to healthy, fit, pregnancies. We believe your apparel should flatter your bump, enhance your confidence, and inspire your joy. Our clothes easily cross over for daily wear and lounging comfort. Discover for yourself why celebrities, professional athletes, and moms everywhere love For Two Fitness®performance apparel!
Check out & follow For Two Fitness:
Facebook: https://www.facebook.com/ForTwoFitness
Twitter: @fortwofitness
Pintrest: http://pinterest.com/fortwofitness/
Web: http://fortwofitness.com/
Disclaimer: I was given For Two Fitness® product to wear test, at no cost to showcase their amazing maternity fitness apparel.  All opinions are my own.
Your trainer and friend,