The Best Things Come In Small Packages: Bob & Brad Mini Massager Gun Review
Welcome to the Bob & Brad Q2 Mini. This small, yet mighty massage gun, this is your pocket-sized partner, giving you the highest quality muscle treatment with unparalleled portability. Its perfect for carrying to the gym or to work, or even for travel or vacation. Lets face it: jet lagged or road trip legs are no fun!
This is not my first Bob and Brad gun-I have had another one of their massage guns-a bigger one-for over one year now and I loved it so much, I reviewed their gun on my YouTube channel. The brand itself is trustworthy as the guns were developed by the Famous Physical Therapists Bob Schrupp and Brad Heineck who are widely known. So this is a brand you can trust from people who know how the human body works.
Alright back to the Q2 Mini Massage Gun. This little thing weighs less than 1lb and comes in a cute carrying case to make taking it with you a breeze. My first thoughts of this massage gun when I opened the case is wow, how can 5 heads fit inside this? Also, when holding the massage gun, it felt comfortable yet the grip was sturdy. When I turned it on and began playing around with its 5 speeds, I was shocked at how quiet and effective this little massage gun was! I was very impressed.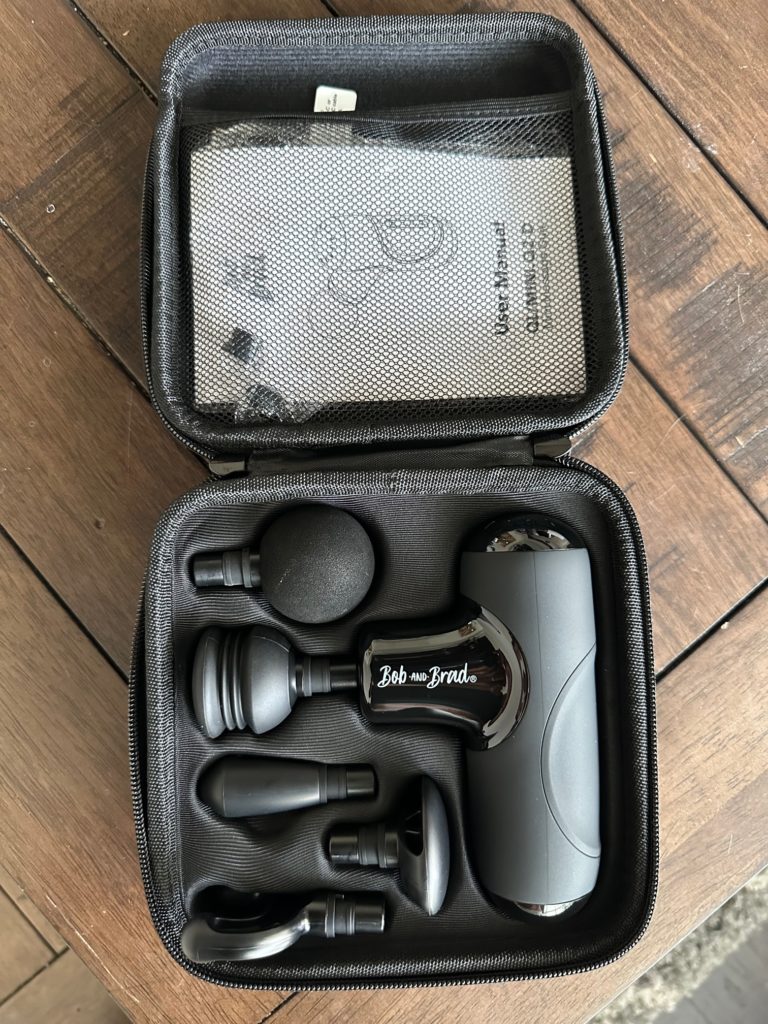 Inside your case, there are 5 interchangable heads to target different muscle areas:
the ball head is great for larger muscle groups
the fork is great for the spine, neck, shoulders, or achilles
the bullet is perfect for trigger points and joints
the flathead is perfect for overall body use
the air compressor soft head is best for sensitive areas and soft tissue relaxation
It features:
a smarter chip has over-voltage, over-current, short-circuit, over-temperature and other multi-protection functions.
a new proprietary brushless motor to the most compact design ever.Maximum speed up to 3000rpm, vibration amplitude 7mm.
It uses the latest noise reduction technology to reduce the noise of the massage gun during use, the sounds are less than 55dB even at max 3000RPM.
5 different speeds
Maximum speeds up to 3000rpm, vibration amplitude 7mm. Q2 MINI breaks up knots and relaxes tight muscles, digging deep and relieve hard-to-reach muscle groups.
An efficient heat dissipation air chute reduces the heat of the machine during use, and it won't get hot during extended usage.
Ergonomic silicone handle for easy grip and maximum comfort.
This deep tissue percussion muscle massage gun can be charged by USB-C with the regular phone adapter or 5V/2A adapter.
Why use a massage gun anyway?
Deep tissure massage
Muscle spasm relief
Stiffness relief
Releases build up of lactic acid
Activates the nervous system and muscles
Overall, this is hands down my favorite massage gun yet! I like the fact that it is so small because carrying around my bigger massage gun for super old and inconvenient. I love that I can travel with this and use this while at the gym as my cool down post-workout. You are missing out if you dont own this amazing massage gun! I personally enjoy using mine on my neck and shoulders as I have chronic pain from being a blogger and craning my neck at my computer daily-go figure! This has helped that issue and so much more.
Get 10% off of your own Bob & Brad mini massage gun with code BobBrad16 and click here to shop.
Disclaimer: I was given a massage gun to test. All opinions are my very own.
Your trainer and friend,