Lifestyle
The Best Supplements for Mama & Baby
Disclaimer: I was compensated for this post by Nordic Naturals; all opinions stated here are my very own.
Whether or not you are trying to to get pregnant, are expecting, or just had a baby, there are two very important supplements you will need to add to your daily routine. Omega-3's and Vitamin D3 will play a bigger role in your and your baby's health more than you'll ever know.
My favorite source to grab my Omega-3 and Vitamin D3 is Nordic Naturals– the leader in the purest and freshest fish oils. I have been using them for almost ten years now to meet my health needs and one thing that I absolutely love is that their fish oils taste great-no fishy burps afterwards! I was in nursing school and working part time at my local GNC when I heard of this brand and so I decided to give it a try. It was by far the best fish oil I had ever tasted!
Everyone needs fish oil in their diet despite age and gender, but many moms do not realize that they and their babies need it the most. Statistics show that women in the U.S. only meet about 40% of the daily requirement for Omega-3's and as for Vitamin D3, around 91% of pregnant ladies are lacking this important nutrient.
Here are my 4 must have supplements for mom & baby:
Prenatal DHA: To maintain a healthy pregnancy, Prenatal DHA is a must have supplement when you are trying to conceive and especially during pregnancy. This is also the official Omega-3 of the American Pregnancy Association. DHA plays a vital role in the healthy developement of your baby's eyes and brain. This supplement also contains Vitamin D3 for strong bones and mood support. Pregnancy can take a toll on your bones and mood so this is how the D3 comes in handy.
The pills are small, easy to swallow, and taste like strawberry! If you are not a fan of flavors, there's an unflavored version, too.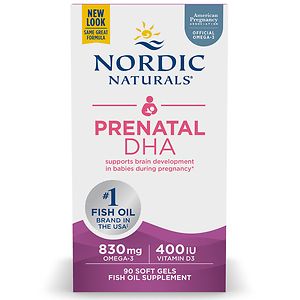 Postnatal Omega-3: As a newly postpartum mother, you can definitely benefit from adding Postnatal Omega-3 to your routine, which happens to be the official postnatal Omega-3 of the American Pregnancy Association. It helps support positive mood when hormones are going crazy after giving birth as well as helping to boost your fat metabolism to lose the baby weight. It's not just mom that reaps the benefits either-baby also will get the Omega you take through your breastmilk which will further promote healthy neurological development. Also added is vitamin D3 which offers further support for healthy mood and immunity.
These pills come in a great lemon flavor!
Baby's Vitamin D3: As the official Baby's Vitamin D of the American Pregnancy Association, this supplement provides 400 I.U. of Vitamin D3 per drop which meets the daily recommendation. This vitamin spports healthy immunity and may even support normal sleep rhythms. Babies who are breast-fed or partially breast-fed lack Vitamin D3 in their diets so they need supplementation of some sort.
Baby's DHA & Baby's DHA (Vegetarian): The Baby's DHA and DHA Vegetarian are the official Baby Omega-3 supplement of the American Pregnancy Association. The Omega-3 supports healthy brain, eye, and nervous
system function.
There's a regular and vegetarian version available to best suit your family's needs. The regular version features 100% wild Arctic cod and the veggie formula contains marine algae.
As you can see, both mama and baby can both benefit from adding Omega-3 and Vitamin D3 to their daily diets. There are so many benefits to taking them and this is why I love having them as part of my daily routine for my family.
You can browse more from Nordic Naturals' site by clicking here.
Want to try Nordic Naturals for yourself? Order some today, and use the promo code CAFEMOM to save 15%!
Your trainer and friend,