Lifestyle
Styling the Bump: Tips to Looking Fab During Pregnancy
Now that I am FINALLY showing enough to rock the bump, I wanted to share with you ladies a few ways that I have been styling my sweet growing baby bump. Pregnancy can be such a drab-I know this. There are STILL days where I want to live in my Belly Bandit maternity leggings (and that's ok).
However, if you are feeling up to it, here are some ways to style for your bump for a nice date night out or just because you feel like it!
First things first, I would love to share a little tip for all of you mommies to be: sign up for an Amazon.com baby registry! Seriously, I have had my baby registries on Amazon for my last two pregnancies and it's been the easiest experience ever as they sell (and you can find) EVERYTHING. Not only that, you get free shipping on everything and for all items that are left on your registry, you will get sent a 15% off coupon code to use to purchase them! Sweet, huh?
Sign up by clicking the banner below and start creating your dream baby list:

MY LATEST VIDEOS
Here are a few tips to styling your bump to feel a little more cute, every step of the way:
Show it off!
Seriously, flaunt it! There's no need to hide your bump as it is just going to get bigger and bigger (sorry to burst your bubble). My favorite way to show off my growing bump is by wearing figure hugging aka STRETCHY dresses and tops such as this one below. By the way, stripes are your best friend during pregnancy as they keep you looking more together rather than all over. You can find similar dresses here, here, and here.
I loved showing it off in a LBD (Little Black Dress) as well! You can find a similar dress here.
In my late 3rd trimester, I was a huge fan of this Adele Breastfeeding Dress from Queen Bee Maternity. It is made for postpartum use; however, I found it just as comfy during pregnancy as after!
Cardigans are your friend!
Cardigans, open faced knits-anything that opens in the front are your BFFs. For instance, I paired this cardigan with a white spaghetti strap top and my maternity leggings. Easy peasy. What I love most about wearing an opened cardigan is the fact that it hides my hips during pregnancy while still showing off my bump. Clever, indeed! You can find a similar cardigan here and here.
As for my black boho floppy hat, you can pick one up here.
So are blazers!
Blazers work in the SAME way as cardigans as they help to flatter your overall figure, while making pregnancy look great on you. They are also an easy, no-brainer when it comes to making a simple outfit look as if you actually put the time and effort into trying to dress up. I paired this Boyfriend Blazer with my Blanqi maternity support tank and Blanqi maternity leggings.
Maxis are God sent!
Hellooooo elastic waist bands! It is no wonder why maxi skirts (and dresses) are wonderful for pregnant ladies. The elastic bands don't cut into your belly and are actually quite comfortable during every stage and month of pregnancy. You can grab a cute print maxi skirt here for cheap!
Maternity leggings are a MUST.
Seriously, you won't want to skip investing in good maternity leggings because you will end up living in them most days. No, it's not your average legging or "yoga pant"-these leggings were MADE for pregnant ladies and help to support your bump and reduce round ligament pain. They also help hold in everything sort of like shapewear for pregnancy! Plus, they are so versatile, you can wear a sweater or t-shirt over them or throw a blazer on such as I mentioned above.
In this photo, I am wearing the Blanqi maternity leggings; however I also am LOVING Belly Bandit's B.D.A. leggings as well (I will actually be packing them in my hospital bag to wear at the hospital since you can wear those before, during, and after pregnancy). I have paired my leggings with this super comfy Blanqi supportove maternity tank which helps with back and belly pain.
Play up your bump.
If you can't hide your bump, why not accentuate it? You can do this by tying a skinny belt over the top of your waist (beneath your bust-right above your bump) or you can do like I did and take a button up tee and tie it right above your bump. I love doing this with my dresses for a cute, chic look.
I paired this light blue denim top with this adorable Belabumbum's Reversible Maternity & Nursing dress. Speaking of this dress, it is absolutely amazing and easy to nurse in. I love finding maternity dresses that can be worn after pregnancy and beyond! But the neat thing is that you can turn it inside out and it's a black dress!
Oh and my sunglasses are these style Ray Bans.. in case you are wondering. They are the only pair of sunglasses I have ever worn that actually feel good, look good, and work well!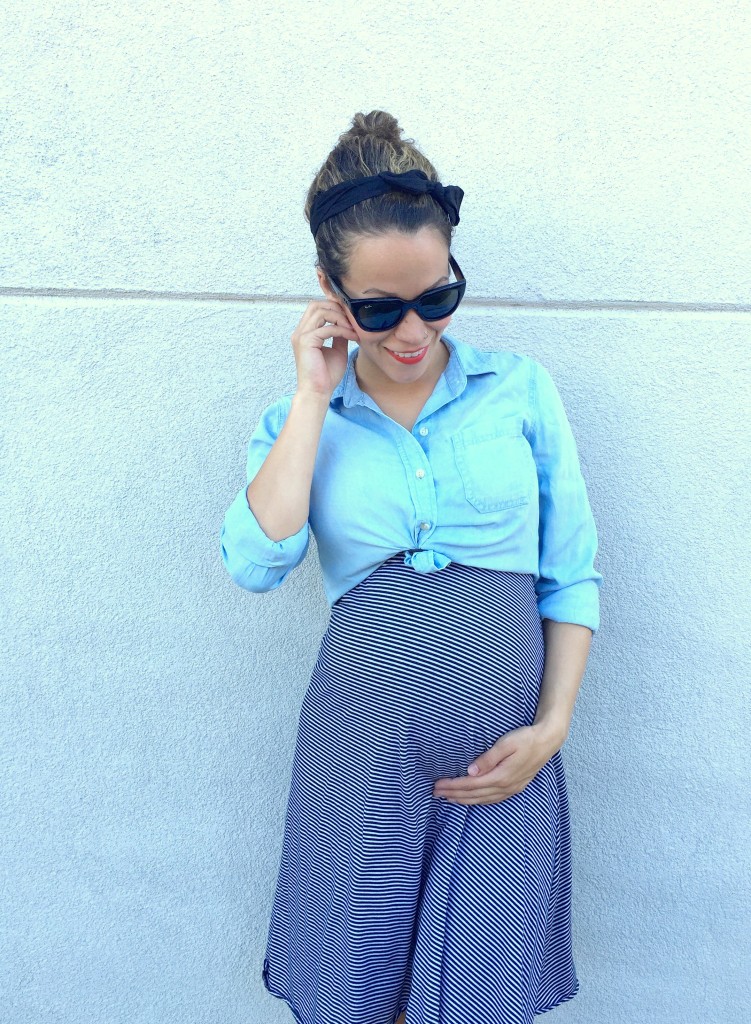 Wear a size bigger.
This may or may not be such a big secret to you if you've been pregnant before, but all you have to do sometimes is just size up! For example, I am a size small so I bought a Medium sized Forever 21 cami which virtually covers my whole belly from top to bottow, without feeling too snug. I paired it with a floral kimono cardigan which I am currently obsessed with! You can get a similar one here.
Have fun with your bump!
Lastly, just have fun! In a few months, you won't even remember how big or uncomfortable your big ole belly was. Use this time to grab all of the cutesy maternity tees and customized tanks and just have a blast with them. Be proud of your pregnancy and if you want to tell the world, there are so many great ways to do so. We went to Disney World a month ago and I went all out and bought a themed maternity shirt just for fun! I got my Minnie tee from Etsy and a tee similar to the Peek-a-Boo maternity tee at the bottom can be found here, here, here, and here.
There you have it! I am in no shape or form a maternity fashionista (or a fashion expert at all), but rocking my bump has always been fun times for me during my last two pregnancies! Enjoy your bump!
Your trainer and friend,