Show Your Feet A Little TLC With OrthoFeet

Disclaimer: I was given a pair of OrthoFeet to try, at no cost. All opinions are my very own.
As I have gotten older, I have noticed how much it hurts to be on my feet! Welcome to 34, I suppose. The same ole Nikes I used to jump around in and go grocery shopping with just feel off. That is why I wanted a shoe that was a bit kinder to my feet for everyday normal wear. Say hello to OrthoFeet!
OrthoFeet offers shoes for everyday life and professional settings like healthcare, construction, and food service. As a personal trainer, I love them for my walks and playtime at the park with my children. It helps me to keep up with them without constantly stopping to adjust my shoes for more comfort. In fact, these shoes are so comfortable and lightweight that OrthoFeet is doctor recommended and has over 125k 5-star reviews!

The shoe that I am wearing is the Coral Stretch Knit in Turquoise. It fits true to size (I am a 7.5). It features Premium Orthotic Insoles with anatomical arch support (removable) and Arch Booster re-align the foot and entire body posture and Adjustable Arch Support. The wide toe box is what truly matters most to me for alleviating my corns. I also love the cushioning sole with a mild Rocker that improves the ease of walking and adds spring to your step! If you choose this shoe, you will love its features. However, there are so many different styles and colors of other OrthoFeet shoes to choose from.
Other than being extremely comfortable and lightweight, OrthoFeet alleviates and supports 20+ mobility and foot conditions including Plantar Fasciitis, Heel and Foot pain, bunions, corns, calluses, and neuroma, and products for individuals with diabetes, arthritis, and Neuropathy. I personally deal with corns on my little toe which is why I primarily wore flip flops. These shoes actually do not aggravate this anymore!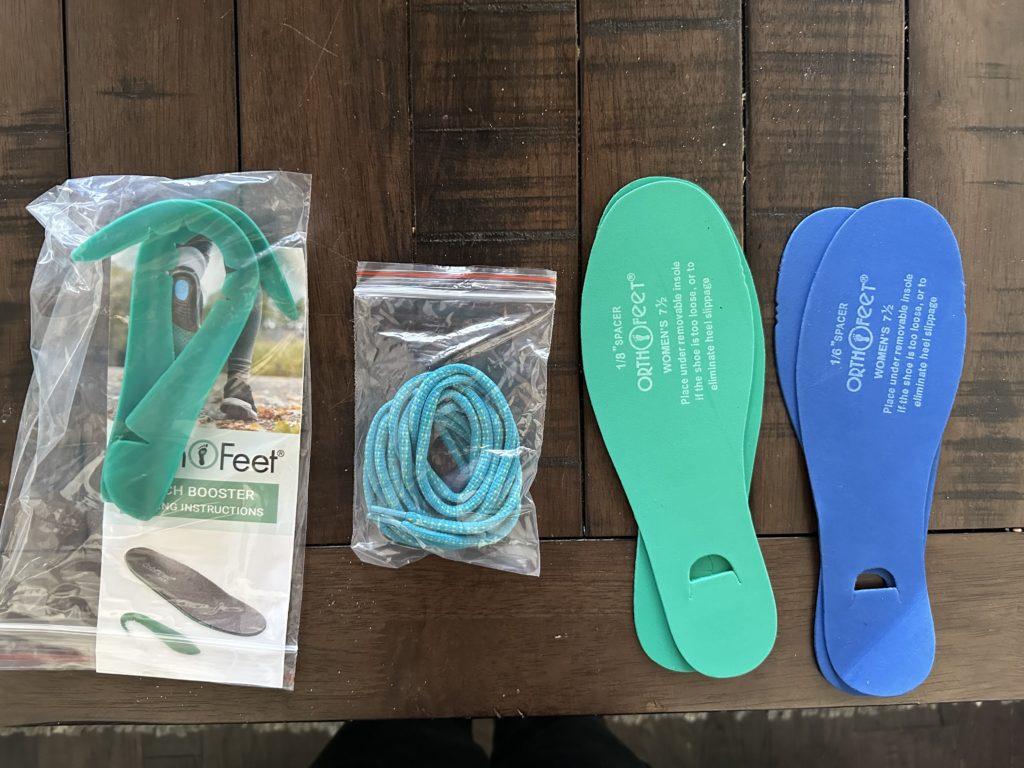 Inside your shoe box, you will notice a few accessories that come with your OrthoFeet shoe including spacers in case your shoe is too loose and extra shoe laces. Your shoe also includes an Orthofeet Arch Booster that can be added under the orthotic insole to increase the support to the arch and reduce pressure at the heel and ball of the foot. Also OrthoFeet does give a 60 day love it or hate it money back guarantee which is nice!
Overall, I am obsessed with my new OrthoFeet shoes! It is so nice having footwear now that feels extra comfy and wont hurt my toes as most footwear does. If you have any podiatry issues or simply want some TLC for your feet, I highly recommend a pair. You won't be sorry!
Your trainer and friend,