Fitness
Sculpt and Shred Your Abs With This 3-Week Challenge
 Everyone has their own reasons for wanting shredded, toned abs; we're here to help. After following this 21-day ab plan, not only will your abs look toned — you'll also be stronger in your core and midsection. This ab challenge was designed with everyone in mind — whether it's your first time working out or you're at the gym on a daily basis.
Getting started: The challenge consists of five basic exercises that help to target all the areas of your abs. Over the course of the challenge, you will increase the number of reps you're doing of each exercise, eventually working up to three sets of 20 reps for each exercise.
Below is an explanation of how to do each of the five exercises, followed by the plan itself:
Reverse Crunches:
Lay down flat on the floor with arms out at your sides.
In one swift motion, lift your legs up towards the sky, making sure to also lift your torso and lower back off of the ground as well.
Lower back to the ground and repeat.
V-Ups:
Lay down on your back and lift your legs up to the air.
In one swift motion, bring your arms up to touch your toes, making your body into a "v" shape.
Repeat.
Windmills:
Stand in a standing position with hands up in the air.
In one swift move, bend down and touch your right arm to your left toe and quickly alternate the opposite side.
Repeat.
Side Crunches:
Begin by standing up straight with your feet shoulder-width apart and hands behind your head.
Bend your right elbow to touch your right knee. Bring knee back down and stand back upward.
Repeat.
Side Bends:
Stand straight upward, with hands at sides.
Bend waist downward until a slight stretch is felt in the opposite hip and lower back.
Lower to opposite side, same distance and repeat. Continue with opposite side.
To pin this image, please hover your mouse over the middle of the picture. You may also save and print this page!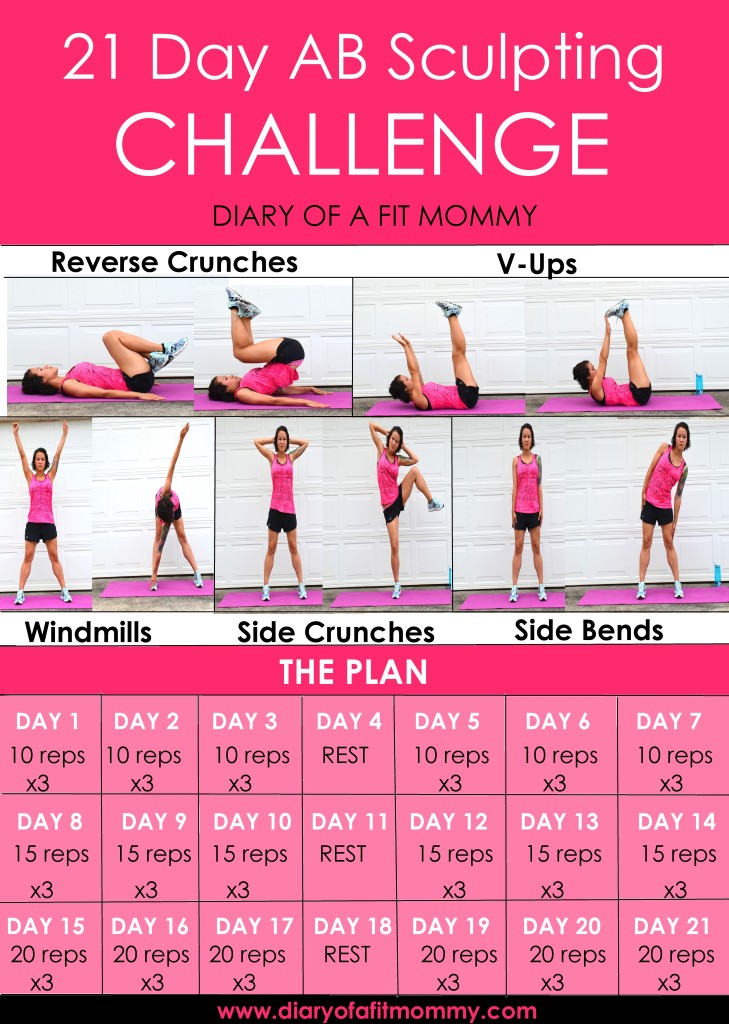 Your trainer and friend,