Diet
Pregnant Girl Diet: Snack & Meal Ideas for Fit Pregnancy
I am currently almost finished with the first trimester! WOW! Time truly does fly by. It feels so nice to have clean cravings again and to not be craving everything I set my eyes on.
You have asked me to share some of my favorite pregnancy meals and snacks with you, so here's some of the meals I ate this past week. I understand that a lot of you are seeking inspiration in what to eat during pregnancy or how to eat clean while growing a baby. It is not easy for sure, but you can certainly make healthy foods appealing again!
Breakfast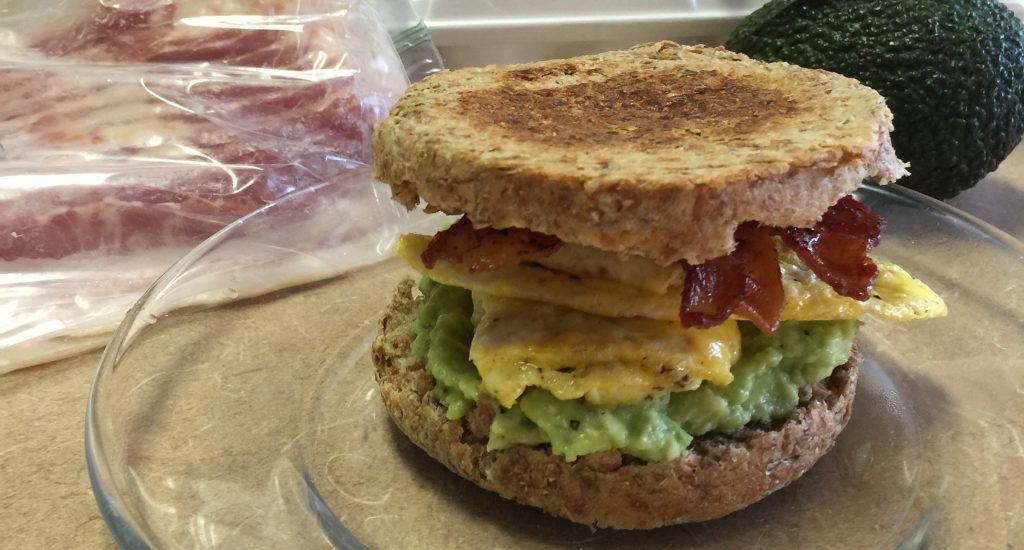 My favorite go-to healthy breakfast! I always make my own version of a bacon and egg McMuffin and add avocado. I use Ezekiel 4:6 English Muffins and bake for a couple of minutes to warm.
Apple cinnamon oatmeal for the win! I love spicing up my oats-can't stand got them to be too plain! I make my oats on the stove top because I do not own a microwave. That's right-I threw out my microwave almost two years ago and have never looked back!
To make one serving:
-1/2 Apple
-6 pecan halves, chopped
-1 cup quick oats
-1/2 cup water (or almond milk)
-1 tsp cinnamon
-1 tsp raw maple syrup, for topping after cooking
Healthy Chocolate Breakfast Cookies. (2 cups quick oats, 1 cup mashed ripe bananas, 1 tsp cacao powder. Mix thoroughly and bake for 20 minutes at 350 degrees)
Lunch

Chicken Salad Sandwiches
Ingredients:
4 chicken tenderloins, baked & shredded
1/2 cup grapes, chopped
1 green apple, chopped
1/4 cup onions, diced
1/4 cup pecans, toasted in the oven
1/2 to 1 cup of plain Greek yogurt-more or less depending on how you enjoy your salad.
1 tsp curry powder
1 tsp garlic powder
Salt/pepper to taste
1 loaf fresh French bread, sliced
Phyllo dough, tomato, onion, & basil pizza!  I use phyllo dough because it's super thin, crispy, and contains less calories. 5 sheets are only 170 calories! I used 6 sheets for the dough. You do the math! Plus fresh toppings, seasonings, and freshly grated mozzarella and Parmesan. I did use a little EVOO on the dough and homemade pizza sauce.
Turkey & Colby Jack wraps. (1 tortilla, 4 oz turkey breast sliced, 1 cup spinach, mustard, and 2 slices colby jack cheese)
ingredient avocado chicken salad
Ingredients:
1 large chicken breast
2 avocados
2 tbsp lime juice
Salt/pepper to taste.
*you can dress this up however you like! Add garlic powder or red pepper flakes, onions, jalapeños. Whatever!
Directions:
Bake chicken breast until well done.
Cut chicken breast into cubes (or shreds).
Mash two avocados in a bowl with lime juice.
Add in cooked chicken and stir.
Eat however you usually eat chicken salad
Dinner
Decontrsucted Chicken Burrito Bowls. (1/2 cup brown rice, cooked. 1/2 cup mix of black and pinto beans, 1 cup shredded chicken, 1/4 cheddar cheese, shredded. 2 tbsp homemade guac)
Spinach & Feta salad. (2 cups spinach, 1/2 cup chopped strawberries, 1/4 cup Feta crumbles (pasteurized), and 1/4 cup Raspberry Walnut vinaigrette.)
Personal pizzas using one Ezekiel 4:9 English muffin, pizza sauce, freshly grated mozzarella, and pepperoni. It was fab! Bake at 350 for 5 minutes to crisp and melt the cheese.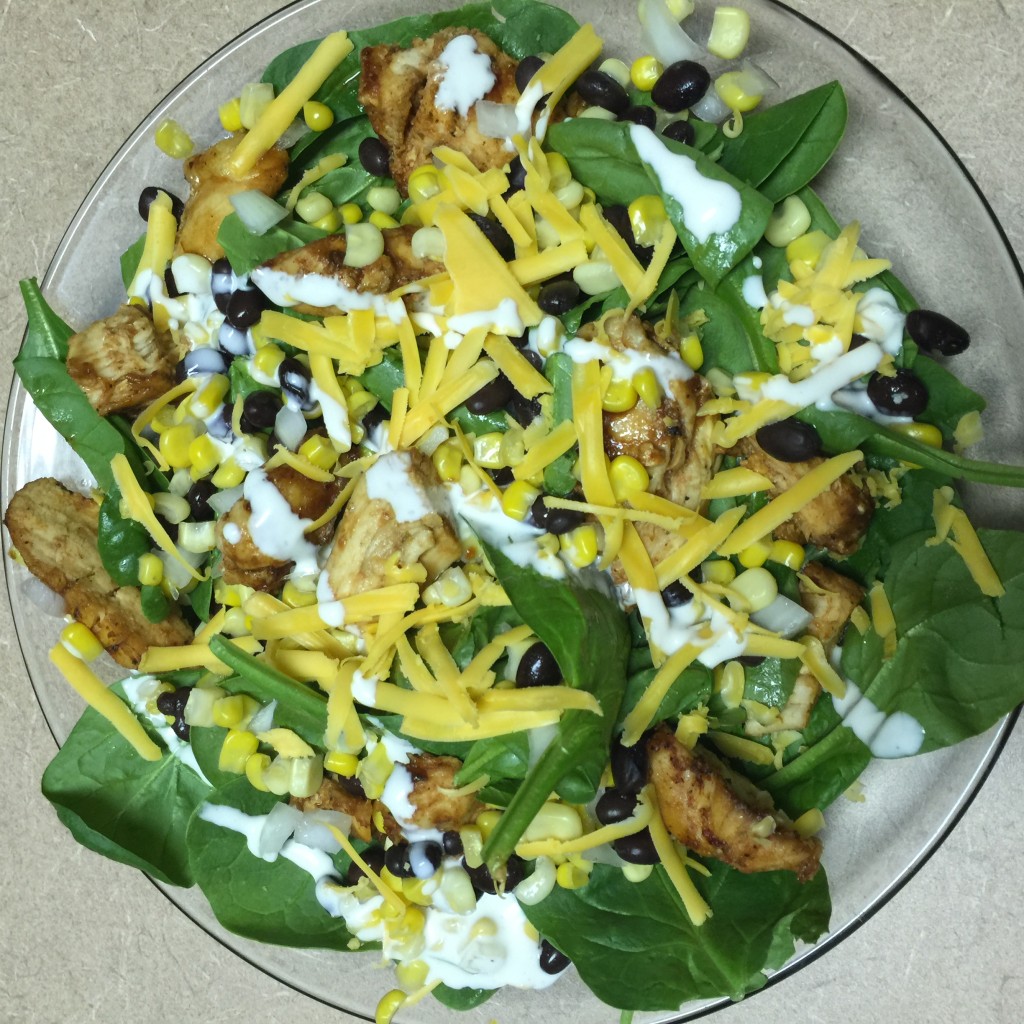 BBQ Chicken Salad with Lime Ranch dressing.
Ingredients:
-2 cups spinach leaves
-1/4 cup shredded cheddar
-1/4 cup black beans
-1/4 cup corn
1 chicken breast, baked in BBQ sauce of your choice
2 tbsp ranch dressing mixed with 1 tbsp fresh lime juice.
One of my all time favorite dinners that my husband and son also love. London Broil paired with sesame garlic green beans and my homemade mac.
Mac'n'Cheese recipe:
-1 blue box barilla noodles (any type you like!)
-1.5 cups of fiesta blend shredded organic cheese
-1/2 cup organic milk
-1 tsp organic butter
-salt/pepper to taste
Another simple favorite of mine is lemon pepper tilapia paired with green beans and couscous.
Snacks
Saw this floating around my grocery store and had to give it a try! This super probiotic drink is basically a drinkable style of yogurt and its sooo yummy and perfect on the go. It also keeps me full!
Delish snack alert when I am craving something sweet! Protein Peanut Butter Fudge Popsicles
All you'll need is:
-a Popsicle mold set
-1/2 cup peanut butter
-1/4 cup protein powder (I used MRMs natural vanilla whey. You can feel free to use my personal discount code SIA at checkout to try any product for 40% off here: http://mrm-usa.com/)
-1 cup full fat Greek yogurt
-1/3 cup coconut milk
-1 tbsp honey
Mix in a blender, pour into the molds, and freeze overnight. I'll usually eat one to cool off after a workout!
??Protein cookie dough??
-1 scoop MRM natural vanilla whey (get 40% off all orders with code SIA at checkout)
-2 tbsp coconut flour
-1/4 cup coconut or almond milk.
-Top with sprinkles or chocolate chips!
Sour patch grapes are amazing if you are craving candy. All you need is one box of Jell-O, grapes, and that is it! Wash the grapes, don't dry them, and roll them around in the mixture. You can freeze them if you want!
The yummiest strawberry protein smoothie ever. I drink this immediately after my workout to refuel and to cool off.
Ingredients:
Easy cookie dough with no guilt. One cup of Chobani plain Greek yogurt, 1 heaping tbsp peanut butter, and a few cacao chips. Stir and freeze for a few.
Protein banana bread with chocolate peanut butter drizzle.
Ingredients:
-1.5 cups coconut flour
-1 cup mashed ripe banana
-1/2 cup melted peanut butter
-1/4 cup MRM vanilla whey
-1 egg
1/2 cup maple syrup or honey
2 tbsp chocolate peanut butter, melted (drizzled topping)
Mix it all together and bake at 350 degrees for 20 minutes. Drizzle PB on top!
Your trainer and friend,