Our Turks and Caicos Honeymoon at Seven Stars Resort
Last week, we got home from our amazing honeymoon in Turks and Caicos. I chose this island because I wanted to try a NEW place that I have never been before and after doing some research, I was intrigued to see these magical waters. Turks and Caicos has many islands but we chose the main island Provodenciales.
We stayed at the Seven Stars Resort on Grace Bay in Provodenciales. Yall… this resort was one of the best I have ever visited-I would NOT recommend staying anywhere else on the islands or Caribbean for that matter.
The flight from Florida was super simple although we had to wake up around 3am. We took two planes-one from Pensacola to Miami, and then Miami to TCI (Turks and Caicos Islands).
When we arrived, we got into our rental car where my husband was caught off guard by the right side driving. In fact on the whole island, you right on the opposite side! So it takes some getting used to.
The first place we went to was Da Conch Shack which is world famous-it was amazing but the views were even better. The conch fritters were geat but I liked the cracked conch better.
After lunch, we were excited to get to the resort. When we arrived, we were greeted warmly and headed straight to our room which was GORGEOUS. We had the most insane view of Grace Bay-even the bathtub window had a window that opened up. Also, just wanted to note here that the bed and pillows are especially comfy-something I have an issue with at most resorts. Therefore we slept amazing!
Our first day was spent taking a dip at the Seven Stars resort beach and trying to find some dinner. We did not realize September was a down season so a lot of restaurants that we wanted to try, such as Coco Bistro, were closed. We went next door to our resort and ate a steakhouse called BLT at the Ritz Carlton-it was divine. We did visit the adult pool and regular pool at Seven Stars Resort and it was rather perfect.
The next day, we ate a complimentary breakfast at Seven which is a fab restaurant at Seven Stars Resort. We actually ate here everyday for breakfast because it was included with our resort stay AND it was so good. They rotated what they had daily and offered a huge buffet style selection so it was a no-brainer to eat here.
After breakfast, we went to the Seven Stars Spa and enjoyed a 50 minute couple's massage by the beach. My husband would NOT stop talking about this massage. It was one of the best he has ever had. I have to agree, it was so calming and they therapists knew what they were doing. You cannot stay at Seven Stars Resort and NOT get a massage! DO IT
After our couple's massage.we headed to our 4k drone photoshoot in a clear kayak with The Looking Glass. This was the most interesting experience and the photos/videos turned out so cool. Apparently its a popular thing to do and something to add to your bucket list for fun memories. Just bring some sunglasses and prepare for your neck to hurt a but from looking up at the drone. They gave us our photos and videos on our phones before we left!
After the photos, we went to eat at Mango Reef Restaurant which was one of my favorite places to eat in Turks and Caicos. We then headed to Smith and Bight reefs to snorkel a bit. For dinner, we tried Baci an Italian restaurant where we had a pizza. We then headed back to Seven Stars resort where we relaxed on The Deck, the resort's casual restaurant and bar by the water, amd watched a little Monday night football.
The next day, it was our day to go on our jet ski adventure with Mako Watersports. We started with breakfast at Seven at the Seven Stars Resort. Then we checked out the resort gym for a few and got to ride a complimentary resort bike to the local supermarket. They also offer complimentary non-motarized watersports and we got to take a ride on one!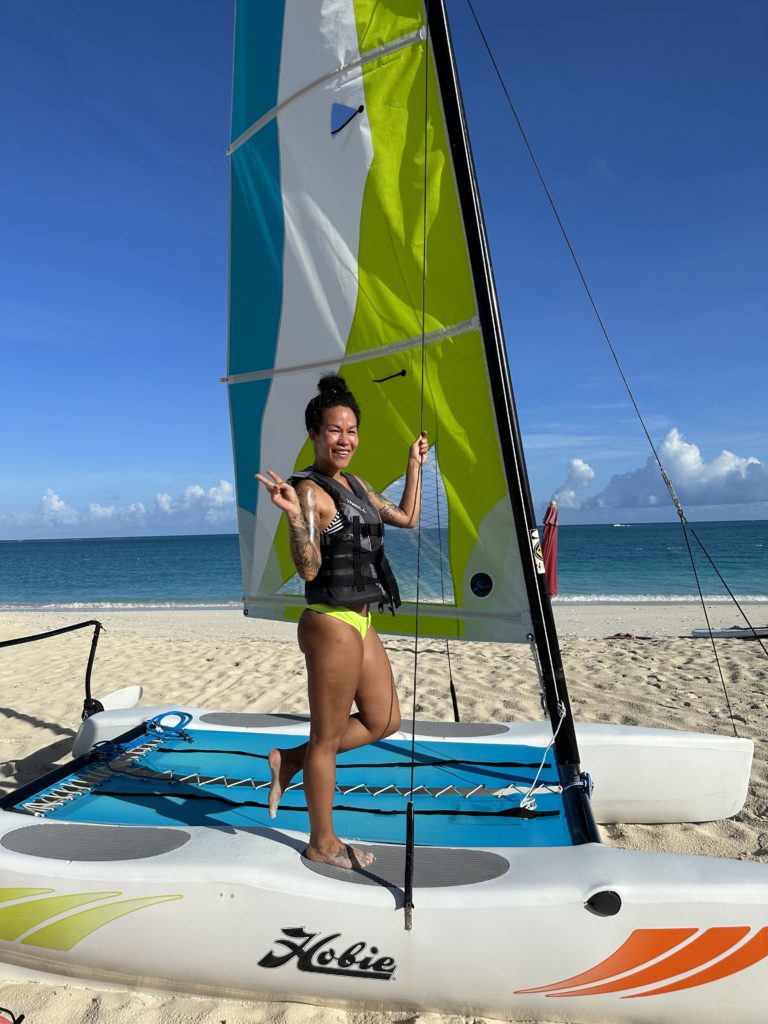 Before our jet ski tour, we wanted to check out the north part of the island and headed to a super secluded beach called Northwest Point where we found the coastline littered with full sized conch shells. This was magical! We headed to Omar's Beach Hut on the Five Cays beach to eat and this was hands down another favorite lunch spot of mine. Lobster was in season so I got the lobster roll and Scotty got the oxtail. They also played good music which made me happy! Below is an image from the view at Omars.
We headed to Mako Watersports at a marina after lunch to prep for our tour and were greeted by our guide. They offer many tours, but we chose a custom 2 hour jet ski tour where we got to visit the La Famille Shipwreck, Half Moon Cay aka "iguana island", and some beautiful spots on the Northern Cay that you cannot get to without boat. The shipwreck was so cool and has apparently been stuck on the water since 2004 due to a hurricane. When we got to the ship, we got to climb up the old ladder-a little sketchy-and then we jumped off-something that most tourists get to do, if they are brave enough!
The iguana island or Half Moon Cay reminded me a lot of the Bahamas iguana island. These were a little smaller and fewer in between, but worth a glance.
Skiing around the North Cay though was super unforgettable. We found a sandbar in the middle of the ocean amongst some other clear banks and cool things. We ended our tour by going to Noah's Ark, a floating bar with snacks and stuff if you are hungry or thirsty. The menu is expensive but its worth a photo at the sign! If you visit Turks and Caicos Islands I highly recommend you check out Mako Watersports for some good photo ops and a fun time that will leave a smile on your face.
We headed back to our resort and ate at Seven-the same place we ate for breakfast. I heard great things about their dinner and wanted to try! It did not disappoint. The resort has quite a few places to eat so you honestly do not have to leave at all if you do not want to. I had the lobster bisque and caesar salad while my husband had the chicken papparadelle mushroom pasta. He was very happy. We headed to The Deck at Seven Stars Resort after dinner and enjoyed the crisp ocean breeze.
The next day was our last full day and our big thing to do was horseback riding at Provo Ponies! I heard that if you visit TCI, you have to ride horses in the water. We woke up and ate breakfast at Seven then headed to the ranch where we met our riding group. We were each assigned a horse based off our riding level. My husband was given the biggest horse and his name was Turtle. Mine was Chino! The experience was super fun and pretty easy to do. I was a little shocked that the horses loved the water so much but it was refreshing and something I will never forget. Add it to your bucket list!
After riding, we went back to lunch at Omar's Beach Hut because it was THAT good. We then rode around a few parts of the island we did not get to see and unexpectedly popped a tire. A really nice local helped us get back on track and we continued onto exploring the south parts of the island. We first went to Taylor Bay Beach which was my #1 favorite spot on the whole island. When I tell you this water is clear and shallow, it is PERFECT and is shallow and clear for most of the bay. You can literally just walk our to the ocean a far way without it getting deep.
We then headed to Sapodilla Bay where the beach was similar to Taylor Bay. We climbed the hill on the side and saw some old shipwreck carvings and then headed back to the resort for our last dinner at The Farm. The Farm was a gem! I am so mad I went on the last night because I would have loved to have eaten there twice. It was on Seven Star Resort's property and such a CUTE place. But what is really cool about this restaurant is that they grow their own food so everything is fresh. I had the lobster tail and it was mouthwatering! After dinner, we sat by the firepit and then played a huge game of chess. If you stay at Seven Stars Resort, please eat here! Even if you dont, just come eat here!
On our last day in Turks and Caicos, we had our last complimentary breakfast at Seven and checked out. On our way out to kill some time before our flight, we headed to Potcake Place K9 Rescue where we got to "adopt a dog" for a day and walk puppies on the beach-something they allow tourists to do. When we got there at open time, there was a line which made me so happy that so many tourists wanted to take time out of their vacation to give back and do something good. We were paired with Felix who was new to the shelter and super timid. We took him to the beach, gave him some snacks and hugs, and off we went. Tourists may adopt dogs to take home from this place as well apparently.We headed to the airport and left the island for home.
The whole honeymoon was incredible with so many memories. I loved exploring a new island with my husband. If you come visit Turks and Caicos Islands and stay on Provodenciales, please stay at Seven Stars Resort. They have everything you need: great food, great spa, great pool, and located on one of the highly voted most prettiest beaches in the world.
Your trainer and friend,