Lifestyle
Our New UPPAbaby Performance Travel System
With my second baby on the way, becoming a mother is a lot easier this time around. For instance, I know what I will need for my baby and what I won't need! This makes the preparation phase a lot easier and less stressful than before.
Before my daughter was to be born, I decided that one thing that I definitely needed this time around was a high quality, durable stroller. Don't get me wrong-I had a jogging stroller the first time around that worked well and I loved it; however, I now needed a stroller that could suit from birth to toddlerhood so the jogging stroller no longer fit this criteria. Another reason for needing a more versatile stroller was due to the fact that I was about to become a mother of two which was a gamechanger! I began my journey of researching the best strollers out there by reading numerous product reviews and more.
Finally, my husband and I decided to try the Performance Travel System from UPPAbaby. After reading all of the remarkable reviews, I couldn't pass it up! I had never heard of the brand UPPAbaby before so I did a little research and found out that the company was created in 2006 by husband and wife team Bob & Lauren Monahan whom had 3 children to inspire their business! Their whole mission was to provide a smart line of strollers and carseats that featured all of the functions and accomodations that new parents need. UPPAbaby is committed to providing customer service that is as exceptional as the company's products and let me tell you, the products truly are exceptional indeed.
Another reason why we chose UPPAbaby is because they give back to families in need by creating the UPPAbaby Gives Back program by providing funds, services, and high quality and essential products to families who need it the most. UPPAbaby has also partnered with The TODAY Show for their Holiday Toy Drive for the last 5 years and counting and as of 2015 they have donated more than one million dollars in strollers and car seats to families nationwide.
The UPPAbaby Performance Travel System is basically two products in one and features the VISTA stroller paired with the MESA carseat. They fit together in perfect harmony as there's no need for any adapters as it is a direct attachment.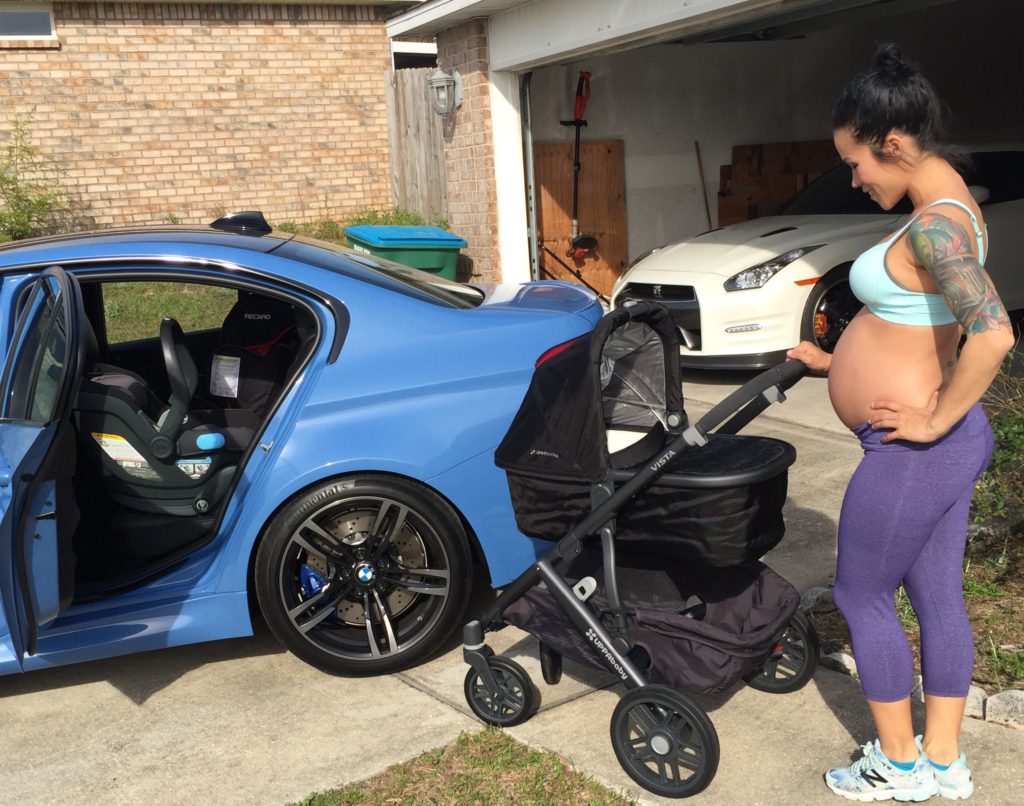 The VISTA stroller has so many features, it is mind blowing:
First of all, it fits newborns all the way up to 50lbs.
It features a detachable bassinet that also comes along with it to make strolling a sleeping infant a lot easier. The bassinet is also safe for your baby to sleep in as it has been tested to overnight sleep standards and it comes right off the stroller easily when you need to detach it.
Features an adjustable canopy, an SPF 50+ sunshade, and an XL basket for storage. The basket is large enough to put all of your shopping bags from a quick trip.
Has a one-button telescopic height adjustment which is perfect since I am 5 foot 3 and my husband is 6 foot 2!
Features a reversible toddler seat with multi-position toddler seat recline.
Super durable and lightweight for its size thanks to the aluminum and magnesium stroller frame.
Another amazing thing that the VISTA stroller has to offer is the multiple seat configurations to meet your needs as a growing family. For example, this stroller can accomodate two MESA carseats, two bassinets, or two toddler seats at once! Hellooooo mothers of multiples! There's also an option that you can grab that allows a 3rd child to ride safely on the back of the stroller as you push using the PiggyBack Ride Along Board.
The MESA carseat is also equally as superior as it also has some amazing features:
Fits infants 4-35lbs
Weighs just under 10lbs
5 star rating from NHTSA
Softer, breathable and moisture-wicking material on the adjustable headrest, harness covers and infant insert keeps baby cool and comfortable.
Unique no-rethread five point harness eliminates the need to take apart the harness system as baby grows, providing reassurance the harness is installed correctly each time.
Adjustable headrest is reinforced with EPP foam providing added protection for your child. The integrated design keeps an infants head stationary during a side impact collision, resulting in up to 4X better test scores than other premium infant car seat brands.
Can be paired with the VISTA or CRUZ stroller
Possibly my favorite thing about the MESA carseat that my husband and I just love is that it features the SmartSecure System. This carseat is the only infant car seat with a unique technology utilizing a tightness indicator and self-retracting LATCH connectors for fast, accurate and easy installation. An indicator window changes from red to green for visual confirmation the base has been installed correctly every time. This ease of installation is one contributing factor for MESA's NHSTA 5 star rating. Pretty cool, huh?
Since my little girl is not quite yet here, we decided to take the VISTA stroller out for a spin to test it out with our toddler. Our thoughts? Hands down the best stroller we have ever used! The wheels and shocks make the stroller so easy to manuever and roll around-even from one terrain to another. My 2 year old son thoroughly enjoyed being able to sit up and hold onto the bar. My husband and I took turns strolling during our shopping trip and it was very simple to adjust the handlebar to best suit our height differences. Everything about this stroller screamed high performance and great quality.
Needless to say, I cannot wait to update you guys on how the stroller goes once my little girl gets here! I know it will be simply amazing. Stay tuned!
Your trainer and friend,