Our Family Staycation at The Island Fl
This summer, I decided to take my first staycation. What is a staycation, you might ask? It is a vacation where you basically stay where you are from. We live around the Destin, Florida area so we chose to stay at The Island in Fort Walton Beach on Okaloosa Island. Why did we chose The Island? It was newly rennovated back in 2018 and it just so happens to be one of the first resorts built on the island-how cool is that?
We arrived Friday night after I picked up the kiddos from their dad. We drove straight to the resort and checked into our room. Our room was light and airy with a beautiful photo wall of the beach itself, including a balcony that overlooked the Gulf. Ugh, what a sight to wake up to! It was a gorgeous room with a beachy vibe.
We headed straight to dinner at The Fish House, one of The Island's on site restaurants. The first night, I got the steak with mushrooms and broccolini-it was divine. You have no idea how excited I was to find a menu with broccolini (I am slightly obsessed). After dinner, we took a night dip at the Grotto pool and listened to karaeoke.
The next morning, we ate the breakfast buffer at the Fish House. I highly recommend this because the omelet station was the best and so was the omelette maker! You picked all of your toppings and he would sautee them separately before putting it all together. I wish I would have snapped a photo! After our breakfast, we rented a couple of beach chairs with an umbrella on The Island's private beach. Yep, you can walk straight out onto the beach anytime! Out there, there is a food truck, cornhole, green lawn, and the Tide Bar.
After the beach, we headed to the grotto pool. Now, I have to say that this pool makes the perfect photo op. Inside the pool, there is a swim up bar hidden inside for the adults. The coolest part of the pool (besides the looks of it of course)? There is a MERMAID!!!!! She comes ever so often to take photos with the kids and hangout. She even does birthday parties! There was also a dj and free popsicles for the kids.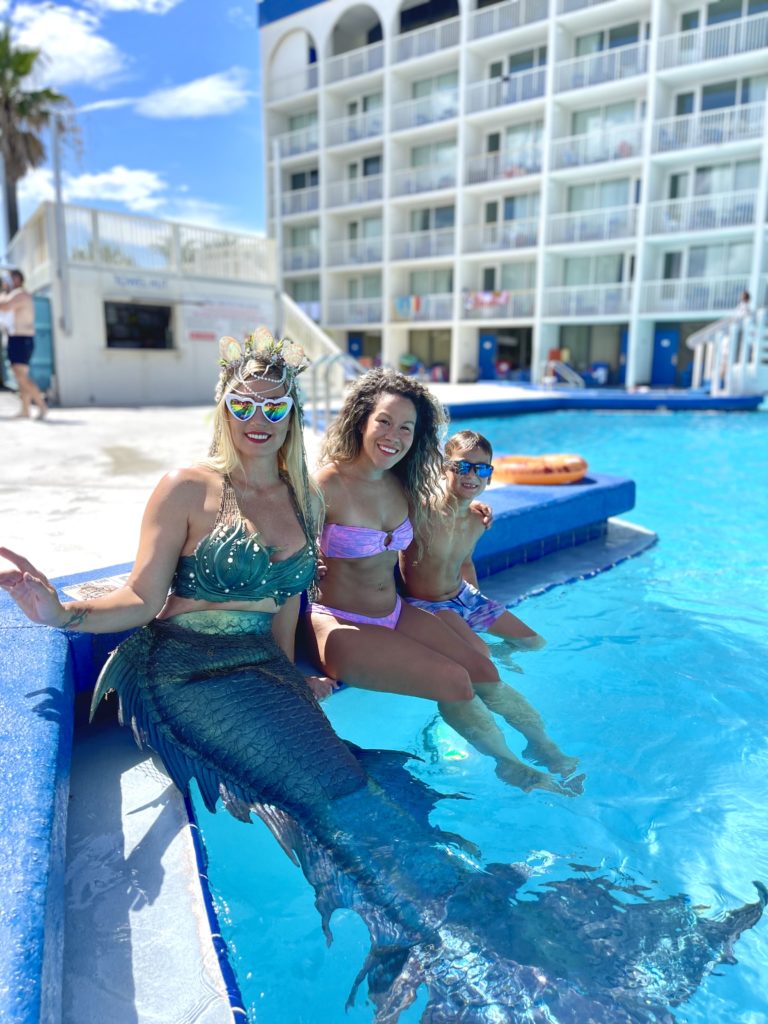 Overall the pool was probably our favorite thing about the resort (besides the good food). The Island FL was such a family friendly place to go on a staycation with our family. If you are in the Fort Walton or Destin Florida areas, I highly recommend staying here. You never have to leave the resort here-you will have everything you need,
You can book your vacation and check out the resort by clicking here.
Your trainer and friend,