Diet
No-Bake Protein Brownie Bites
Disclaimer: This post was sponsored by Pure Protein. All opinions are my very own.
Who else gets incredibly hangry after a workout? This girl does!
That is why I always keep my pantry and kitchen stocked with healthy post-workout treats to eat as soon as I get done working up a sweat! The best way to keep on track is to think ahead and plan your snacks out.
One of my favorite post-workout recipes is for No-Bake Protein Brownie Bites. They are absolutely heavenly and tastes almost as if you were eating brownies-without the guilt! I will usually eat 2 or 3 bites as a snack or right before bedtime when I am craving something sweet.
For this particular recipe, I enjoy using Pure Protein 100% Whey Protein Powder in Rich Chocolate. Each 170 calorie scoop contains 25 grams of protein along with just 2 grams of sugar! It tastes amazing and really adds to the chocolate, brownie-like flavor.
Ingredients
1/4 cup whole wheat flour
1/4 cup cocoa powder
2 tbsp. peanut butter
2 tbsp. almond milk (I used chocolate flavored almond milk)
3 tbsp. honey
Directions
In a medium sized mixing bowl, add in the dry ingredients-the protein powder, flour, and cocoa powder.
Now, you will begin adding your wet ingredients so you may go ahead and add the peanut butter, honey, and almond milk.
Go ahead and mix the ingredients well and store in the refrigerator for 30 minutes.
Take the now cold mixture out and start forming the mixture into ping pong sized bites.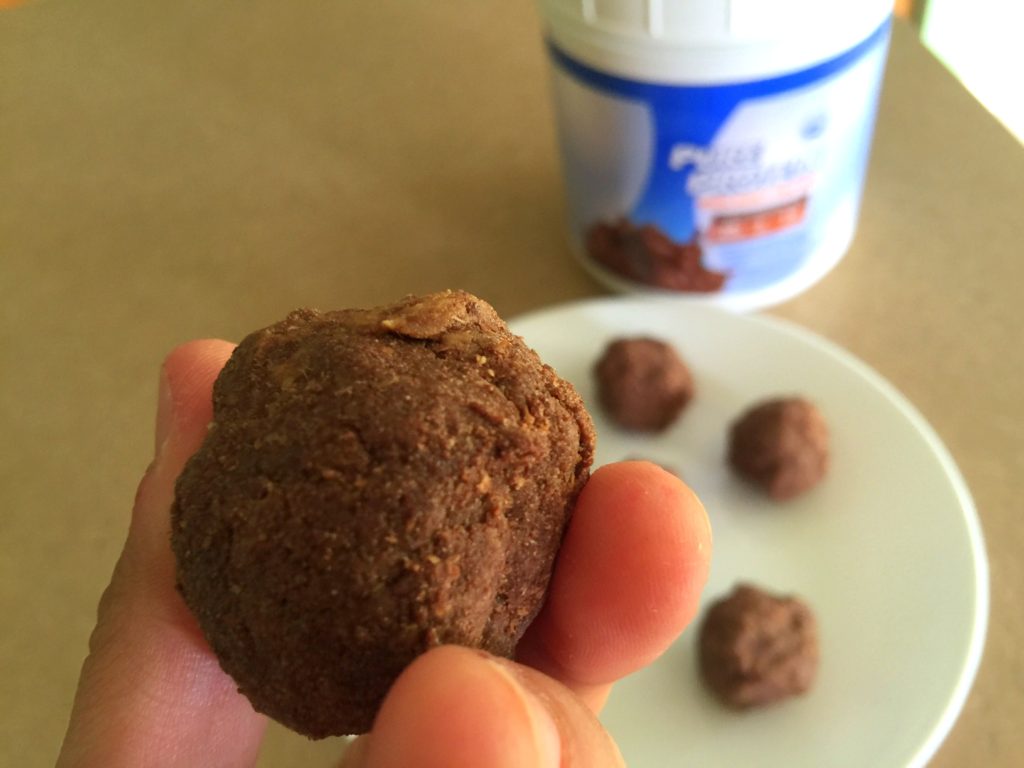 Store in an air tight container for up to 5 days in the refrigerator.
What is your favorite protein snack?
Your trainer and friend,