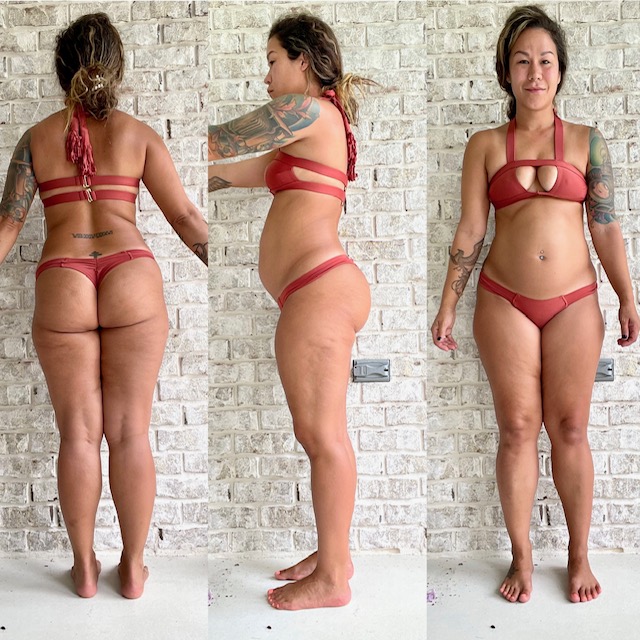 Diet
I Survived My First Week on the Keto Diet
I DID IT! I survived my first week on the keto diet… and it wasnt easy.
For those of you who are unaware, the keto diet is basically a low carb high fat diet in which you consume less than 20 grams of carbohydrates per day. The point of the keto diet is to put your body into ketosis (by eating as little carbs as possible) so that you body switches from burning carbs to buring your stored fat instead. When this happens, your body becomes incredibly efficient at burning fat for energy. It also turns fat into ketones in the liver, which can supply energy for the brain
I have been asked a lot lately why the keto diet? I chose to do the keto diet because I have noticed over the year that my body does well on low carb and is not a fan of carbohydrate overload. Also, as I turned 30, I noticed my weight gaining slightly and there is not much I could do for it. However, eating and drinking like crap (calorie overload) was not helping either. I knew I had to make a drastic commitment in order to shock my metabolism to get things back on track. This is just a temorary thing-I love carbs and I feel they are essential! However, some do stay on the keto diet permenantly and love it due to the benefits.
I did a bit of intermittent fasting which brought me down from 150lbs to 144lbs roughly. Now after one week of keto, I am 139lbs, which is most likely water weight. I still do intermittent fasting or IF most days since I am not a huge breakfast person and that helps a LOT with getting into ketosis.
Here are my before photos at 150lbs before doing intermittent fasting and Keto. No flexing, relaxed. I took a TON. Its hard sharing these because after all I am supposed to be "Diary of a FIT Mommy" and due to stress and terrible eating the last year, I haven't felt super "fit" at all. And this is why I am breaking up with carbs… for now.
My goals? TO FEEL BETER. To have MORE energy. To lose the afternoon slump. To have more mental awareness. And yes, to lose weight. GASP! I said it. I want my clothes to fit again. I do not have a set pound or weight in mind, but I will just go with the flow.
Benefits of the keto diet:
weightloss
acne improves
gives you more physical energy
gives you more mental energy
may improve heart health
may protect brain function
potentially reduces seizures
improves PCOS symptoms
So how do I eat? It is simple, yet very hard to do! I mean, there are carbs in everything. I have not had a lot of time to get creative this week so I have been eating pretty plain.. especially for breakfast until I learn some cool new tricks! Apparently there are keto pancakes recipes out there?
My typical meals look like the following:
Breakfasts
Egg and sausage/bacon muffins with spinach, onions, and cheddar
Bacon, eggs, avocado
Sausage and cheese egg "biscuits"
Lunches
Salmon salad with avocado
Deli meat, cheese, lettuce roll ups
Bunless cheeseburger on lettuce with onion and pickle
Ground beef stuffed bell peppers
Tuna salad stuffed avocado
Dinners
Steak with asparagus
Chicken breast with broccoli salad (recipe on this page)
Greek salad with chicken and avocado (no olives or tomatoes)
Asian chicken lettuce wraps
Crab legs + garden salad (no tomatoes) with ranch dressing
Snacks
Berries + whipped cream (they make a keto reddi whip now!)
Keto yogurt
Boiled eggs
Beef jerky
Ranch + carrots
Pepperoni slices + cheese cubes
Baked cheese crisps
Dark chocolate
So what can I eat on the keto diet?
Good examples of carb keto diet foods:
Tomatoes
Eggplant
Asparagus
Broccoli
Cauliflower
Spinach
Green Beans
Cucumber
Bell peppers
Kale
Zucchini
Celery
Brussels sprouts
Good examples of protein keto diet foods:
Chicken, dark meat if possible
Turkey, dark meat if possible
Venison
Beef
Salmon
Sardines
Tuna
Shrimp
Pork
Lamb
Eggs
Natural cheeses
Unsweetened, whole milk plain Greek yogurt
Whole milk ricotta cheese
Good examples of fat keto diet foods:
Olive oil
Avocado oil
Olives
Avocados
Flaxseeds
Chia seeds
Pumpkin seeds
Sesame seeds
Hemp hearts
Coconuts
Nuts
Natural, no-sugar-added nut butters
What to avoid?
Here are some general foods that will kick you out of ketosis:
Beans, peas, lentils, and peanuts
Grains, such as rice, pasta, and oatmeal
Low-fat dairy products
Added sugars and sweeteners
Sugary beverages, including juice and soda
Traditional snack foods, such as potato chips, pretzels, and crackers
Most fruits, except for lemons, limes, tomatoes, and small portions of berries
Starchy vegetables, including corn, potatoes, and peas
Trans fats, such as margarine or other hydrogentated fats
Most alcohols, including wine, beer, and sweetened cocktails
What about macros?
CARB MACROS: Most keto dieters aim to eat between 20 to 50 grams of carbs per day to maintain that ketone-burning state called "ketosis." Roughly, this can translate into your macrobs for carbohydrates only being 5%-10% of your daily intake which as you guessed it isnt a whole lot! You should aim to score your carbs from high-fiber, water-rich fruits and vegetables to naturally boost hydration and keep your digestive system humming along.
PROTEIN MACROS: Shoot for around 15% of calories from high-fat protein sources. This could mean between 10%-20% of your daily macros coming from protein alone. Remember, this is a high fat diet, not necessarily a high protein diet.
FAT MACROS: Here's where the bulk of your intake comes into play. Several studies have shown that a higher-fat diet can reduce cravings and levels of appetite-stimulating hormones ghrelin and insulin. Your macro percentage for fats should be between 70%-80% of your total intake.
What about sugar alcohols and fiber?
Something that I learned while doing the keto diet was that you are allowed to subtract sugar alcohols and fiber from your net carbs that you are allowed per day. Some people (those who are SUPER strict) will actually add these in but since I am not wanting to go that route, most people like myself do not count those things. It adds for a bit of flexibility.
Given that sugar alcohols have a much less significant effect on blood sugar levels, they're commonly found in keto-friendly products. Furthermore, since they aren't fully digestible, keto dieters often subtract the sugar alcohols and fiber from the total number of carbs in a food item.
The following chart has been so useful to me.
Keto Broccoli Salad
As promised, here is a new recipe I tried over the weekend that was a HIT! My best friend made steak and I made this keto diet friendly dish as a side.
Ingredients:
2 heads broccoli, chopped
1/2 red onion, chopped
4 oz sharp cheddar cheese (or more if you'd like)
1/2 lemon juiced
1/2 cup Mayo
1/2 cup sour cream
1 ranch seasoning packet
8 slices bacon, cooked crispy and crumbled
1/2 cup pecans, sprayed with cooking spray and roasted for a few minutes
Directions;
Add broccoli, onions, & cheese into a mixing bowl or serving dish.
Create dressing by adding lemon juice, sour cream, Mayo, and ranch. I added some salt and pepper to this.
Pour dressing over salad.
Add bacon bits and pecans.
Toss and serve!
The options are endless! You can even add walnuts or sunflower seeds and ham cubes too. Serve with chicken, fish, beef, or enjoy alone.
I will keep you all updated on how the keto diet goes. Again, this is just temporary because I love carbs and I do not want to live this way for forever. But I felt the need to step back and learn how to choose better carbs for my journey! Plus I do enjoy a lower carb diet and will continue with that, but of course eating more than 20 grams per day!! Thank you all.
Your trainer and friend,