Workout Videos
How to Lift Your Booty In 5 Minutes {At Home}
Are you ready to give yourself a booty lift in just 5 minutes???
No, silly! You won't magically "get a booty" in 5 minutes! However, by doing these 5 key booty moves below, several times a week, in a few weeks you should start seeing a difference in the perkiness of your butt.
Before, we get to the moves, let's talk booty anatomy for a minute. In order to take your booty from flat to full, you will need to work all 3 muscles associated with your buttocks:
The Gluteus Maximus
The Gluteus Medius
The Gluteus Minimus
Here is a fun little workout that you can do in addition to my 12 week home workout! The workout that I have put together for you will work each and every muscle seen here to develope your bigger, perkier, and rounder booty.
Also, be sure to follow me on Instagram for free recipes, diet tips, workout videos, and motivation.
Hold up-one more thing. Let's talk proper dieting. One of the biggest things to remember is that your ass is MUSCLE.
To feed muscle growth, you must consume enough:
If you are working out hardcore to build your butt (like you should), then you enough calories and proteins are essential for muscle repair. If you are working out on a regular basis, you have to constantly fight to not lose your muscle because if you exercise too much without refueling your body properly, you will get skinnier or leaner-and your butt might get smaller.
Here is a sample diet plan example to use a reference (aim for 6 meals daily):
Breakfast: 5 egg whites, 1 piece of Ezekiel bread, and 1/2 grapefruit
Snack: protein shake or a cup of full fat Greek yogurt and berries
Lunch: 1 grilled skinless, boneless chicken breast over a bed of spinach, topped with unlimited veggies of you choice with 2 tbsp of balsamic vinegrette
Snack: 2 tbsp all natural nut butter of your choice with 1 slice Ezekiel bread
Dinner: 1 salmon filet, 1/2 cup quinoa, a side of asparagus
Snack: protein shake or 3 tbsp cottage cheese with a few berries
So, what are the moves? Here are my top 5 booty workouts:
Glute Bridge Pulses
One Legged Glute Extension
Plank w/Leg Raises
Donkey Kicks
Quadruped Side Hip Extension
Here is a full length video demonstrating each move for you as well as the reps and sets for each move:
Want to build a better body in just 12 weeks?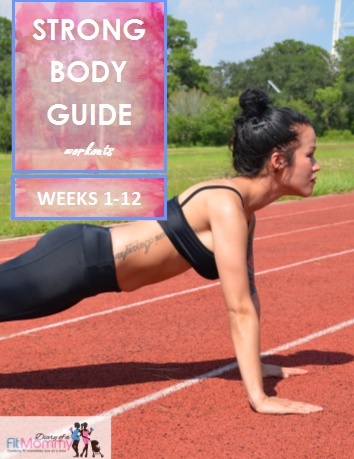 Welcome to the Strong Body Guide.
In this guide, you can expect:
– ✅ 12 weeks of workouts that can be done at home with little to no equipment.
– ✅ 225 pages long
– ✅ Each workout takes less than 30 minutes-great for busy schedules.
– ✅ step by step instructional picture examples of every move
– ✅ no gym required
– ✅ exercises focus on hiit, strength training, and plymetrics
– ✅ download on any device
– ✅ build a lean tone stomach, butt, thighs, and arms
– ✅ download instantly from anywhere
– ✅ promote fat loss & boost metabolism
– ✅ contains cardio and stretching routines as well!
– ✅ full exercise glossary with images and instructions for every move
*All guides are digital ebooks available instantly worldwide. Compatible on all devices – Android, iPhone, iPad, Kindle, Nook, Computer, Mac.
Your trainer and friend,