Postpartum
How I Lost My Baby Weight (And How You Can, Too!)
It has been about a month since I gave birth to my second baby and I cannot believe how fast time has gone by. Even more surprising is the fact that I have been able to bounce back so swiftly. Thanks to keeping fit during pregnancy using my prenatal home workout program, bouncing back was a lot easier than the first time around.
Since this was my second time being postpartum, I have learned a few tricks to getting your body back in no time. Some of these are no-brainers, but people still fail to abide by them! If you put in the work and effort-you WILL see results, people. That is a fact.
Here's how I lost my baby weight (and how you can, too!):
Wear a postpartum girdle and hip girdle. Postpartum girdles can aid in back support, help with muscle memory, provide support during breastfeeding, and decrease pressure on the back and legs. True abdominal compression wraps also speed up the recovery process after C-section surgery and aid in repairing Diastasis Recti or the condition in which your two abdominal halves split apart during pregnancy. The Belly Bandit BFF postpartum girdle helps to compress my uterus back down to its original size (sometimes even smaller!) while the Hip Bandit compresses my hips back down as well. Wearing these aids your muscle memory and makes it easier to bounce back for this very reason. It is best to take advantage of these products as soon as you deliver while the pregnancy hormone Relaxin is still in your bloodstream. This will allow your body to shrink back down since it's so flexible during this time.
Find a workout plan & diet plan. The main thing that is going to jumpstart your weightloss after pregnancy is finding a good plan that not only is doable, but best suits your lifestyle. If you have a plan, you are less likely to procrastinate or to fall off the weightloss wagon! I have created a workout and diet plan based off of my own secrets to losing the baby weight after pregnancy. My 12 week home workout and clean eating meal plan bundle is not only affordable, it is easy to do-no gym needed!
If you cannot make it to a gym and need to workout from home, try my new Strong Body Guide that is helping busy women worldwide get into their best shape ever. Little to no equipment needed for most moves!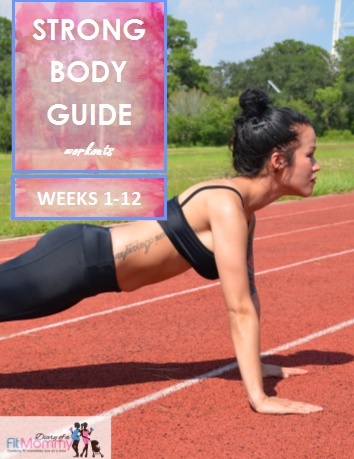 Buy now
In this guide, you can expect:
– ✅ 12 weeks of workouts that can be done at home with little to no equipment.
– ✅ 225 pages long
– ✅ Each workout takes less than 30 minutes-great for busy schedules.
– ✅ step by step instructional picture examples of every move
– ✅ no gym required
– ✅ exercises focus on hiit, strength training, and plymetrics
– ✅ download on any device
– ✅ build a lean tone stomach, butt, thighs, and arms
– ✅ download instantly from anywhere
– ✅ promote fat loss & boost metabolism
– ✅ contains cardio and stretching routines as well!
– ✅ full exercise glossary with images and instructions for every move
*All guides are digital ebooks available instantly worldwide. Compatible on all devices – Android, iPhone, iPad, Kindle, Nook, Computer, Mac.
Wear your baby. Wearing your baby is a great way to get a workout in without even realizing it! Can you imagine carrying an extra 5lbs to 30lbs around with you wherever you go? I wear both my newborn and toddler constantly and it helps stabilize my core while burning extra calories. Plus, you get to bond with baby, save space, and leave the bulky strollers at home. My favorite carrier is the Complete Embossed from Lillebaby. I actually own 3 Lillebaby carriers now and will be getting a fourth here shortly! I have tried many different brands and this one is by far my favorite.
Drink lots of water. I am sure you have heard by now that drinking water is EVERYTHING. It controls everything in your body as well as your weightloss. How? It is a natural appetite suppressant and it regulates your metabolism. Don't like the taste of water? No worries-I feel you!  Try adding sliced fruit to your water such as pineapple or strawberries for natural flavor. I have one of these water tracker bottles and they are so fun to use. They also truly do help keep you on track with how much water you are actually drinking per day.
Lastly…..
Do not buy bigger clothes. Seriously, this is a trap! Hold onto your pre-baby clothes or buy some new smaller clothing for post-baby motivation. By purchasing bigger clothes, you will get more comfortable and thus you will not be as likely to reach your goals of dropping the baby weight. Not to mention, baggy clothes hides excess weight!
Get help. It is ok if you cannot do it on your own-that is why I am here! Use a personal trainer to help nudge you along the way and to provide all of the tools you will need for dropping the baby weight. Also, remember to seek support in a friend, family member, or even your spouse. Support goes a long way and can really make or break your motivation!
Make it a lifestyle. Do not think of it as a diet or a temporary habit. Think of dropping the weight and keeping it off-for good. To keep it off, you must continue living the healthy lifestyle you have chosen to see those pounds shed. Keep up your workout routines and clean eating habits, keep finding ways to get motivated, learn new recipes, and enjoy this new healthy life and you will go far!
Your trainer and friend,