Diet
Here's Why Wholey Cheese! is the Perfect Snack!
Disclosure: This post was sponsored by Wholey Cheese! through their partnership with POPSUGAR. While I was compensated to write a post about Wholey Cheese!, all opinions are my own.
I am a snack-a-holic. When I get hungry, I tend to graze rather than sit down to eat a full meal. It is just how I am and I know that I am not alone! As a busy mom, we struggle to find time to enjoy a meal for ourselves throughout the day and sometimes our meals are often toddler leftovers or eating while multitasking. This is exactly why I have been known to lock myself into a room to enjoy a little bit of goodness when I do not want to share with anyone!
I learned something super important throughout my fitness journey that I wanted to share with you all and it is something that I do on a daily basis. To stay on track with my health, I always make sure that I stock my pantry and refrigerator with healthy, tasty snacks. This is my favorite fitness tip because the unhealthy food isn't there-I cannot eat it! Brilliant, right??
My favorite snack lately has been Wholey Cheese!. As a cheese and cracker lover, I enjoy how this snack is two in one. I also really like that these crackers are made with real cheese! They are light & crispy and practically melt in your mouth. Our favorite flavor is the Smoked Gouda though they come in Mild Cheddar and Swiss & Black Pepper.
This snack satisfies my chips and crackers craving and I love dipping them in salsa or queso! There is something so fluffy and light about them. I can also imagine them going well on a cheese & meat platter served with red wine at a party.  They only cost $3.69 for a 5 oz. package!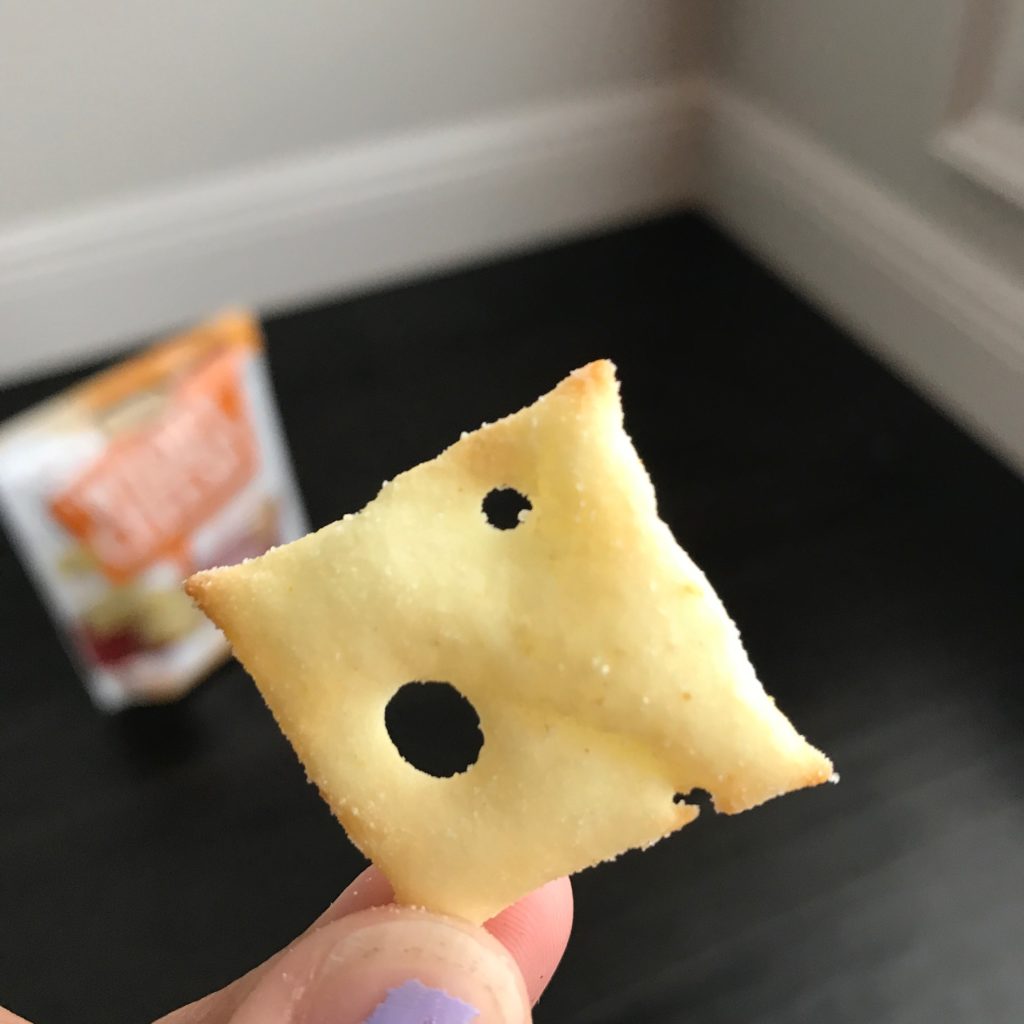 Another thing I love about these is that they are baked. I am not much into "greasy" snacks, so it is good to know they are not fried – simply baked. This means that Wholey Cheese! crackers contain 28% less fat than the leading brand of cheese crackers. They are also Gluten Free and contain zero preservatives – wooo hooo! It is nice to know that I can snack on these without breaking my diet.
Another win? My kids love them! Instead of giving them a greasier option such as chips, we take our Wholey Cheese! on the go when hunger strikes or keep them handy when my toddlers want "just a little bit more" after dinner.
Have you tried Wholey Cheese!? What is your favorite flavor?
Your trainer and friend,