Diet
Healthy 6 Week Postpartum Diet Plan for Breastfeeding
I cannot believe it has been a month since I had my little girl! I have been asked for the last few weeks to share what I've been eating during this time while I cannot lift weights and hit the gym hard so I decided to do a post on my postpartum diet plan with you all.
Since I am still recovering slightly, I have been focusing on clean eating and the results have been amazing. In the first two weeks, I dropped all of my baby weight.
At one month postpartum, my body is still soft and not what it used to be, but with time I will be back in the grind! I have been eating 5 meals per day-sometimes 6-consisting of 3 main meals and 2-3 snacks. I am breastfeeding two kids so sometimes I need that extra bedtime snack! HA!
The diet plan that I am currently on is my Eat Clean, Get Lean 4 week meal plan which is safe and friendly for breastfeeding mommies. It comes with nutrition tips as well as complete and separate grocery lists for each week! I literally take out all of the planning for you to make it stress-free and easy to eat clean.
I will share with you a two-day sample from the plan and what I have been eating for almost 6 weeks now:
Week One: Monday
Breakfast: Banana Nut Oatmeal
1/2 c. quick oats
1 c. almond milk
1/2 ripe banana
10 walnut or pecan pieces
Mid-Morning Snack: PB Rice Cakes
2 slightly salted rice cakes
1 tbsp. peanut butter
Lunch: Chicken-Avocado Salad Sandwich
1 chicken breast, baked
1 avocado
salt/pepper
Mid-Noon Snack: Edamame
1 bag frozen edamame
sea salt
Dinner: Lemon Garlic Tilapia
1 tilapia filet, thawed
juice of 1/2 lemon
1/2 tsp. garlic powder
1/2 cup brown rice
1 cup broccoli florets
Week One: Tuesday
Breakfast: Berry Granola Parfait
1/2 c. Greek yogurt
4 strawberries, sliced
10 blueberries
1/2 c. granola
Mid-Morning Snack: PB Banana Toast
1 slice whole grain bread
1 tbsp. peanut butter
1/2 banana sliced
1 tsp. honey
Lunch: Chicken Wrap
1 whole wheat wrap
1 small handful diced tomato
1/2 cup chopped cucumber
leafy greens
4 oz. chopped chicken breast, baked
1 tsp olive oil
1 tsp balsamic vinegar
Mid-Noon Snack: PB Greek Yogurt Dip
1/2 c. Greek yogurt
1 tbsp. peanut butter
1 apple, sliced
Dinner: Garlic Pork Chops
1 pork chop, bone in, thin
1 tsp. garlic powder
1 tsp. olive oil
salt/pepper
1 sweet potato
1 cup fresh green beans
This is the gist of the meal plan! As you can see, the recipes are very simple and highly easy and affordable to follow-no weird ingredients or foods that you have to travel to a whole foods store to grab. I have used this very same meal plan following the birth of my first baby and it is tried and true! I hope you all enjoy it and if you like it, try the complete 4 week meal plan.
If you cannot make it to a gym and need to workout from home, try my new Strong Body Guide that is helping busy women worldwide get into their best shape ever. Little to no equipment needed for most moves!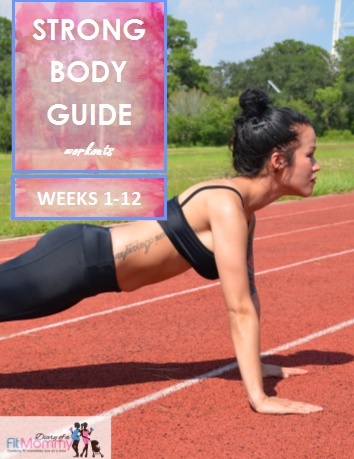 Buy now
In this guide, you can expect:
– ✅ 12 weeks of workouts that can be done at home with little to no equipment.
– ✅ 225 pages long
– ✅ Each workout takes less than 30 minutes-great for busy schedules.
– ✅ step by step instructional picture examples of every move
– ✅ no gym required
– ✅ exercises focus on hiit, strength training, and plymetrics
– ✅ download on any device
– ✅ build a lean tone stomach, butt, thighs, and arms
– ✅ download instantly from anywhere
– ✅ promote fat loss & boost metabolism
– ✅ contains cardio and stretching routines as well!
– ✅ full exercise glossary with images and instructions for every move
*All guides are digital ebooks available instantly worldwide. Compatible on all devices – Android, iPhone, iPad, Kindle, Nook, Computer, Mac.
Your trainer and friend,