Workout Challenges
Grow a Booty at Home | Glute Isolation Workout for Instant Results
"What?? Instant results?? Sia you are talking craziness now!" I know this is what you are thinking based off of the title of this blog post. Let me explain.
Pump It Up!
Glute pumps are a real thing. When you think about it, it is all down to science. When you train a body part via an isolation technique, blood rushed to that muscle during training. Think higher volume/higher reps which puts more of a metabolic stress on your muscles which forces a lot of blood in there. In turn, this causes the muscles (at a cellular level) to swell and you may feel a burning sensation. Helllooooo pump!
Sadly though, pumps are a temporary sensation and won't last long so enjoy it while you can! However, the long term benefits of working your glutes are what you should aim for anyway-the long term growth and strength you will gain from performing these exercises will pay off down the road moreso than any 15 minute pump you'll acheive.
Glute Isolation Workout
Now, it is time to isolate those glutes and build a booty straight from home! "Isolate? Why? What is that?" Glad you asked! Most ladies believe that squats and lunges are the best moves to grow a booty, but this is not always the case. Moves such as squats and lunges target multiple muscle groups-not just the glutes.
To truly build upon your glutes and get the most out of them, you need to perform moves that work them alone-without the other muscle groups. Hence, the term isolation.
THE PLAN: Perform the following moves for 15 reps with 3 sets total. Aim for 1-2 days per week for this workout.
HIP THRUSTS:
SINGLE LEG GLUTE BRIDGES:
ELEVATED GLUTE BRIDGES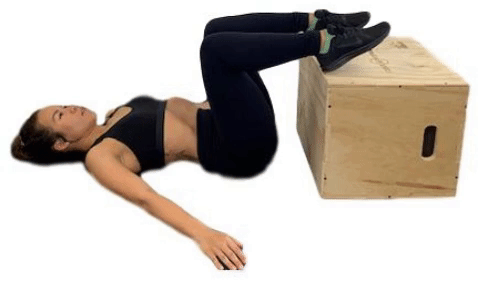 SINGLE LEG HIP THRUSTS
PRONE LEG LIFTS:

BOX STEP UPS:
Need more of a fun daily workout routine? Be sure to check out my Strong Body Guide: 12 Week Home Workout Program which only requires 2 dumbbells and features a FREE support group! Meal plan is also available.
Your trainer and friend,