Diet
Falling Back Into Fitness With Pure Protein
This is a sponsored conversation written by me on behalf of Pure Protein. The opinions and text are all mine.
Disclaimer: This post is sponsored by Pure Protein. All opinions are my very own.
Happy fall, y'all!
Who's ready for some cooler weather? With cooler weather comes the holidays and with the holidays comes… tempting and ever so yummy food! It is no secret that weight gain happens in the colder months because everyone tends to overindulge with family and friends on special occasions. Also, the colder weather makes you want to stay inside and move less!
Whether it be settling into a new school year, going back to work after vacation, or gearing up for the holiday season, I have a few tips to set you up for success to "fall" back into your healthy routine. Use this time wisely to create your new body for summer and reap the benefits!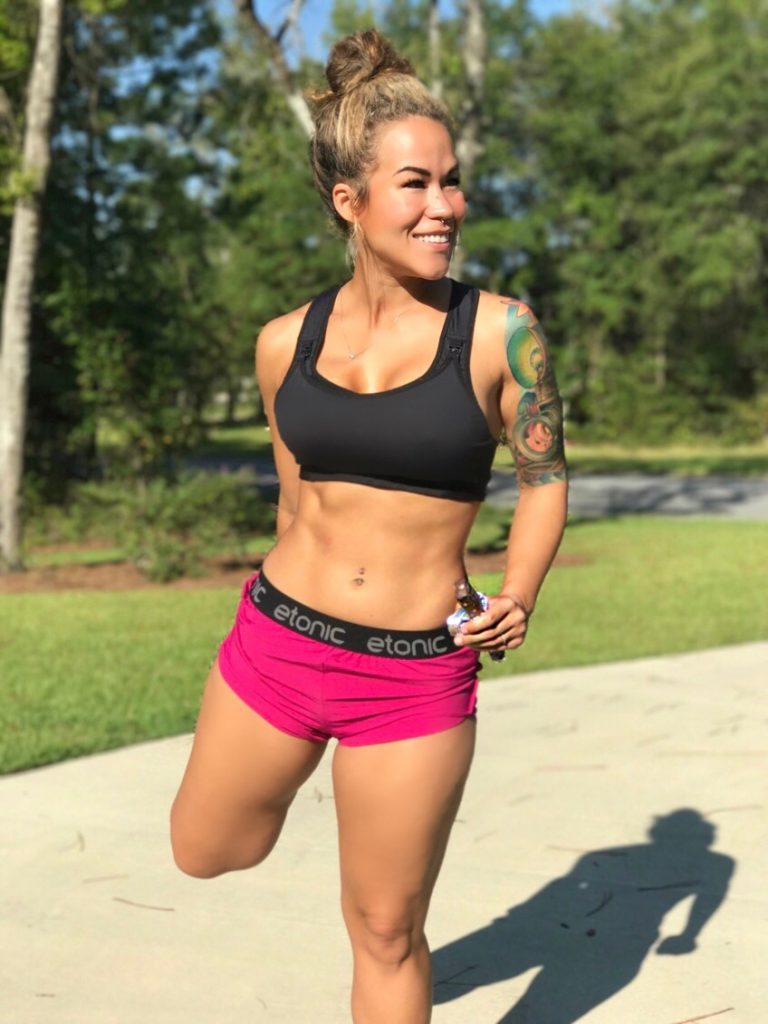 1. Make a plan. Write down your goals on a sheet of paper and then write down your weaknesses, whether it be a certain food that your Aunt Mary cooks or your knack for sleeping in late. Now, write down beside the weakness how you can turn it into a strength or positive. For example, "I will just have one bite of Aunt Mary's pumpkin pie" or "I will set my alarm at 5:30am every day for the gym." Writing your goals down are easy, but finding motivation is key. Never go into a battle without a good game plan to set you up for success!
2. Keep Moving. During the winter, we tend to stay in our beds longer and are less likely to go outside. It's warm and toasty-who wouldn't want to stay in the house? You must push through this mindset-remember, it's all a mind game! Set 3 alarms. One for the time you absolutely want to get up. One for 5 minutes later, then one 5 minutes later from that time. This is to set you up for success (and to wake you up!). Set out your workout gear the night before so that you are all prepared and have zero excuse to skip it. Every little bit of movement counts!
3. Make smart choices or swaps. I have the biggest sweet tooth when it comes to pastries, pies, cakes, and ice cream! Over the years, I have learned that making smarter choices does not always have to be boring. If you want something sweet, make a healthier alternative to it! There are countless recipes on Pinterest and the web where you can Google substitutions for butter, sugar, and flour. Something that has helped me with cleaner eating has been reading the labels! If you cannot pronounce most of the ingredients listed or know what they are, don't eat it. Food is best in its rawest and unprocessed form!
4. Eat in moderation. Whether you are at a work potluck or your family's holiday gathering, or even in just your regular days, always eat in moderation. If you want a piece of Aunt Mary's pumpkin pie and do not have the willpower to say no, cut a small slice and have a few bites. However, I can share with you an example of what I did. I would bring either a fruit or veggie tray to every party or holiday gathering that I attended, and would simply snack from that. Or make a traditional holiday dish, but add a healthy twist so I knew exactly what I was putting into my body. Another tip when eating at a party is to always make yourself a healthy snack or dinner beforehand so you will not be as hungry. Turkey is actually great for you! However, go light on dishes such as dressing, gravy, cranberry sauce, and desserts. Avoid punch and alcohol if you can as these are empty calories that you may want to save for something tasty!
5. Eat less carbs, eat more protein. During winter, our body loves to hold onto carbs, preserve them as fat, and store them until winter is over-just like in the cavemen days. I am not saying go carb-free, but stick with whole grains and unrefined carbs such as brown rice, whole grain or wheat, or quinoa. Stay away from sugar such as ice cream, doughnuts, cakes, cobblers, pastries, brownies, soft drinks, alcohol, etc. Get your sugars from natural sources such as fresh fruits instead! Last winter, I would bring a bag of Granny Smith apples to work with me as a snack! Apples have pectin in them which is a fiber that leaves you with the feeling of satiety.
Eating more protein can be hard for some as The Institute of Medicine recommends that adults get a minimum of 0.8 grams of protein for every kilogram of body weight per day (or 8 grams of protein for every 20 pounds of body weight). This is why I love keeping my Pure Protein® bars handy in my pantry or in my diaper bag.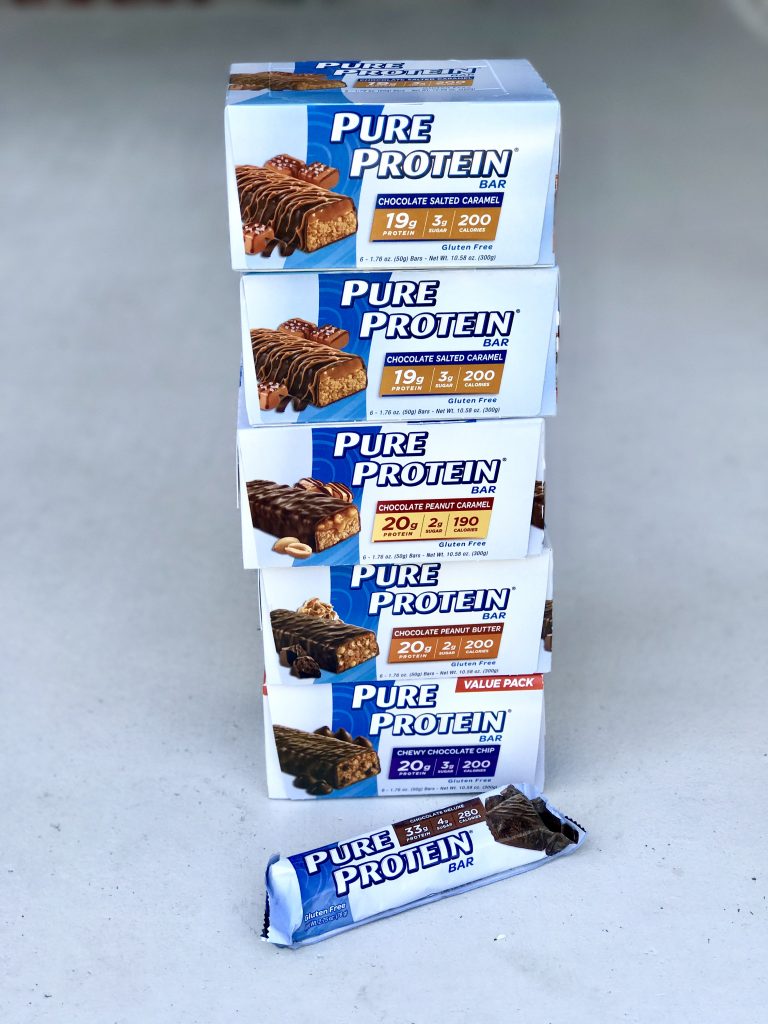 They are seriously the perfect on-the-go option to help power you through your busy day and your workout since each delicious bar contains 19 to 21 grams of protein with 6 grams or less of sugar. Honestly, I have been a fan of Pure Protein ever since I discovered them while shopping at Walmart. I liked how tasty the bars and shakes were compared to others.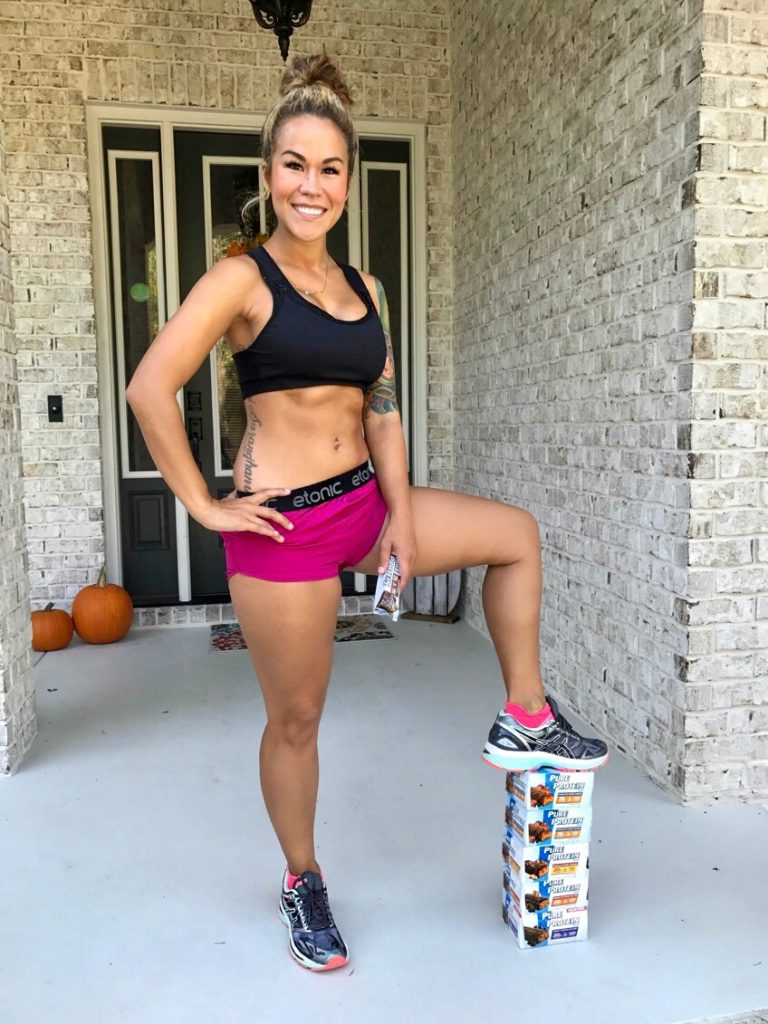 Some of the yummy flavors include Chocolate Salted Caramel, Dark Chocolate Coconut, Chocolate Peanut Butter, Chewy Chocolate Chip, Chocolate Deluxe and Chocolate Peanut Caramel. My personal favorite has been the Chocolate Deluxe! No matter which flavor you choose, they are all great.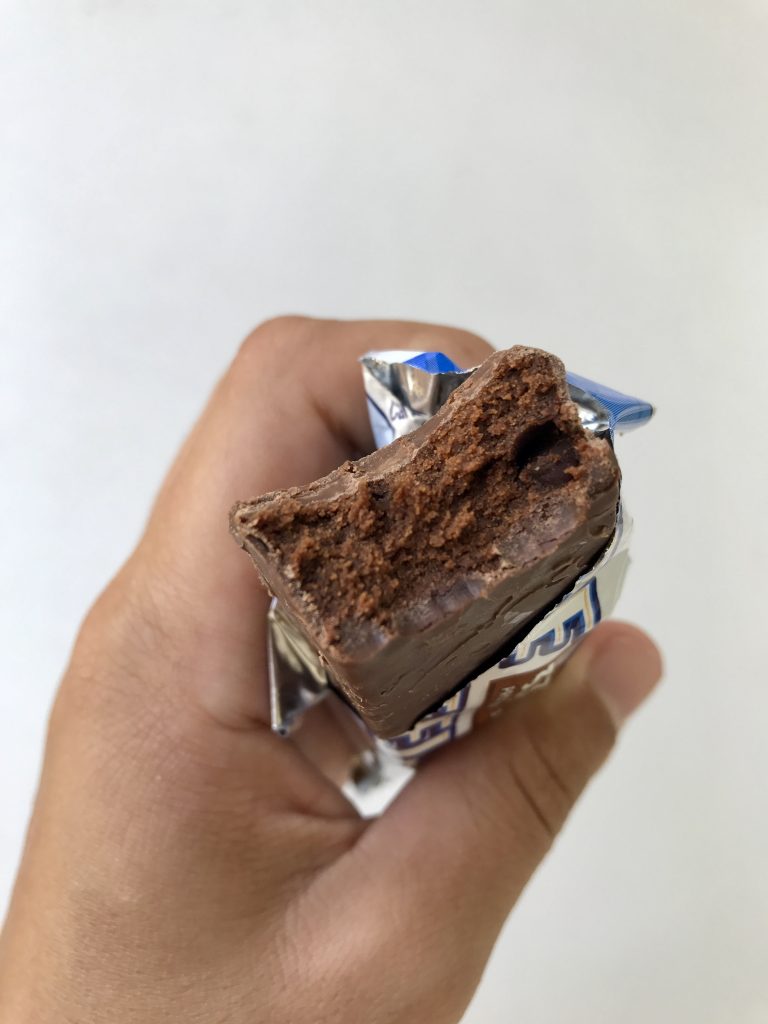 Pure Protein® also offers protein powder and ready to drink shakes. You can find anything and everything you need on their website at http://www.pureprotein.com/. Also be sure to follow and like Pure Protein on Facebook @officialpureprotein, Instagram @officialpureprotein, and Twitter @pureproteinpro.
Want to save on your purchase? Use coupon code PPSAVE17 for $1 off on all Pure Protein products on Amazon. You just enter it into the promo code line during checkout and use this link: http://amzn.to/2yMSmQ3
The holidays can be a set back or a set up; it is ultimately up to you! You will certainly find what works best for you if you desire it!
Your trainer and friend,