Lifestyle
Everly Quinn's Dreamy Enchanted Newborn Session
Last week, my husband and I took Everly for her newborn photography session. I did not do a newborn session when I had Greyson so this was my very first experience. A few years ago, we did not have the money to really put into photos, but now since we are in a much different place, I felt the need to do something special. I also wanted to get photos done to celebrate the birth of my daughter and the rough journey I had with gender disappointment during my pregnancy.
I chose Neda's Notions Photography based in Valparaiso, Florida. It was not hard choosing her talents because when I browsed her portfolio, I instantly fell in love with her dreamy editing and shooting style. I messaged her right away and to my amazement, she fit me right on in without hesitation! So we booked Evie's session for 7 days new.
Neda was so much fun to work with as she made me feel right at home in her studio. I loved getting to know this woman and I loved her sense of humor and personality. We clicked and I think it is super important to choose a photographer who you "click" with.
Prior to arriving, Neda gave us a sheet of specific instructions on how to create the perfect dreamy state for your baby to acheive the best newborn photo possible. Her instructions included:
Bathe baby and let the bath linger for a bit to keep them awake for at least an hour or so prior to the session.
Give the baby a full feeding prior to leaving the house to ensure a full, happy belly.
Leave baby in a diaper when you secure them into the carseat. No need to dress them! It defeats the purpose and also startles them.
Lo and behold, the instructions worked like magic and Evie was sleepy as can be. She actually stayed asleep for the entire hour session and did not even pee once on any of the photographer's things (woohoo!). I wanted to share the images from the session with you all because not only am I so in love and proud of them, the photographer's work just cannot go unnoticed!
Something that I really wanted from the session was to include my son, Greyson, in on the photos to show his love for his sister and since I did not have the opportunity to get his newborn images done. We started the session when Neda took Evie and did her thing! I just sat there and watched-I did not have to do one thing besides admire Neda work her magic on my daughter and son.
It was so easy to get Greyson to give his sissy some kisses.. especially when Pez & Smarties are involed!
The photo below is my favorite. Nothing says "I am one PROUD brother" more than the look on his face.
I told Neda that I loved mint for Everly. I am not a huge pink girl so obviously I didn't want anything too pink. I thought this was absolutely perfect!
The image below is one of my favorites because it is so sweet and natural. No headbands, no clothing. Just a fuzzy head and rolls for miles.
Same with the below image. So sweet.
Though this girl totally can rock a headband. Am I right??
We added a little mint…
More mint…
And then.. drumroll please… My favorite 3 images of Evie from the whole set! PURPLE is SO her color! Do you agree?
These photos remind me of an enchanted fairytale. It does not get more princessy than this.
Oh my ovaries!
This romper was such a nice touch. It was made by a vendor for the photographer to use, along with all the headbands that you see for Evie. These are all of the photographer's props-not mine. She has a fab collection, doesn't she??
Those cheeks though……….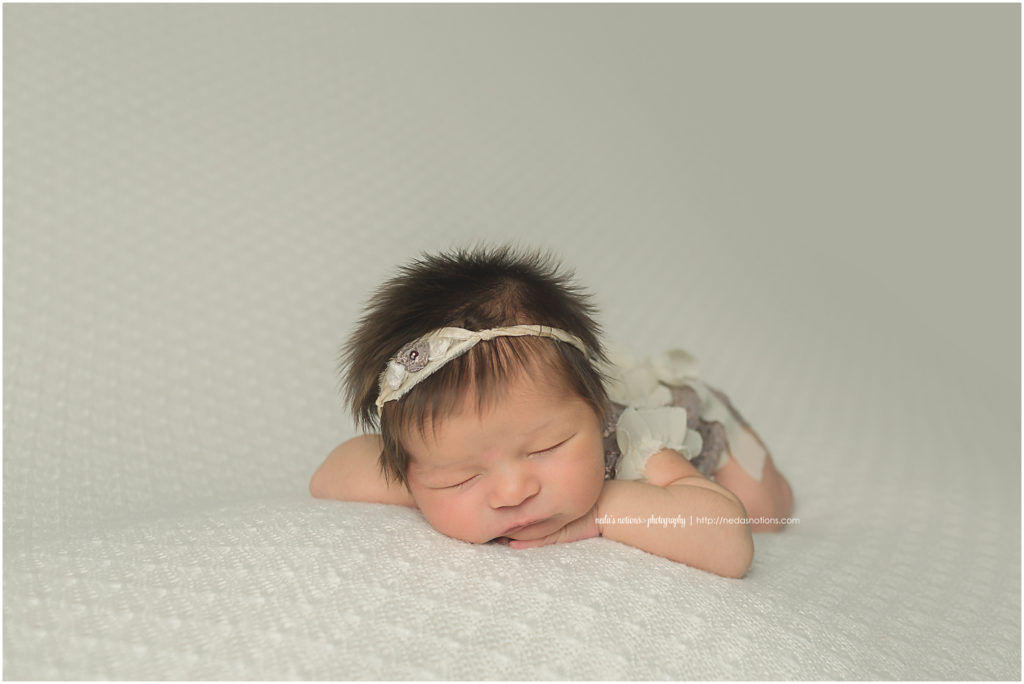 Last but certainly not least, I chose to be included in a few photos with Everly. For those who do not know, I struggled hard with gender disappointment which you can read about here. I desperately wanted another boy so badly mainly because I was so in love with my son that I did not want to know anything or anyone different. I also had a rough, broken relationship with my birth mother and for that reason I do not gravitate to females in my life. I was so afraid of having a broken relationship with my daughter if I were to ever have one. But with time, I used my wounds as fuel to empower me to be the best damn girl mom I can be to Evie. I look forward to being her best friend, but also her help in her time of need.
These photos make me tear up a bit. In the photo above, you can see the happiness and calmness pour through my eyes like a window into my heart. I love this baby girl so much and I can honestly say that any gender disappointment I once had has faded away and long gone.
This baby girl is my blessing and my heart. I promise to love and to cherish her forever and to always make her feel nothing but love.
Thank you, Nedas Notions Photography for capturing these precious moments with my baby girl. If you guys are in the Florida panhandle area, I STRONGLY urge you to book with Neda. She also does maternity photos, birthday photos, children's milestones, and family photos as well. You won't be sorry!
Checkout Neda's Notions Photography on Facebook as well!
Your trainer and friend,