Pregnancy
PREGNANCY: 8 Week Bump Update
As promised, here are my bump updates. As you can see, there is not much to show as it is SUPER early into pregnancy. I will not be doing the chalkboard pregnancy tracker this time because halfway through my last pregnancy, I got to tired of doing them and I actually started procrastinating LOL.
So, I decided to keep things simple this time around with just a belly photo and some info on what's happening each week.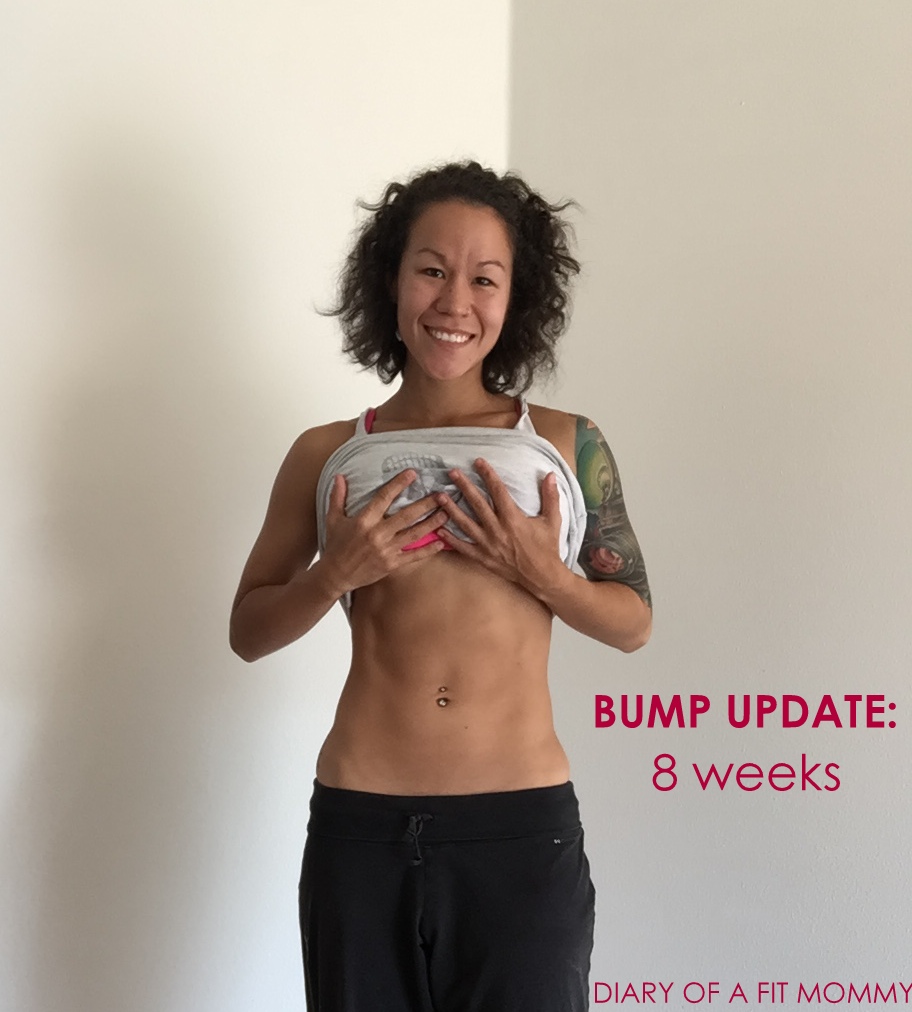 How far along? 8 weeks (my weeks change over on a Monday, just like last time…weird right?!)
Total weight gain: -1lbs.. I have actually lost a pound! I blame it on breastfeeding during pregnancy..
Maternity clothes? Nope, but I am feeling more bloated during the latter part of the day so I am sure it will be sooner than the last pregnancy.
Stretch marks? No new ones.
Sleep: I have been finding myself napping more and more frequently which is so odd for me. I do not ever nap! But I am a lot more tired this time around (I blame that on breastfeeding during pregnancy, too!) and all I wanna do is lay in bed and watch Netflix.
Workouts: The same as prior to pregnancy, but I have upped my cardio to 30 minutes per day, five days a week instead of my old 20 minute cardio plan. I am still lifting and taking it easy of course.
Diet: Not giving into many of the cheats I am drooling over, but I am allowing myself two cheat meals per week just like with my last pregnancy. I am keeping my diet mostly clean, but I have been enjoying lots of carbs for energy and fuel when I am feeling weak.
Best moment this week: Preparing and packing with Greyson for our big trip to Hawaii and first time on an airplane!
Miss anything? My energy and being in control of my cravings LOL.
Food cravings: Cheese, meat, sushi, and pancakes with lots of butter.
Anything making you queasy or sick? When I get too hungry, I get nauseous. Other than that, I am good!
Gender: We have been debating on whether or not to do a blood test at 10 weeks to find out the gender.. or waiting until 15 weeks and learning through an early gender ultrasound like we did with Grey. I am so impatient so do not tell me to wait!
Labour signs: No!
Symptoms: Extreme fatigue
Belly button in or out? In! It never popped out last time even though I was kind of waiting for it to!
Wedding rings on or off: On.
Happy or moody most of the time: MOODY. Due to lack of energy. Boo.
Looking forward to: Our second scan in two weeks and possibly the blood draw (if we choose)!
Your trainer and friend,