Workout Videos
5 Minute Total Ab Toning Workout
Lots and lots of you pretty ladies have been asking me for a quick ab toning workout that you can do straight from your living room and so here it is!
I am currently almost 20 weeks pregnant; however, as long as I am able, I love pleasing my whole audience since I realize not EVERY one of you ladies are pregnant! However, this is not meant to be an exercise for pregnant women.
Do I usually work my abs during pregnancy? No, not really. But, as my body is physically conditioned to still do some moves, I listen and take it slowly.
Here is a fun little workout that you can do in addition to my 12 week home workout bundle!
Also, be sure to follow me on Instagram and my Facebook page for free recipes, diet tips, workout videos, and motivation.
This is a quick and effective little ab workout that targets each part of your abs. You will totally feel the burn!
Here is a 5 minute ab workout that my non-preggo audience can certainly enjoy:
Side Plank Toe Touches: 3 sets of 10 reps per leg
Get into a side olank position. Using your forearm or your hand, lift your body up off of the ground. In one swift move, kick your top leg out to the front of you body and touch your toe. Bring your leg back to starting position and repeat.
Reverse Crunches: 3 sets of 15 reps
Laying on the ground on your back, lift both legs into the air. Placing your arms out to your sides, lift the lower half of your body and your legs upward as if you are trying to curl your entire body backward. Lower your body back downward and repeat.
Downward Dog Kicks: 3 sets of 10 reps per leg
Get into downward dog positon. Lift one leg up into the air. Bring it back down and repeat with the opposite leg.
Cross Body Mountain Climbers: 3 sets of 10 reps
Get into a mountain climber positon. Instead of moving your legs forward, alternate each leg to the side of your body, crossing over to "touch" the opposite side.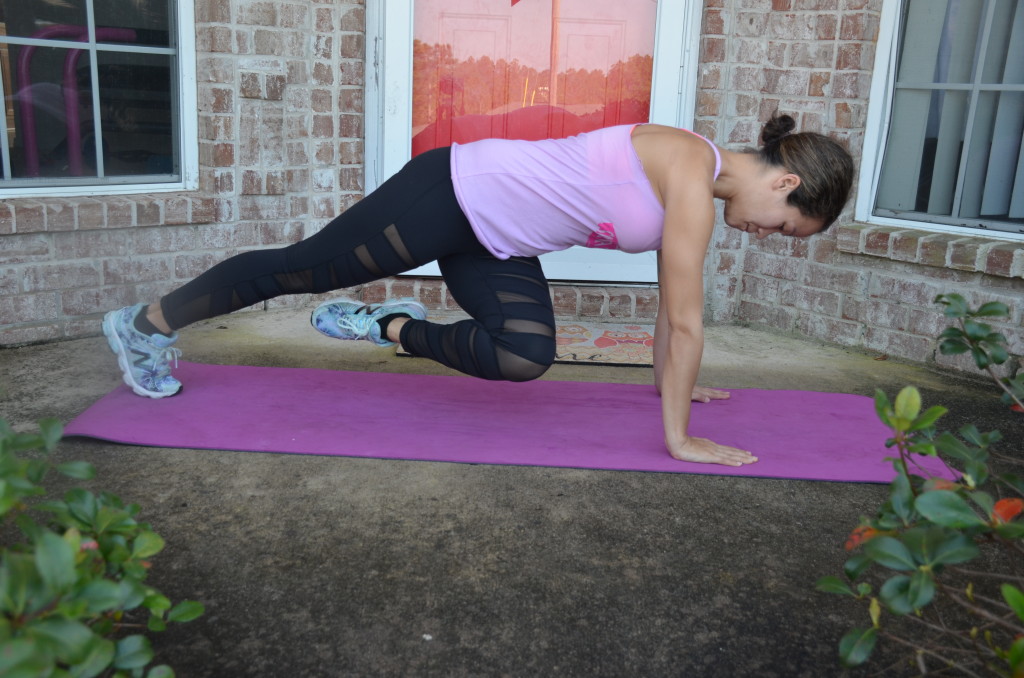 Plank Side Crunches: 3 sets of 10 reps per side
Get into a plank position either on the elbows or hands. Slowly bring your right leg up towards your side as if you were crunching your right side. Alternate and repeat for the left side.
Here is a video demonstrating all of the moves!
If you cannot make it to a gym and need to workout from home, try my new Strong Body Guide that is helping busy women worldwide get into their best shape ever. Little to no equipment needed for most moves!
In this guide, you can expect:
– ✅ 12 weeks of workouts that can be done at home with little to no equipment.
– ✅ 225 pages long
– ✅ Each workout takes less than 30 minutes-great for busy schedules.
– ✅ step by step instructional picture examples of every move
– ✅ no gym required
– ✅ exercises focus on hiit, strength training, and plymetrics
– ✅ download on any device
– ✅ build a lean tone stomach, butt, thighs, and arms
– ✅ download instantly from anywhere
– ✅ promote fat loss & boost metabolism
– ✅ contains cardio and stretching routines as well!
– ✅ full exercise glossary with images and instructions for every move
*All guides are digital ebooks available instantly worldwide. Compatible on all devices – Android, iPhone, iPad, Kindle, Nook, Computer, Mac.
Your trainer and friend,