Fitness
5 Essentials That Every Fit Girl Needs In The Gym
I have been asked what my favorite accessories are when it comes to working out. I have tried and tested almost everything out there on the market today and I can swear by the following 5 things to help get you motivated in the gym!
The FlipBelt is a Godsend! This thing holds money, keys, ID cards, earphones, phone, tampons-you name it! You simply wear it around your waist at the gym to help keep track of everything. I also like wearing mine when I go for a run and even on family vacations like Disney World since I hate carrying a lot of stuff around. They come in a fun array of different colors and sizes for men and women (my hubby has the blue one!).
One thing that I WISHED I could have invested in sooner are these gripper gloves. Wearing gloves while lifting dumbbells, kettlebells, barbells, and even medicine balls can greatly keep your hands from getting calloused and hard. Who really wants sores on their hands right? Another cool thing is that it gives you a firm grip when lifting which is a must since you do not want to drop your weights and hurt yourself. I like this pair because they do not cover much of the hand at all-only the part where the pressure from the weights occurs.
Every gal needs a fun motivational tank. Personally, I love this one below because who doesn't love coffee before their cardio? I drink two cups prior to going for my run so this tank speaks to me and my gym style!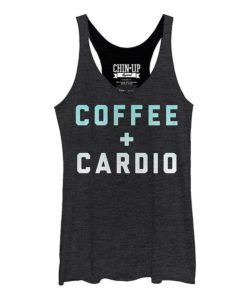 Mesh yoga pants are a must and I probably own around 4 or 5 different styles. There's something about a good pair of leggings that makes your butt look good and makes you feel sexy! Sometimes, all you need is a confidence boost to get your butt into the gym.
Lastly, I recommend an activity tracker of some sort. Most people like the Fitbit as seen below. The bands are interchangable and come in fun colors. They track how many calories you burn as well as your heart rate so you can make sure you are actually getting a good workout and not wasting your time.
Your trainer and friend,