Diet
30 Day Paleo Challenge
I have been receiving tons and tons of messages on creating an easy and do-able Paleo meal plan. As a lot of you know, I lost almost 45lbs from eating primarily Paleo. It is not easy to do for some, but it is one of the best ways to eat as you eat from the Earth and steer clear of processed goods.
Below is a One Month Paleo Challenge, separated by the week that includes recipes and snack suggestions. At the very end, there is a Paleo Snack List that you can use to choose your snacks from. There are tons of Paleo snacks here so feel free to choose from more than just what's on the list!
To save the printable images, feel free to hover your mouse over the images to pin them to your Pinterest board. If you enjoyed this free challenge, be sure to check out my 12 week home workout program to see maximum results!
WEEK 1 RECIPES
Paleo Chipotle Bowl
Ingredients:
1 shredded chicken breast
2 tbsp. tomato
1/2 avocado, cubed
Salsa, lettuce, diced onion (for topping)
Directions
In a bowl, shred chicken breast and top with avocado and tomato.
Add on toppings.
Turkey BLT Roll Ups
Ingredients (per roll up)
2 slices deli turkey
1 slice bacon
Tomato & lettuce
Directions
Lay your deli meat out flat.
Layer bacon, tomato, and lettuce.
Roll up and enjoy 2-3!
Avocado Bacon Bites
Ingredients:
• 1 avocado
• 8 strips turkey bacon or lowfat pork bacon
• Lemon juice
• Salt/Pepper
Directions:
1. Take one ripe avocado and mash in a bowl with a fork until creamy consistency.
2. Add 2tbsp lemon juice, 1tbsp salt, & 1tbsp pepper. Mix well.
3. Cook bacon at 350 degrees in the oven till crispy. Cut each bacon slice into one inch strips.
4. Add a small spoonful of avocado mixture between two bacon slices. Serves roughly 15-18.
Spicy Ground Beef Stuffed Bell Peppers
Ingredients
• 4 green bell peppers
• 1 lb lean ground beef
• ¼ cup green onion
• 1 small onion, diced
• 1 tbsp oregano
• 2 tbsp garlic salt
Directions
1. Heat a skillet and brown the ground beef until fully cooked. Drain.
2. Add in onions & spices. Set aside.
3. Cut the tops and middle flesh out of the bell peppers.
4. Stuff each pepper with equal amounts of the round beef mixture.
5. Place in a baking dish to keep upright and bake at 350 degrees for 15 minutes.
Strawberry & Spinach Salad with Balsamic Vinegar
Ingredients:
For the salad:
1 bag of baby spinach leaves
1 container of strawberries, sliced
½ cup of pecans, toasted
For the dressing:
¼ cup Balsanic Vinegar
2 tbsp olive oil
Directions
1. Pour bag of spinach leaves into a large salad bowl. Add chopped strawberries and toasted pecans (you can easily toast pecans in the oven at 350 degrees by laying on a cookie sheet, spraying lightly with Pam, and baking for 10 minutes).
2. Make the vinegar and olive oil in a small bowl.
3. Add 2 tbsp of dressing to your plate of salad. Then make sure to refrigerate the rest!
Dijon Baked Pork Chops
Ingredients:
• 2 thick cut pork chops, boneless
• ¼ cup Dijion mustard
• ¼ cup balsamic vinegar
• ¼ cup olive oil
• Salt/Pepper to taste
Directions
1. Sprinkle salt and pepper on both sides of the pork chop. I always use the term "to taste" because everyone's tastes are different. Personally, I love more pepper and less salt.
2. Whisk together Dijion mustard, balsamic vinegar, and olive oil in a small bowl.
3. Put chops into a dish and pour mixture over both pieces.
4. Bake at 375 degrees for 20-25 minutes or until the middle is no longer pink.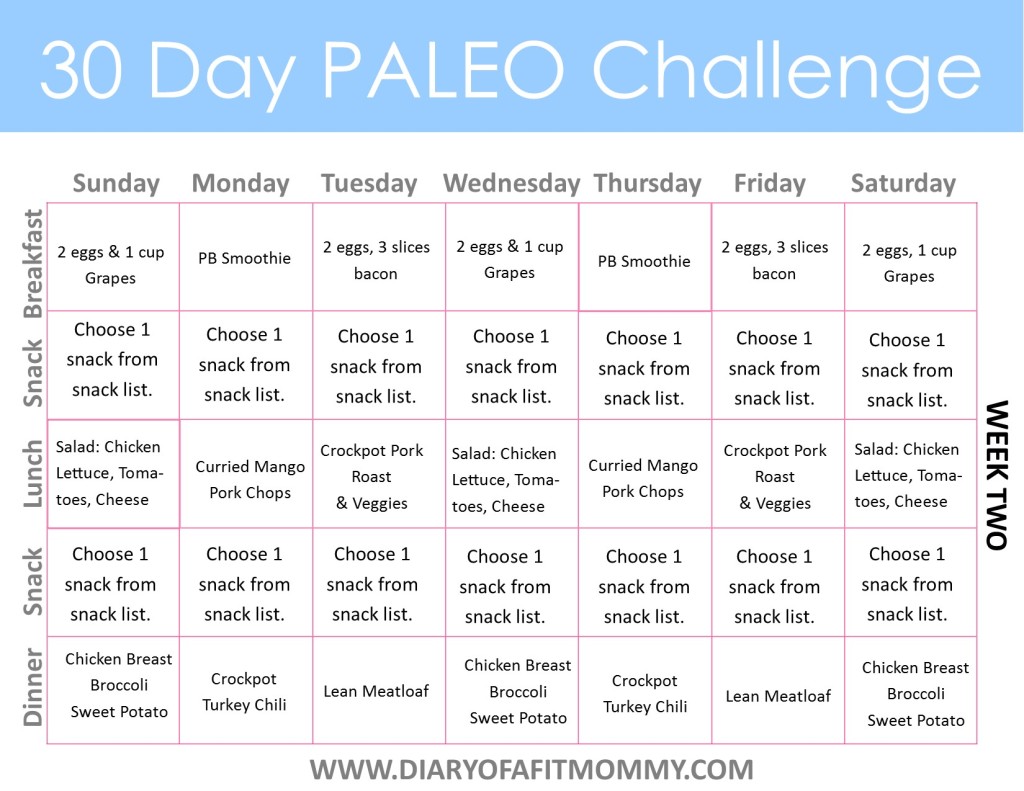 WEEK TWO RECIPES
Peanut Butter Cup Smoothie
Ingredients
1/2 ripe banana
1 generous tbsp of natural peanut butter
1/2 cup Almond Breeze coconut almond milk (my favorite milk ever)
1 tbsp cacao powder
1 cup ice cubes
Stevia (optional)
Directions
Throw it all in your blender and blend away.
Sip, smile, and enjoy.
Crockpot Pork Roast
Ingredients
1-2lb pork roast
1 small bag baby carrots, whole
2 stalks celery, chopped
2 potatoes, cubed
1 onion, diced
2 cups beef or chicken broth
2 tbsp garlic powder
1 onion soup packet mix
Salt/Pepper to taste when cooking
Directions
Place ingredients in a crockpot for 5 hours on High or overnight on Low.
Ingredients
2 boneless pork chops
1 teaspoon curry powder
1/4 teaspoon seasoned salt
2 teaspoons vegetable oil
Directions
Season chops with curry powder and seasoned salt.
Heat oil in large skillet over medium-high heat. Brown chops on both sides, turning once, for a total of 7-8 minutes.
Remove chops from pan.
Serve.
Crockpot Turkey Chili
Ingredients:
1 cup dry black beans
1 cup dry pinto beans
1 cup dry kidney beans
2 cups water
2 lb. lean ground turkey
1 yellow onion, chopped
3 large tomatoes, crushed
1/2 cup green bell pepper, chopped
2 garlic gloves, minced
2 tbsp chili powder
2 tbsp ground cumin
salt/pepper to taste
Directions
Soak the beans in a large pot overnight. Drain and place into the crockpot.
Brown ground turkey in a skillet. Drain and place into the crockpot.
Dump the rest of the ingredients in and stir.
Cook on HI for 4 hours, stirring every hour.
Salt/pepper to taste.
Lean Meatloaf
Ingredients
1 lb. 98% lean ground beef
3/4  cup almond flour
2 eggs
½ small onion, diced
½ green bell pepper, diced
2 tbsp. Worcestershire Sauce
1 tsp. garlic powder
Salt/Pepper to taste
Directions
In a large bowl, mix together the ground beef, eggs, and flour with an electric mixer or your hands (I love doing everything by hand!).
Next, add in the veggies, Worcestershire sauce, and seasonings. Mix well.
Form into a loaf using your hands and place in a loaf baking pan.
Bake at 350 degrees for 30 minutes.
WEEK 3 RECIPES
Tuna & White Bean Salad
Ingredients
2 cans chunklight tuna in water, drained
1 can White Beans (canelli) may substitue chick peas, drained
1 red bell pepper, diced
1/4 cup red onion diced
1 tbsp olive oil
Directions
1. Mix ingredients and chill in the refrigerator for at least 4 hours.
2. Serve on a bed of greens.
Tuna Salad
Ingredients
1 can tuna
1 boiled egg chopped
1/2 cup plain greek yogurt
2 tbsp mustard
2 tbsp diced pickles
1/4 cup diced onion,
salt & pepper to taste
Directions
Mix all ingredients together in a bowl.
Turkey Avocado Swiss Wrap
Ingredients
1/2 avocado, mashed
2 slices deli turkey
1 slice swiss cheese (optional-though not 100% Paleo)
Salt/pepper to taste
Veggies (any you want in your wrap)
Directions
Spread the mashed avocado onto the turkey.
Add on cheese and top with veggies of your choice, wrap, and enjoy.
Lemon Garlic Cod
Ingredients
2 cod filets
1/2 lemon, juiced
1 garlic clove, minced
salt/pepper to taste
Directions
Preheat oven to 350 degrees.
Mix lemon juice with garlic in a small bowl.
Arrange cod pieces on a nonstick pan and pour lemon-garlic mixture over the cod.
Salt/Pepper to taste.
Bake for 20 minutes.
Avocado Chicken Salad
Ingredients
1 chicken breast, diced
1/2 avocado, mashed
2 tsp lemon juice
1 tsp garlic
salt/pepper to taste
Directions
Baked chicken breast and peel the skin off, if there's skin.
Dice into pieces and throw in a bowl to mix with mashed avocado.
Add in seasonings and stir.
WEEK 4 RECIPES

Portobello Patty
Ingredients
1 Portobello mushroom cap
1 slice provolone cheese (optional, though not 100% Paleo)
1/2 tsp oregano
1 tsp Worchestershire sauce
1 tsp olive oil
1/2 tsp garlic powder
salt/pepper to taste
Directions
Season portobello cap with Worchestershire sauce, olive oil, and seasonings.
Grill for 5 minutes on each side or bake at 350 degrees for 15 minutes.
Add cheese, and dress how you like.
Peach Cobbler Smoothie
Ingredients
1/4 cup Greek yogurt
1/4 cup almond milk
1 fresh peach, sliced
1 tbsp honey
1/2 tsp cinnamon
1 cup ice cubes
Directions
Place all ingredients into a blender and blend thoroughly.
Add more ice cubes for a frostier smoothie.
Sip & enjoy!
Beef Stir Fry
Ingredients
1 16 oz. package of frozen mixed veggies
1 lb. of round steak or flank steak cut
1/3 cup hot water
4 tbsp. low sodium soy sauce
2 tbsp. teriyaki sauce
1 tbsp. cornstarch
1 tbsp. olive oil
1 tsp. Stevia
Directions
Stir soy sauce, cornstarch, teriyaki sauce, and Stevia into the water.
Lay beef strips into the soy sauce mixture; stir to coat beef entirely.
Heat olive oil in a large skillet over medium-high heat.
Cook and stir vegetables in hot oil briefly, about 1 minute. Turn down the heat a bit.
Place a cover over the skillet, and cook at a simmer until the vegetables are hot, about 5 minutes. Remove vegetable mixture with a slotted spoon to a large bowl, reserving juices in the skillet.
Pour beef with soy sauce marinade into the hot skillet; cook and stir until browned completely, about 5 minutes.
Return vegetable mixture to the skillet; bring to a simmer. Cook and stir until completely hot, about 2 minutes.
Lemon Garlic Tilapia
Ingredients
2 filets tilapia
1/2 lemon, juiced
1 tsp garlic powder
salt/pepper to taste
Directions
Preheat oven to 350 degrees.
Lay tilapia on a greased baking sheet and pour on the lemon juice.
Add on the garlic powder, salt, and pepper.
Bake for 15-20 minutes.
Baked Chicken Nuggets
Ingredients
2 skinless, boneless chicken breasts
1 teaspoon chopped fresh parsley
1/2 teaspoon dried thyme
1 teaspoon dried basil
1 teaspoon ground black pepper
2 tablespoons olive oil
Directions
1. Preheat oven to 425 degrees F (220 degrees C). Spray a baking sheet with non-stick cooking spray.
2. Trim any fat from chicken and cut into 1-inch cubes.
3. In a bowl, mix cubes with olive oil and combine the parsley, thyme, basil and pepper. Coat chicken well with seasonings.
6. Place coated chicken pieces on the prepared baking sheet and bake at 425 degrees F (220 degrees C) for 10 minutes, turn the pieces, and bake for an additional 5 minutes.
PALEO SNACK LIST
2 Boiled Eggs
2 tbsp. Hummus + 10 carrots or pieces of celery
1 cup Greek yogurt with 5 strawberries
4 pieces Beef Jerky
1.5 cups Kale Chips
1/4 cup seeds (sunflower, pumpkin, etc)
1/4 cup nuts (peanuts, almonds, cashews, etc)
1 apple + 1 tbsp. peanut butter
1/2 banana + 1 tbsp. almond butter
1 cup Sweet Potato chips
1 string cheese
1/2 cup Pork Rinds
1/2 cup trail mix (excluding the kind with candy)
1 piece of any Fruit
1 piece dark chocolate
1 100 calorie packet Tuna or Salmon
1/2 avocado sprinkled with salt, pepper, garlic, and lime juice
Your trainer and friend,